Taking the Nasher Museum of Art Virtual
A behind-the-scenes look at how museum staff used creativity and versatility to connect art with an online audience
On a recent morning in the Nasher Museum of Art, Assistant Curator Molly Boarati and Duke Research Professor of Art, Art History and Visual Studies Pedro Lasch discussed a series of printed paper maps hanging on a gallery wall.
Part of Lasch's series called "LATINO/A AMERICA," the maps show different levels of yellowing and wear. Lasch explained that each map was given to someone traveling between the Americas, some moving through airports while others making long, dangerous journeys on foot.
Whether pristine or caked in dirt, each map told the story of one person's trek.
Nearby, Nasher Museum Photographer J Caldwell recorded the conversation on two video cameras and Nasher Museum Director of Engagement and Marketing Wendy Hower captured it on a smart phone, ensuring that the museum's virtual audience wouldn't miss out.
"We want to share art with as many people as possible," Hower said.
Since 2005, the Nasher has provided the Duke and wider community with opportunities to see art up close. From July 1, 2019 until March 12, 2020, it welcomed 44,243 visitors.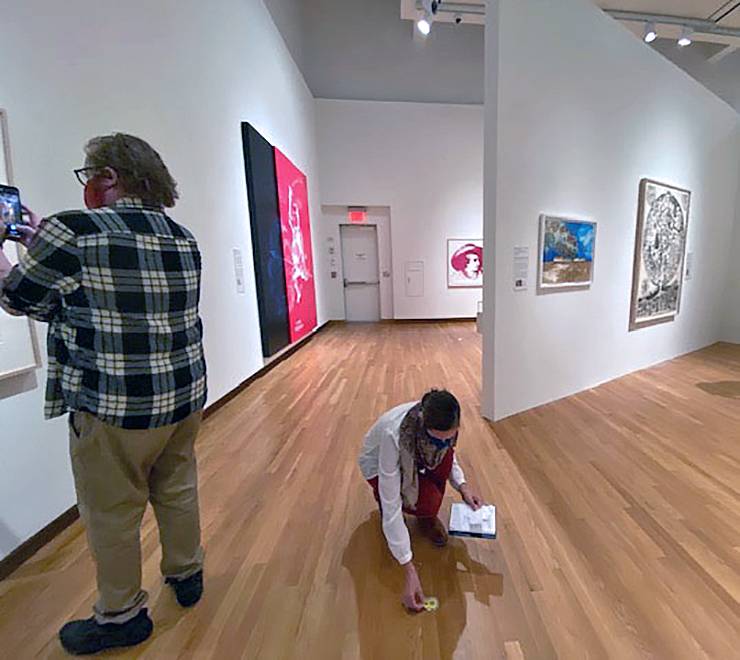 But after the COVID-19 pandemic left the museum's galleries closed to the public – Duke community members can visit by appointment and new drop-in hours start Feb. 25 —the newly-created Virtual Nasher team embraced the mission of using technology and collaboration to get the art to a digital audience.
"It's been really exciting to see how to use what feels like cutting-edge technology within the realm of an art museum," said Julia McHugh, the Nasher's Trent A. Carmichael Curator of Academic Initiatives.
The "Cultures of the Sea" exhibition was the first to go virtual. Opening last February and showcasing ancient art from coastal societies in central and South America, the exhibition was the culmination of two years of work by undergraduate students in a class taught by McHugh. 
While McHugh discussed potential online elements with Mark Olson, Assistant Professor of the Practice of Art, Art History & Visual Studies and a member of the Wired! Lab, before the pandemic, once COVID-19 left the museum closed to visitors, they realized the exhibition needed to become fully virtual.
"Because this was a project that had so much student work, we thought to ourselves that this can't be a one-month thing," McHugh said. "This has to live on in some way."
That required Nasher Museum staff members to take on new challenges and collaborate intensively with Duke faculty and students.
To let viewers get a close look at artifacts, McHugh became well-versed in 3-D modeling with help from Olson and students in the Wired! Lab.
Caldwell borrowed a 360-degree camera with six lenses from colleagues in the Office of Information Technology and learned how to stitch together digital images that put online viewers into immersive gallery spaces.
"I knew the technology existed, but I wasn't sure how difficult it might be to implement it," Caldwell said. "It's actually super easy to use, I was astonished."
The Wired! Lab's Olson spent much of last summer teaching Caldwell, Duke student Nathan Ostrowski and, more recently, Nasher Museum Graphic Artist and Web Content Manager Rachel Goodwin how to write the code to build the virtual exhibition's home online. Olson's coding tutorials have continued for Caldwell, Goodwin and Duke student Jodi Yeh.
"Virtual Nasher," McHugh said, "wouldn't be possible in the slightest without Mark Olson."
Meanwhile, Hower helped managed the virtual project and served as an extra set of hands during video and photo shoots.
Unveiled on the Nasher's website early in September 2020, the virtual version of the "Cultures of the Sea" exhibitionlet viewers move through the gallery, study artifacts and read their backstories. The students who designed the actual exhibition appear to viewers as talking Memojis, cheerfully offering context for the artifacts.
"I don't think anything can replace seeing artwork in person, but this is certainly the next best thing," said Nasher Museum Exhibition Designer Brad Johnson, who provided guidance on how orient items in the virtual gallery.
The team also allowed audiences to experience Ebony G. Patterson's "… while the dew is still on the roses …" exhibition, which opened last February, through a video, which went online in September. It featured dramatic, moving shots of Patterson's colorful installations, which Caldwell captured while being pushed on a food cart and hoisted on the museum's scissor lift.
Starting with a video interview with Duke Lecturing Fellow of Art, Art History and Visual Studies Bill Fick, the videos and interactive tours that will make up the Nasher's newest virtual exhibition, "Graphic Pull: Contemporary Prints from the Collection," will be released this spring. The exhibition shows how printmaking can create works – such as Lasch's series of worn maps – that tell stories that are relevant today.
"This has been great," Hower said. "We'll always have a virtual element to exhibitions moving forward."
Got something you would like for us to cover? Send ideas, shout-outs and photographs through our story idea form or write working@duke.edu.