Saving Energy While Spreading Warmth
New hot water plant helps make Duke's campus more efficient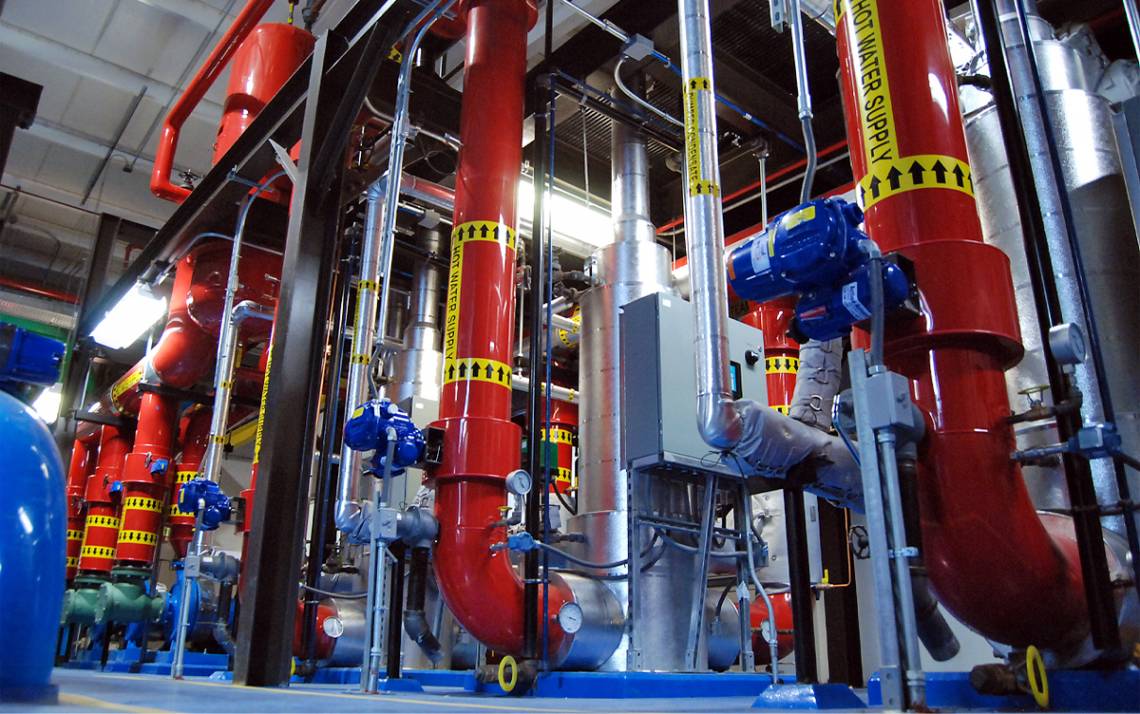 At first glance, Hot Water Plant No. 2, the newest addition to Duke's utility infrastructure, looks like a tangle of thick pipes and towering columns.
But by helping parts of West Campus move off of Duke's steam system, the plant represents a major stride in the energy efficiency of Duke's campus.  
"Steam distribution was state of the art in the 1920s," said Duke Facilities Management Director of Utilities and Engineering Russell Thompson. "It still works, there's no doubt. But it's not the best technology today."
For most of Duke's history, campus' heating needs have been met by its steam system. Dating back to 1926, the system features steam plants on East and West campuses that burn natural gas to power massive boilers and feed steam into a network of roughly 23 miles of pipe.
The steam is used in heating buildings and domestic water, sterilizing instruments at Duke University Hospital and controlling humidity in campus facilities to protect things such as library materials and artwork.
While steam systems are effective, they are also complicated, requiring space-eating equipment in each building to manage the pressure of the steam, different kinds of pipes for steam and condensate, and chemical treatments to protect the pipes from corrosion.
Since slightly more than half of the buildings on the university and medical campus – such as residence halls and offices – don't specifically require steam, Duke is turning to hot water systems for an easier, more efficient alternative, while the medical and research parts of campus remain on steam.
The completion of Hot Water Plant No. 2 last summer more than doubles the capacity of the hot water system that serves West Campus.
When including Hot Water Plant No 1, which opened in 2014 in the Brodhead Center basement, the system produces around 2,500 gallons of hot water each minute. The potential heating capacity created by the plants far exceeds what is needed to serve the facilities currently on the network.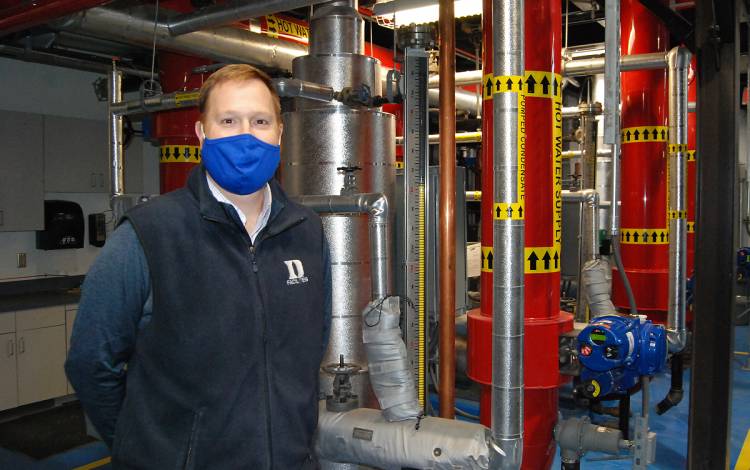 "By adding Hot Water Plant No. 2, we now have enough capacity to support the continuous growth of the system on West Campus," said Chris Silcott operations engineer for Duke Facilities Management Department.
Right now, there are 20 buildings on West Campus connected to the Hot Water System, most in the residential and athletics precinct. That number is expected to grow by around three-to-five buildings per year as buildings connected to the steam system will be transitioned to the hot water network.
For most buildings, a hot water system use, on average, 90 percent less space and is 75 percent cheaper to maintain than steam. A building that goes from steam to hot water will see about a 30 percent decrease in the energy needed to meet all of its heating needs.
The hot water plants take steam from Duke's system and feed it into a series of heat exchangers, essentially sealed carbon steel tubes with a hollow coil running through the center. The 350-degree steam fills the space in the tube while water is forced through the inside of the coil. The steam heats the coil, which heats the water inside to roughly 160 degrees. That water is then sent to buildings on campus, where it helps heat the air and the municipally sourced water that comes out of faucets and showers.
"We are using the steam that we've already created, taking the energy out of that steam and using it more effectively downstream," Silcott said.
The hot water in the West Campus system flows from the plants to and from buildings through a single network of pipe. Since the water remains liquid throughout its journey around the closed system, it doesn't require as much chemical treatment as water in the steam system and the simpler network of pipes is easier to operate and maintain.
With its efficiency gains, hot water will figure heavily into the future of campus utilities. In coming years, Duke expects to develop new systems on East Campus and for future building on Central Campus that will look similar to the one on West Campus.
"This is where our heating systems are going," Silcott said.
Got something you would like for us to cover? Send ideas, shout-outs and photographs through our story idea form or write working@duke.edu.