Keeping the Pages Turning at Duke Libraries
Duke's libraries finds creative ways in a pandemic to meet the community's needs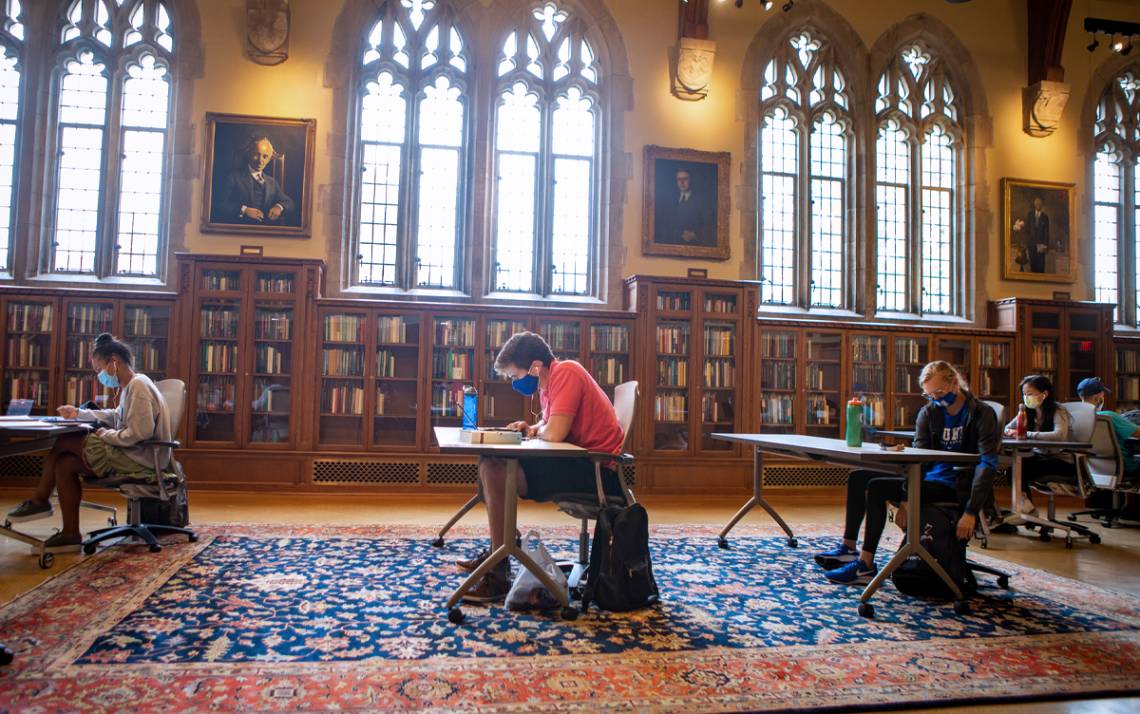 When first-year student Morgan Fletcher arrived at Duke last fall, she didn't know how many signature experiences she'd have due to the pandemic.
With most of her classes online, a single-occupancy apartment and few in-person events, she knew she'd miss out on plenty. But when she began reserving study spaces in Duke University Libraries, including in the quiet, wood-paneled Gothic Reading Room on the second floor of Rubenstein Library, her experience at Duke finally felt real.
"It's amazingly beautiful and an awesome experience," Fletcher said. "I felt like I was really in college."
Roughly a year ago, the COVID-19 pandemic forced much of campus life at Duke to grind to a halt. Spring semester classes shifted online, most students living on-campus went home, and Duke Libraries closed to most staff and all visitors.
But it wasn't long before Duke's libraries stirred back to life with creative ways to support the university's essential research and academic functions. By continuing to serve patrons as Duke navigates its second semester during the pandemic, the libraries are a valuable constant in a time of upheaval.
"At this point we're offering all of our services in some form," said Access and Library Services Coordinator Kelli Stephenson. "We've adapted what we do, but the core aspects – which are what I love about this work – are still there."
75,000 Scans and Counting
For Rubenstein Rare Book & Manuscript Library staff members, scanning documents for off-site researchers and students has become a familiar part of their pandemic work experience.
As library patrons request materials, ranging from book chapters to ancient manuscripts to photographs, the items are placed in a queue for staff to scan into digital files that are sent to patrons.
While researchers can reserve a spot in the Rubenstein Library's reading room and look at documents in-person, the majority of users choose the library's reproduction request option, which allows them to get the materials they need remotely.
All told, the Rubenstein Library has provided around 75,500 scanned items to researchers between June and December of 2020. In previous years, the library would only scan around 10,000 items during that span.
"It's astounding," said Katie Henningsen, head of Research Services at the Rubenstein Library. "It's a lot."
Henningsen said there is a team of 25 helping with the scanning effort, two full-time staff members devoted to reproduction, a stacks manager who oversees the flow of items in need of scanning and 22 Rubenstein Library staff members who take turns scanning materials.
The staff of the Digital Production Center has also been integral to the effort, managing roughly half of the scanning volume. Most of the materials they scan are then added to the libraries' digital repository, so that they are publicly accessible for the benefit of remote learners and future researchers.
"Everybody has chipped in so seamlessly," Henningsen said. "We have a workflow and documentation now. Originally it was like 'Everybody grab a scanner and a box and let's get this done.' And now we have some real intentionality. It's been really good."
A New Way to Get Books To-Go
Between March and June of last year, with most staff members working remotely, the central library function of borrowing materials stopped. But when Duke began preparations for in-person instruction for the fall of 2020, figuring out a way for library users to get hands on materials was an urgent priority.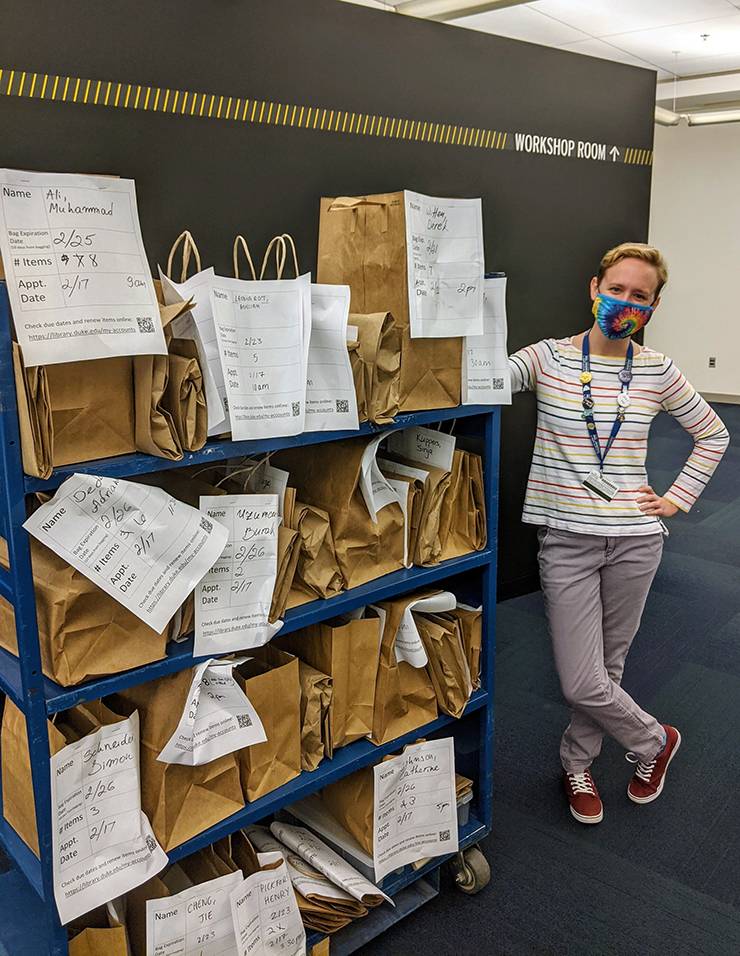 Inspired by similar programs at public libraries, Access and Library Services Coordinator Kelli Stephenson and a small group of colleagues developed Duke's Library Takeout program. The system allows Duke faculty, staff and students to request items from Perkins and Bostock Libraries, Lilly Library, the Music Library and the off-campus Library Service Center, and arrange for a time to pick them up at a library site they choose.
"We knew we wanted to do some kind of grab-and-go service because we knew it would be a while before people could enter the stacks and find books themselves," Stephenson said.
Since the service was unveiled last summer – and made more popular by a viral music video – it's been a hit. With a large cast of library staff members and student workers who take lists of requests and pull books out of the stacks and prepare them for pickup, Duke Libraries' users can get what they need quickly. From July through November 2020 – essentially the duration of the fall semester – the Library Takeout service handled 16,332 requests.
A request to pick up an item at the same library where its kept can be filled in a day. If the item needs to travel from a different spot on campus, it may take a few days. Items requested from outside of Duke can take longer.
Over the past several months, Library Takeout has grown, adding the ability to request books from Duke's sister libraries in the Triangle Research Library Network last fall. Now, users can also request items through Borrow Direct and other interlibrary loan services.
"I would say the bones of Library Takeout have been pretty solid," Stephenson said. "We started with a very basic structure and then we added to it. But Library Takeout only works because we're all towing the same rope."
A Place to Study
For most of her time at Duke, the university's libraries played a central role in the daily life of senior Anya Brooks. As she navigates her final semester at a time when the COVID-19 pandemic has changed so much about campus life, Brooks is grateful that she can spend time in spaces tightly linked to her college memories.
"Everybody goes to the library," Brooks said. "It's like the hub of everything. So even having that small space back open made things feel normal in a very important way."
While members of the Duke community can get digital versions of library materials without visiting campus, there are parts of the library experience that can only be experienced first-hand.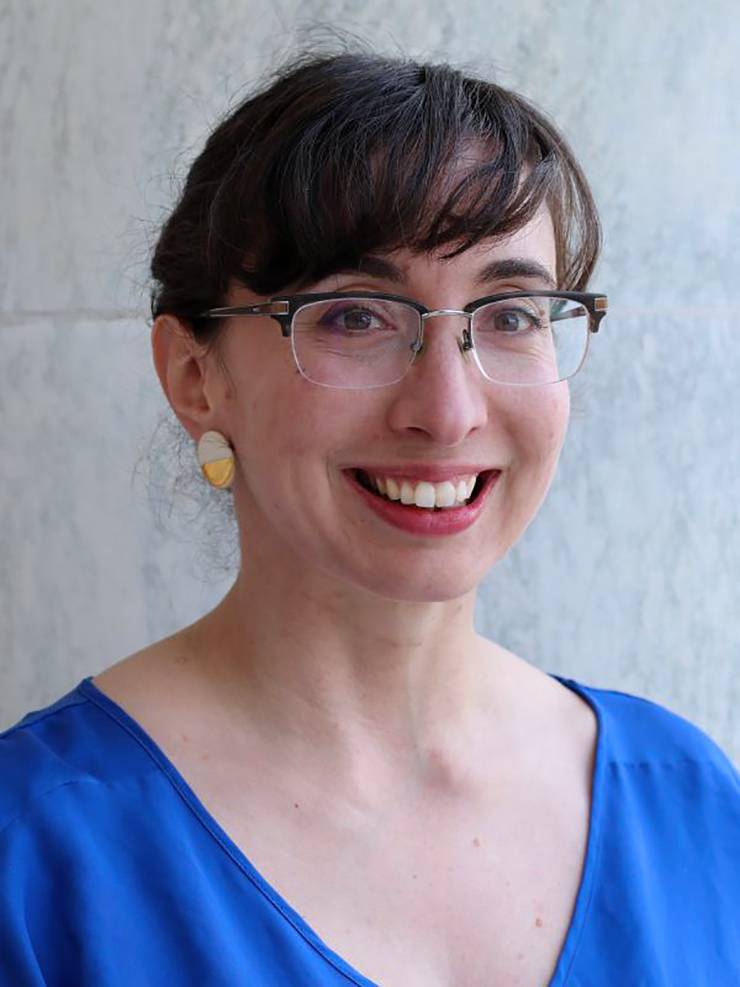 That's why, starting last August, Duke students, faculty and staff were given the opportunity to reserve spaces in Duke Libraries for physically distanced study.
"I see us as integral to campus life," said Brittany Wofford, librarian for the Nicholas School of the Environment and one of the team members who developed Duke's online space reservation system. "We want any student who wants a space to study to have that possibility."
Based on the existing software used for study room reservations, Duke Libraries developed a new system that gives Duke community members the ability to reserve individual study seats, as well as scanners, computers, photo copiers, video viewing stations, turntables, and microform readers.
The system was the result of a whirlwind effort in July and August that featured library staff mapping out how many study seats they could safely fit in the libraries on campus, how to create rules and procedures that would let Duke community members access the spaces easily, and working out the kinks of the online reservation process.
By the time this semester began, the system was up and running. By the end of the Fall 2020 semester, 2,830 unique users made at least one reservation, providing a small dose of normalcy to a campus in the midst of an otherwise strange semester.
"It definitely feels different, but when in you're in the classic library spaces, you still see students studying in there," Wofford said. "They're masked and sitting further apart, but that doesn't feel so different."
Got something you would like for us to cover? Send ideas, shout-outs or photographs through our story idea form or write us at working@duke.edu.