How We're Coping with the Pandemic
A look at the ways Duke colleagues are getting through COVID-19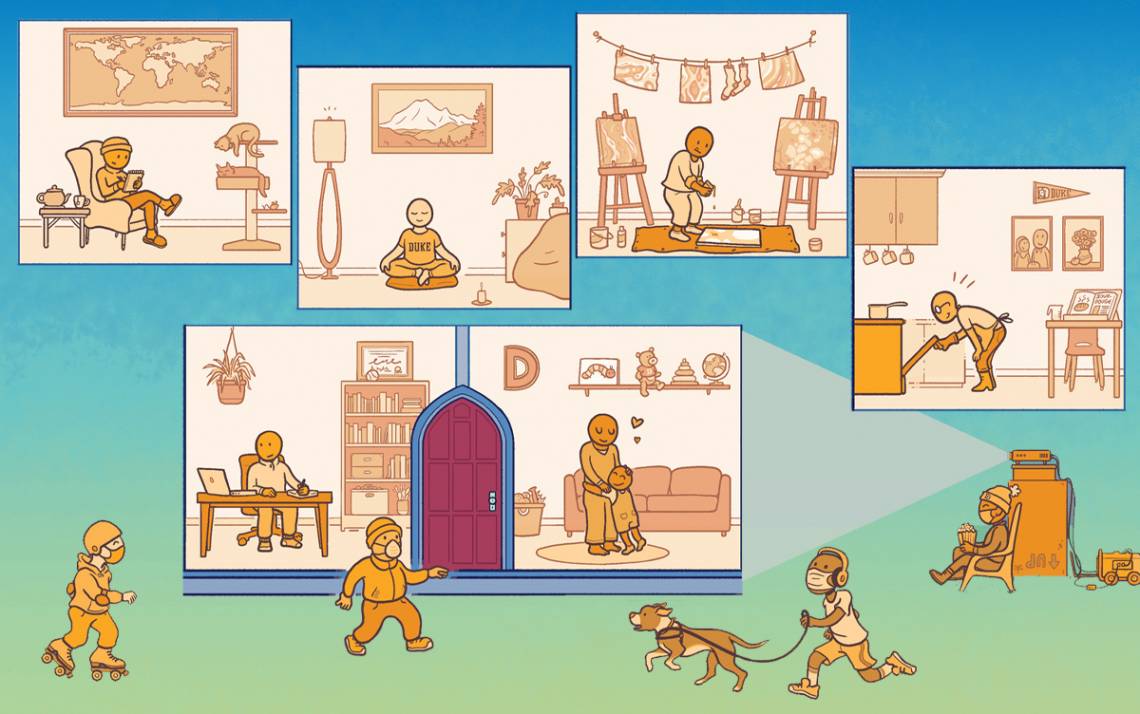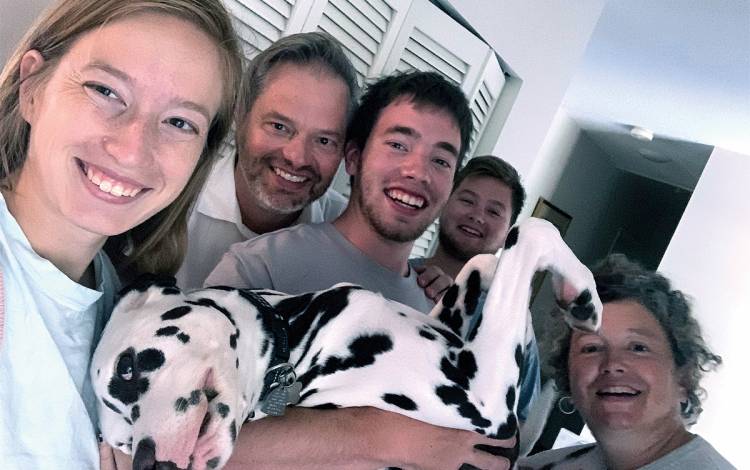 The COVID-19 pandemic left Professor of Public Policy Don Taylor shouldering his share of worries:
Job prospects for his three early-20s children. The safety of his mother, who lives in a retirement home. And, with a background in health policy, the long-lasting societal harms caused by the deadly virus.
In addition to escapist fiction, Taylor, who directs Duke's Social Science Research Institute, uses research as a coping tool. Along with Associate Professor of Sociology Tyson Brown and economics professors Rachel Kranton and Duncan Thomas, Taylor leads Project ROUSE, a study of ways COVID-19 is affecting Duke staff and faculty.
The study, which started last fall, follows the work and well-being of participating employees as they handle the pandemic.
"We're employees, but we're also moms and dads, husbands, daughters and spouses," Taylor said.
It's been nearly a year since COVID-19 reshaped life everywhere. The virus has taken hundreds of thousands of American lives and continues to force many employees to work from home. The crisis left colleagues with limited social contact and the inability to do activities that brought joy and purpose. Employees with young children have the added pressure of navigating virtual school.
A recent Pew Research Center study shows that many people have experienced high levels of psychological distress, often dealing with anxiety, sleeplessness or depression during the pandemic.
"People need to deliberately focus on their mental and emotional health during this time. There's no doubt about that, and the things you do to cope can come in many different forms," said Associate Professor of Medicine Jon Bae, a co-convener for the mental and emotional well-being core area of Healthy Duke.
While the pandemic represents a communal challenge, the strategies and stories of resilience from Duke colleagues provide inspiration that keeps us moving forward.
---

Adding to the Toolkit
Even after figuring out a schedule and how to stay in step with colleagues while working from home, Priscilla Graham was restless given the uncertainty swirling around her.
That led Graham to pursue a Certified Professional status from the Society for Human Resource Management, which requires passing a three-hour exam.
"If I feel like I'm sitting around and not accomplishing anything, it stresses me," said Graham, a human resources manager in neurosurgery.
For the past several months, Graham has spent down time learning about risk management, unions and compensation, and sharpening that knowledge in evening Zoom study groups.
"Even though I'm at home," she said, "I'm still progressing."
---

Documenting the Days
While cleaning out drawers, Economics Staff Assistant Liisa Trent found several journals covered in faux leather and colorful cardboard. Gifts from her daughter over the years, the journals sat blank.
Anxious over a disrupted schedule and with fewer built-in boundaries, Trent started chronicling everyday life during COVID-19 - the weather, people she got to see, things that weighed on her mind and small moments that brought joy.
"This one simple thing helps me stay steady," Trent said. "It reminds me that I'm still me. I'm healthy, and I've got so much to be grateful for."
---
Quieting the Mind
Jordan Hale's 7 a.m. walk with his border collie mix Champ has become a daily meditation practice.
Hale, director of new student programs and associate dean of students, leaves his smartphone behind and focuses on breathing deeply, listening to the pitter-patter of Champ's paws and feeling the crisp morning air during their 30-minute walk.
Mindfulness activities re-focus thoughts on the present moment, says the National Alliance on Mental Illness.
"I get caught up in the anxieties of what the next semester will look like or when the pandemic will be over," Hale said. "Taking the time to pause all those thoughts and breathe helps me think more positively. I start to believe we can, and will, get through the pandemic."
---

A Blank Canvas
Julie Ramsey creates a change of scenery by mixing dark blues, vibrant yellows and forest greens on blank canvases.
Ramsey, DukeWELL Care Manager for the Duke Population Health Management Office, has been making acrylic pour paintings for her walls and loved ones. The technique involves mixing acrylic paint with thinning agents to pour on surfaces.
Spending time each week on an art activity can improve a mood, according to Bill Gregory, coordinator of arts programming for Arts & Health at Duke.
"You can engulf yourself in drawing, painting or photography without thinking about anything else going on in your life," he said.
Ramsey spends hours mixing paints, watching them slide across canvases and forgetting about the unknowns in the world.
"Making art is great for coping," Ramsey said. "It gives me an excuse to leave the house. I get to deliver pieces to loved ones while wearing a mask. That's refreshing after I spend my day on the computer."
---

Born to Bake
Without daily interactions with colleagues and students, days felt off for Brenda Tate, an administrative assistant in the Fuqua School of Business.
But she regained a sense of order by baking bread.
When an uncle sent her a small amount of sourdough starter - a naturally occurring yeast strain kept alive since 1959- she had reason to dive into the hobby. And she's not alone. More Americans are cooking at home during the pandemic.
Inspired by hours of online bread-making videos, Tate bakes loaves of seeded sourdough rye every few days, giving her peace and plenty of warm, house-filling aromas.
"The slow pace of sourdough, the satisfaction that comes from working with your hands, the olfactory delight of baking bread, and the 'Shazam!' moment when you open the oven and see your baked bread for the first time - it all feels so good!" she said.
---

A Silver Lining
Aguedo Cordero, an emergency communications officer with the Duke University Police Department, has used his extra time to seed his yard and gain financial knowledge.
Before the outbreak, Cordero took his grandchildren to and from school. Now, while the children learn online at home, he's right next to them on LinkedIn Learning, studying Microsoft Access, financial investments and how to create a personal budget.
LinkedIn Learning, which features 16,000 courses covering business, technology and creative topics, is available at no charge to Duke employees.
"It's a silver lining to this hard year," Cordero said.
---
Under the Stars
Melissa Cowan-Street, a clinical nurse with the Specialty Infusion Center, has battled nagging concerns about the health of her daughter Takisha Street-Ten, a pulmonary registered nurse with Duke Health. Fear, coupled with isolation, has left Cowan-Street feeling down.
The feelings are common, according to the Centers for Disease Control and Prevention (CDC), which says that many adults have experienced at least one mental health or behavioral concern related to the pandemic.
To feel better, Cowan-Street created an outdoor movie theater in her backyard. She purchased a projector and 108-inch screen that is attached to two wooden stakes. Her family visits nearly every week for screenings of "Trolls World Tour," "Frozen" and the TV show "Power."
"It was an investment in my happiness," Cowan-Street said. "My world felt right again having my family back."
---
Staying in Motion
Jameela Nikolich, Duke Clinical Research Institute's manager of clinical trial operations, combats stress one step at a time.
Nikolich, her two teenage daughters and the family's au pair began "Couch to 5K," a program that trains participants to complete a 3.1-mile race over nine weeks. Every afternoon last spring, the family bonded while walking and running in their neighborhood.
After the program ended, Nikolich continued the activity, averaging 17,500 steps a day. Workouts ease worries about her two sons in college.
"I cannot emphasize enough what getting outside and moving did for my mental health," Nikolich said. "It felt like this was the one thing I could control."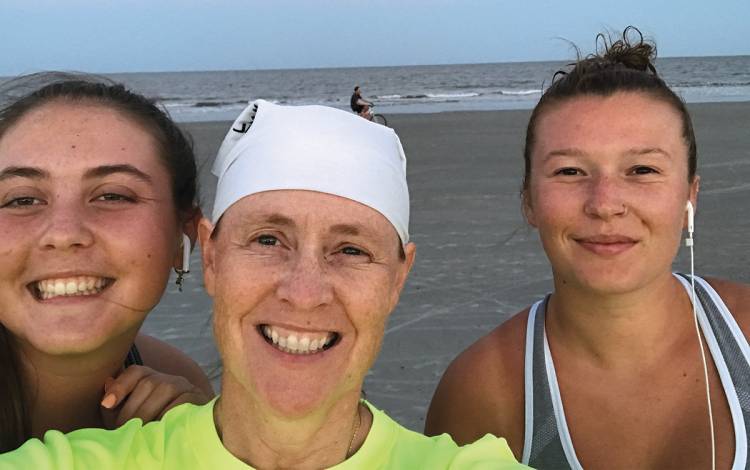 ---
A Furry Friend
For months, Bryan Koen's family has worked and learned together at home.
Space is tight and uninterrupted time is rare, making Koen's jobs as a husband, father of two elementary-school-aged children, and Duke University Energy Initiative senior education program coordinator challenging.
"You can't devote enough time to any one facet of your life," Koen said. "You feel like you're underperforming with all areas of your life."
Koen's experience isn't unique as a study in the Journal of The American Academy of Pediatrics said 27 percent of parents reported the mental health of themselves and their children suffered during the pandemic.
Last spring, the Koens' collective stress was reduced when they adopted Kramer, a nine-year old beagle. Kramer provides reasons for the family to take calming walks and gives the children a new, loyal friend.
"They treat him like a teddy bear," Koen said. "Sometimes more so than I think he wants. But he's bonded pretty tightly."
---

Finding Youthful Joy
While Zoom and email help Tara Ilsley, a population health specialist with the Population Health Management Office, work remotely, the shared jokes and conversations with colleagues have been harder to replace.
While talking with family about her funk, Ilsley hit upon an idea.
"I thought, 'What used to bring me joy as a kid?'" Ilsley said.
That led her to a used sporting goods store, where she spent $7 on a pair of pink roller skates. Since then, she's made weekly excursions to wheel around nearby tennis courts and the American Tobacco Trail.
"You can't not be happy when you're on roller skates," Ilsley said. "It's such a joyful thing."
By Stephen Schramm and Jonathan Black
---
Well-being Tools and Resources
Healthy Duke
The healthy campus initiative focuses on five core areas: food and nutrition; mental and emotional well-being; physical activity and movement; fulfillment and purpose; and environment and culture.
Well-being and happiness strategies
Anyone looking to become a champion of well-being, can use these toolkits of resources to create a culture of well-being or bring more joy into a day.
Meditation and more
Staff and faculty can participate in a variety of free virtual activities at the Student Wellness Center. Offerings include guided meditation, knitting and more.
Duke Personal Assistance Service
Licensed professionals offer assessment, short-term counseling and referrals for personal, work and family problems. Services are available at no charge to benefits-eligible faculty, staff and their family members.
Duke Behavioral Health and Substance Abuse Benefit
Duke offers outpatient and inpatient behavioral health and substance abuse benefits under its medical plans through Aetna and Blue Cross Blue Shield.
Emotional Support and Well-Being Phone Line
The Duke Department of Psychiatry and Behavioral Sciences offers a free and confidential service (in-person and telephone-based) for faculty, staff, Graduate Medical Education (GME) trainees, and their families (including children) who are seeking support related to stress management, coping resources, and behavioral health concerns. The service is open Monday-Friday (8 a.m.-5 p.m.), except on holidays. Call 919-681-1631. (NOTE: As of August 1, 2021, the Emotional Support and Well-Being Line will be discontinued.)  
National Alliance on Mental Illness
The National Alliance on Mental Illness (NAMI) is celebrating its 40th anniversary and is the nation's largest grassroots mental health organization.