Three Undergraduates Named Faculty Scholars for Outstanding Records of Research
Jamal Burns, Xiaochen Du and Ce'Ondra Ellison receive faculty's highest honor
A chemistry and computer science major seeking to further explore solutions to climate change.
A first-generation college student who studies the connection between race, history and educational policy.
An African and African American Studies major who translated her research into service helping others in Durham overcome racial barriers to housing and education.
These are the recipients of this year's Faculty Scholars Awards, the highest bestowed by Duke faculty on undergraduates and honors students for a record of innovative and independent research and scholarship.
The awards went to Jamal Burns (History); Xiaochen Du (Chemistry/Computer Science) and Ce'Ondra Ellison (Psychology/African & African American Studies). Burns and Du have been roommates for three years and both credited the other with strengthening their studies.
"We influenced each other so much, even though our research interests are so different," Du said.
"It is so cool to see someone who has seen you at your best and worst achieve such great things," Burns added. "I think the way we have been unabashedly in support of one another is a true testament to the potential of scholarly amicability. Moreover, I think it shows that individuals from completely distinct lived circumstances, disciplines and interests can inspire one another."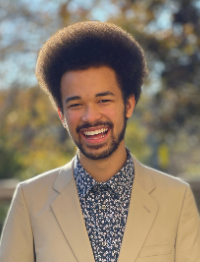 A Rubenstein Scholar and a Mellon Mays Undergraduate Fellow, Burns last month won a Rhodes Scholarship to do graduate study at Oxford University.
While at Duke much of his research efforts have been focused on history, race and educational policy. Burns also presented a paper at the national Mellon Mays Undergraduate Fellowship conference on the terminology used in federal court cases disbanding segregated schools. His senior thesis research focuses on interpretations of the masculinity of black boys in schools and how those understandings are influenced by colonialism.
Burns' faculty nominators praised him for his character and intellectual energy. They said he showed a willingness to reassess his positions in heated classroom discussions. History professor Reeve Huston said Burns regularly came up with original research that presented Huston with "new and exciting ideas."
"His ideas were almost always original, usually challenging, and often brilliant," Huston said. "They were always firmly grounded in evidence. I have never taught an undergraduate so adept at bringing empirical evidence to bear on theory, and vice versa."
Burns, in turn, said he was energized by the intellectual community he found at Duke, including his roommate.
"The Mellon Mays Undergraduate Fellowship program and the David M. Rubenstein Scholarship program, for example, both introduced me to communities where reinterpreting scholarship was welcomed," he said. "We challenged each other's frameworks, ideas and work, but did so in a manner of care. It is rare to be in an intellectual environment where people respect your ideas and want you to grow as a person, and almost every research space I have been at in Duke has felt that way."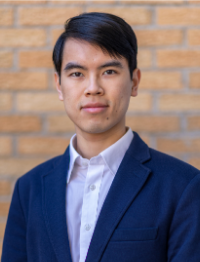 Du has spent his time at Duke diving into a variety of research fields beyond his chemistry and computer science majors. He also studied electrical engineering, biochemistry, statistics and other areas at the intersection of natural science, computer science and engineering.
"As someone who has delved into many disciplines, I learned that the discipline isn't so important," Du said. "The kind of research problem you want to solve is. Many interesting problems are multidisciplinary anyway."
One of the fields that interested him was materials science. As a first-year student, Du joined the lab of Professor Volker Blum to assist an NSF-funded project to create a public web-facing scientific database of a particular type of semiconductor materials. At the start, Blum gave Du a few initial suggestions.
"It turns out that 'first steps' was a drastic underestimation of Xiaochen's true abilities on my part," Blum said. After completing the recommended work, Du went on to tackle the rest of the project – and he solved it.  Looking back, Blum said he still is astonished by the first-year's work. "This required a significant degree of organization skills, learning completely unfamiliar scientific concepts, as well as advanced computational skills."
As he prepares to graduate, Du is looking to move forward with post-graduate studies, tackling climate change through materials research aided by machine learning and automation. But he added that he's willing to let his studies take him to unexpected places, just like he did during undergraduate studies. "My goal was to really explore, explore outside of my interests. Undergraduate was the time when I went for breadth over depth."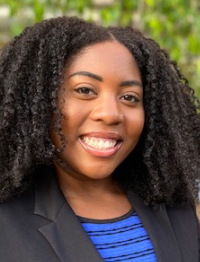 Ellison started building a foundation of research on the social and psychological impacts of race and racism during her first semester at Duke. Her research focuses on the construction of race, racial identity development, and the impact of institutional racism on the development of black communities with regards to education, mass incarceration, housing and health outcomes. In May, Ellison was awarded summer research funding from the Duke Human Rights Center to examine the role of school curriculum on black students' racial identity formation, academic achievement, and notions of belongingness and citizenship.
Ellison believes academic research should have a social impact, and took this research interest into the Durham community.
"I worked with organizations and programs that focused on creating resources and providing services to help individuals overcome racial and economic barriers to housing and education," Ellison said. "This involvement along with my academic research and training in restorative justice and trauma informed care inspired me to pursue a legal career so I can use my knowledge and expertise to advocate for communities of color and dismantle systems of oppression."
Several faculty noted that combination of scholarship and service in nominating Ellison for the award. This service work began the summer after Ellison's first year at Duke as she worked as an undergraduate researcher for Professor Mark Anthony Neal's Left of Black Story+ project team. Ellison currently volunteers as an advocate and housing team member at the Community Empowerment Fund and serves as a student lead on the University-Assisted Community Schools Bass Connections team.
"These latter projects speak to one of Ce'Ondra's ethical convictions," said Samuel Fury Childs Daly, assistant professor of African and African American Studies. "She believes that academic scholarship ought to reach an audience beyond the university, and she has devoted considerable time to disseminating both her own research, and the research of other people."
In addition to praising Ellison's work with "Left of Black," Neal said that in one course she showed the example of scholarly initiative that the Faculty Scholars Award is meant to honor.
The class, intended for advanced students, charged the students with planning a symposium featuring material taught by Duke alumni working in African American Studies. Although a first-year student, Ellison was one of the leaders, he said.
"It was one of the most extraordinary classroom experiences during my 16 years at Duke," Neal said. "Among this group of fine undergraduates, Ms. Ellison easily established herself as one of the most exceptional of students."