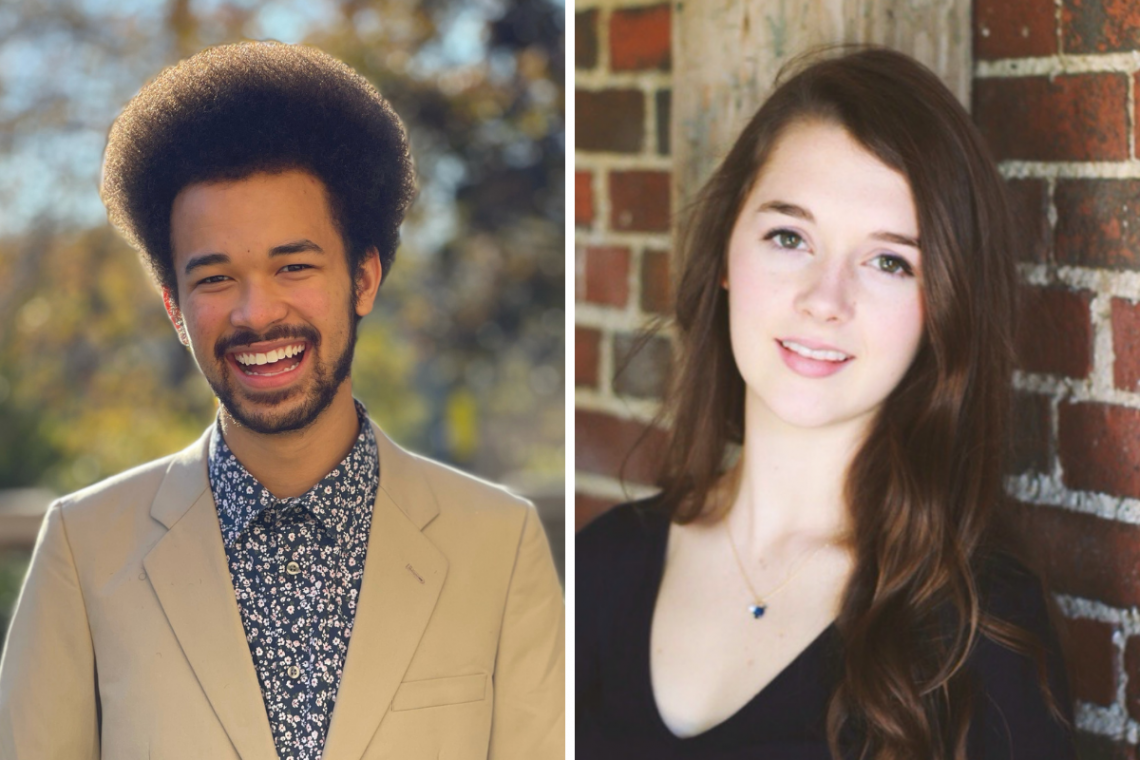 DURHAM, N.C. – Two Duke University seniors were among 32 recipients selected this weekend for the prestigious Rhodes Scholarships.
Kendall Jefferys, from Keller, Texas, and Jamal Burns, from Saint Louis, Missouri, were chosen from among 953 applicants at colleges and universities throughout the country. The scholarships provide all expenses for two or three years of study at the University of Oxford in England.
Recipients are selected on the basis of high academic achievement, personal integrity, leadership potential and a commitment to service, among other attributes.
"I am delighted to congratulate Jamal and Kendall on receiving the Rhodes Scholarship, an extraordinary culmination of all that they have accomplished at Duke," said Duke University President Vincent E. Price. "When Kendall and Jamal arrive in Oxford next fall, they will join dozens of Duke graduates throughout history in embarking on this most prestigious of academic pursuits, one that is very well-deserved. I very much look forward to following their careers in the years to come, and we can all be proud to call them members of the Duke family."
While at Duke, Jefferys was a Rachel Carson Scholar, a prestigious program that offers undergraduates research funding and experience in marine science and conservation. She was also the winner of a Benenson Award in the Arts. 
Jefferys has served as the presidential intern and fellow at the Rachel Carson Council, where she has created and co-led the Oceans and Coasts program, written a monthly newsletter for subscribers, and helped to edit a new edition of one of Rachel Carson's books. 
She has done extensive research at the Duke Marine Lab, both in the Robotics and Remote Sensing Lab and the Science and Conservation Lab.
Jefferys has also served as a resident assistant, communications intern and crew member for the Duke Campus Farm, and competes with the Duke figure skating team. She is majoring in is majoring in English and Environmental Sciences & Policy.
In previous years, she was involved in Sustainable Duke as an intern and member of the environmental justice team, and in Food For Thought, a campus group focused on food security and farmworker rights. 
Jefferys is also writing a novel and was accepted to the Middlebury Bread Loaf Environmental Writer's Conference for the upcoming summer.
"I want to thank my professors, family and friends who inspired me and believed in me," Jefferys said. "I am honored to have been selected for the Rhodes Scholarship."
Burns will graduate this spring with a degree in history and a concentration in women and sexuality studies. 
While at Duke much of his research efforts have been focused on history, race and educational policy. As a Mellon Mays Undergraduate Fellow he presented a paper at the national conference on the terminology used in federal court cases disbanding segregated schools. His senior thesis research focuses on interpretations of the masculinity of black boys in schools and how those understandings are influenced by colonialism. 
At Oxford he will pursue this research by studying for advanced degrees in education and social anthropology.
Burns has already won several awards for his scholarship and his leadership on campus, including the Julian Abele Student of the Year Award for both scholarship and activism. He serves as co-president of the speech and debate team, and president of his house council. He is also a Rubenstein Scholar, a competitive merit scholarship created at Duke to attract and support more first-generation, low-income students financially, academically, personally and professionally. 
When the pandemic required a sudden shift to online learning last year, Burns was one of the contributors and administrators of Duke Mutual Aid, a student-led group that raised and redistributed money to Duke students, community members and essential workers who had unexpected expenses.
Burns was also one of the few undergraduate students invited to share their perspectives on race and equity at Duke for "Living While Black," a virtual event viewed by more than 6,300 members of the Duke community this past summer.
"I am indebted to the support from the individuals on the Nationally Competitive Scholarship team and for the first-gen, queer and people-of-color communities at Duke," Burns said. "Without this unbelievable support network, I would not have been able to actualize, let alone materialize, my strengths and passions into a Rhodes scholarship. Truly, I am forever thankful."
Also selected for the Rhodes was University of North Carolina at Chapel Hill alumnus and Robertson Scholar Peter Andringa. The Robertson Scholars is a leadership program jointly run by UNC-Chapel Hill and Duke in which a small number of students at each school take classes at and are members of both university communities.
The Rhodes Scholarship was created in 1902 by the will of British philanthropist Cecil Rhodes.
The value of the Rhodes Scholarship varies depending on the academic field, and the degree (bachelor's, master's or doctoral) chosen. The Rhodes Trust pays all college and university fees, provides a stipend to cover necessary expenses while in residence in Oxford and during vacations, and transportation to and from England.
A complete list of this year's recipients is online at http://www.rhodesscholar.org.