Thank You, Duke Health
A pictorial tribute to Duke's COVID-19 frontline professionals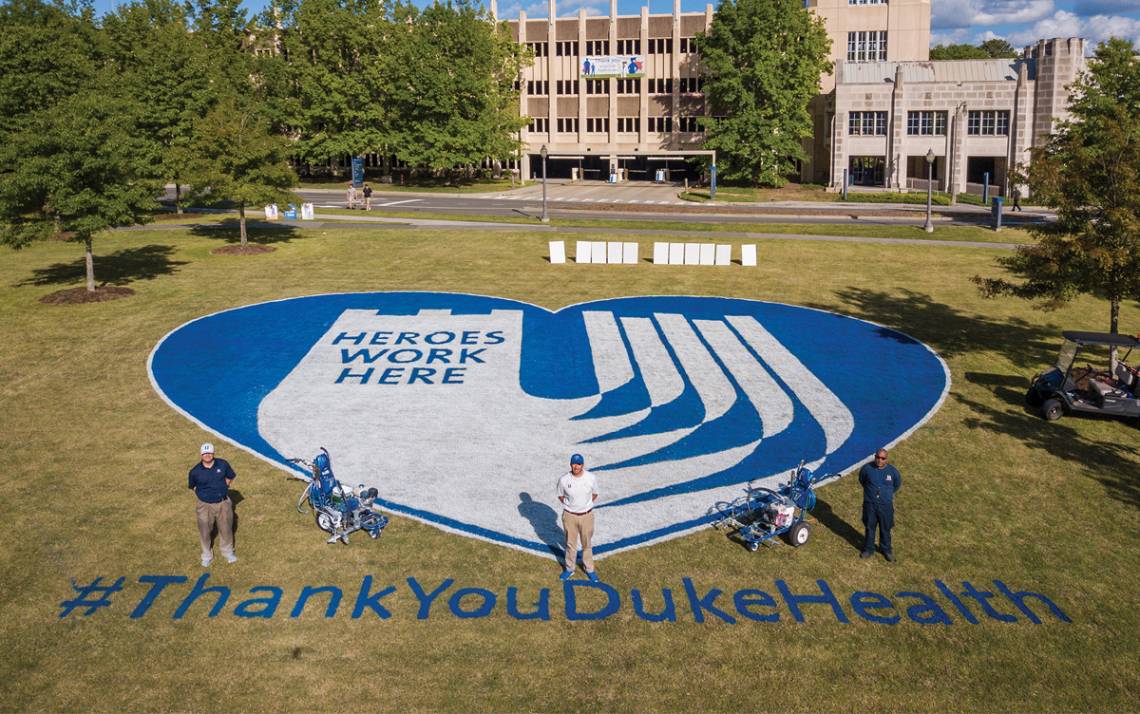 When Duke University Health System discharged its 1,000th COVID-19 patient in August, the milestone encompassed the work of all Duke Health team members on the front lines since the COVID-19 outbreak began.
In addition to caring for the critically ill, the team has processed about 154,000 tests for COVID-19 and made rapid changes to the protocols and the workplace environment to reduce the spread of the deadly virus – all while continuing to provide regular patient care. This unprecedented effort demonstrates Duke Health's values of excellence, integrity, teamwork, respect and innovation.
"The response of our Duke Health team members has been above and beyond anything we could imagine," said Katie Galbraith, president of Duke Regional Hospital and co-incident commander of the Duke Health COVID-19 Incident Command. "They work with dedication, professionalism and an incredible sense of care and compassion. They really are my heroes."
Take a look at some of the work of employees across Duke Health.
Left to right: Duke Urgent Care South employees Dawn Williams, Anthony Jones, Angela Jones, Liz Donohue and Gina Moore at a Duke ambulatory COVID-19 site in March.
"While many of us are trying to figure out how to stay away as much as possible to avoid illness, our urgent care teams are gearing up every morning to be on the front lines," said Karen Pulido, regional director of operations for Duke Urgent Care.
Peggy Eren, above, a nurse practitioner for Duke Hematologic Malignancies & Cell Therapy, donated blood in March to help pandemic efforts.
"It is a pretty easy way to help people," Eren said.
Ry Garcia-Sampson, left, and Kenzie Johnston did Duke Men's Basketball Coach Mike Krzyzewski's hand/heart gesture at a Duke Community & Family Medicine ambulatory test site in April.
Anesthesiologist Paul Wischmeyer, above, shared this self-portrait in April before checking on COVID-19 patients in all Duke University Hospital's intensive care unit.
"As surgery begins at Duke Hospital, we're spending most of our days and nights dressed in the latest PPE fashion," he said.
Duke University thanked Duke Health's medical professionals, including this team in Duke University Hospital's Birthing Center, on World Health Day on April 7.
"Incredibly grateful to all our medical professional and support staff both at Duke Health and worldwide for their tireless work to keep us safe," Duke University tweeted.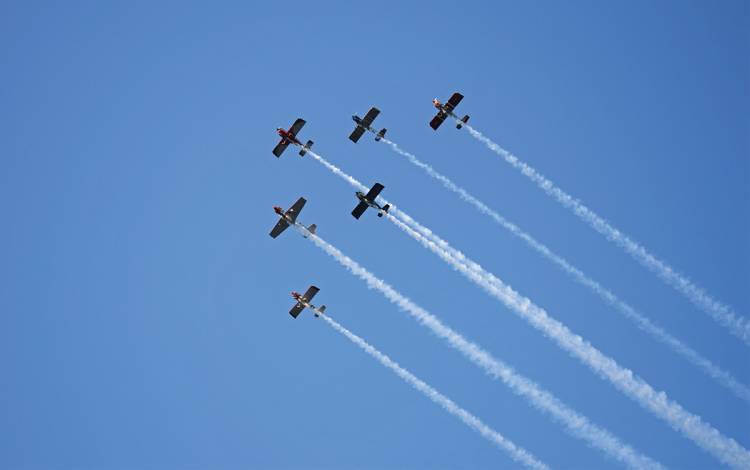 The Bandit Flight Team, a formation flying team, flew over Duke Raleigh Hospital as part of its "Frontline Flyover" on May 14 to honor health care workers in North Carolina.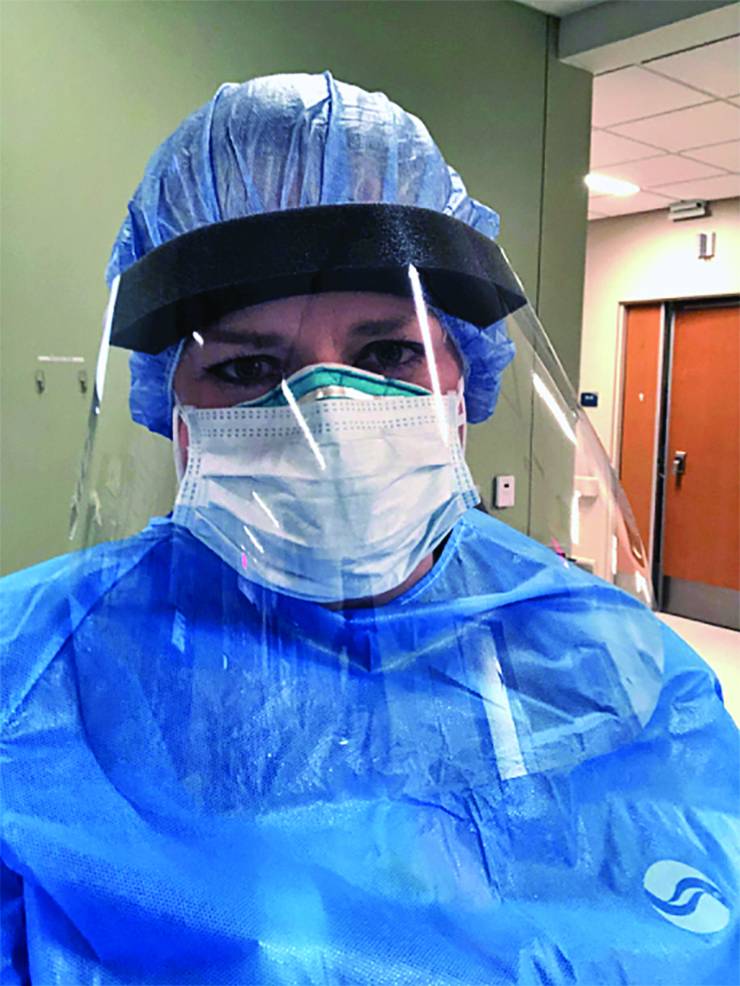 "This is what we have been trained for, and it's such a privilege to take care of our community at a time like this," said Gia Bonis, above, a clinical nurse in Duke Regional Hospital's Emergency Department.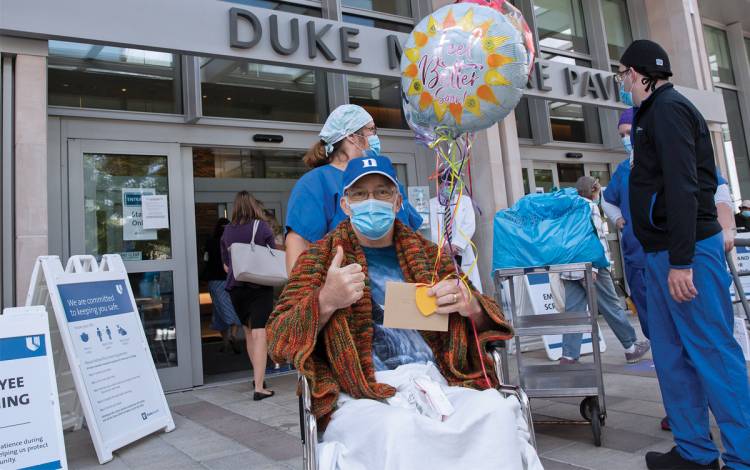 Maury Turner of Fayetteville heads home on Aug. 14 after spending 32 days in Duke University Hospital for COVID-19. Turner represents the 1,000th COVID-19 patient discharged from Duke Health hospitals.
Help share the proactive and extensive work being done by all Duke community members during the COVID-19 outbreak. Send ideas, shout-outs and photographs through our story idea form or write working@duke.edu.