Desire for Change Drives Racial Justice Art Contest Winner
12 submissions highlight creativity and commitment to inclusion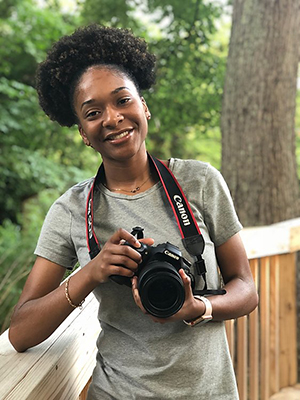 From the anger and grief following the killings of several unarmed Black citizens to difficult conversations with younger family members about how the world will see them when they grow up, Zaire McPhearson had many moments this year when she saw in stark terms how far society has left to go before it truly confronts its racism.
"The last couple of months have been extremely difficult, especially being a Black woman living in the American climate that we're in," said McPhearson, who graduated from Duke's Master of Fine Arts program in May and is now an instructor in the Department of Art, Art History and Visual Studies.
Those emotions motivated McPhearson as she designed the digital art piece that was selected by judges to accompany the new "Working Toward Racial Justice" recurring story series that will launch in the Working@Duke magazine in February.
McPhearson's art was one of 12 submissions from Duke staff and faculty members which were voted on by nearly 1,000 Duke community members. Five submissions that received the most votes were reviewed without any identifying information by Director for Continuing Education at the Center for Documentary Studies Michael Betts II, Mary Lou Williams Center for Black Culture Director Chandra Guinn and Visual Arts Program Coordinator for Arts & Health at Duke Bill Gregory.
"Art, in whatever form, can really inspire and provoke change," Guinn said. "It can change minds and provide alternative perspectives, which can be a powerful tool when relating to racial justice."
The judges chose McPhearson's image of three figures in front of a field of blue shapes because it reveals several deeper layers the more you look.
The background features the colors of Duke, interlocking shapes that evoke of the stonework on campus, and fragmented depictions of Duke University Chapel. All of it is covered in a rough texture that suggests scars of the past.
"Duke wants to be a safe space for students, and I think in order to be a safe space you have to address what's happening recently, but also what's happened in the past," McPhearson said.
The three figures in the foreground feature shirts in the colors of the Durham flag and masks that cover half of their featureless faces, representing both the coronavirus, which has disproportionately affected Black Americans, and the feeling of voicelessness.
"There are all these different elements at play in a very quick and easy, accessible way," Betts said. "As we looked at this piece, things started to unfold and avail themselves to our understanding. We loved the simplicity and complexity of it. That's the beauty of thoughtful work. That's the beauty of art."
Sydney Mitchell was still figuring out how to process the racial justice movement when she saw Working@Duke's call for original artwork to accompany the series.
She decided to channel her emotions into a design, creating a digital mosaic of 750 headshots of Duke employees forming a black hand and white hand clasping together. Mitchell's piece received the most community votes among the entries. 
"I read the description for the contest and how it focused on inclusion, community and us supporting each other and our colleagues who are people of color," said Mitchell, an occupational therapist for Duke University Hospital. "It came to me that Duke is such a diverse place where people of all backgrounds come together. I wanted to show that with this piece."
Mitchell created the design by asking colleagues from various departments and units in Duke University Hospital to share photos of themselves to include in the mosaic. She received about 250 photos, many of which were used multiple times in the mosaic.
Mitchell worked on editing the photos so everyone's head was in the center of the shot. She purchased the image of the hands clasping together from the stock photography provider Shutterstock and used Mosaically, a free website to create mosaics and to put the final piece together.
The photo now hangs in the Duke Physical and Occupational Therapy Clinic gym where Mitchell and other occupational therapists work with patients.
"Art is a springboard for conversations," said contest judge Gregory of Arts & Health at Duke. "It's not about telling someone exactly how you should think. It's about inspiring us to have open-ended conversations, to stand and reflect on moments in our lives like this pursuit of racial justice."
Enjoy the other submissions and learn about the messages behind them.
Brandy Chieco
Assistant Director of Marketing and Communications, Office of Gift Planning
Chieco graphic's graphic features a diverse group of voices and a unified message.
"I designed this piece in May 2020 as a way to express my anger and sadness over the senseless murders of Ahmaud Arbery, Breonna Taylor, George Floyd, and countless other Black men and women who have been killed as a result of systemic racism in America," Chieco said.
Sindhuja Venkatasubramanian
Project Manager for Medical Education IT
Venkatasubramanian's design is inspired by mandalas, or pieces of art incorporating geometry and symbols and often referencing spiritual themes.
"Every person is different and represents many different things: different sexual orientations, different race, different skin-color… and the list would go on," Venkatasubramanian said. "Even though everyone is different, they all live and work in harmony within Duke's umbrella."
Shauntia Wright
Certified Medical Assistant, Duke Primary Care Meadowmont
"This design demonstrates characteristics that fits together into the puzzle of life such as teamwork, equality, peace," Wright said. "Hate and racism have no room and do not fit into the puzzle."
Desirae Lindquist
Clinical Pharmacist, Duke University Hospital
Lindquist researched the contributions of five prominent Black people who left their mark on Duke. Drawing them against a backdrop of Duke's familiar Iron "D" shows how they are all part of the institution's shared history.
"The Duke community has been, is, and will continue to be shaped by actual black lives, rather than abstract concepts or ideas," Lindquist said.
Cara August
Communications Specialist, Duke Psychology & Neuroscience
"My design includes images of people coming from different angles but moving in the same direction," August said. "I chose to include people and movement in the design, because creating equity and racial justice requires people and action."
Toya Wallace
Staff Specialist, Duke University
Wallace created a collage with female and male African masks out of art paper set against a red, black and green flag. The colors make up the Pan-African flag, which represents people of the African diaspora and symbolizes Black liberation.
Wallace grew up with African masks on display in her home. The masks were traditionally worn during ceremonies to communicate with spirits and ancestors on behalf of the community.
She shaped one of the masks to form a heart to symbolize love for all human beings.
"African masks always have the most beautiful textures, shapes and colors," Wallace said. "I wanted to make a piece of art that speaks to my heritage as a Black woman. I think the masks do that beautifully."
Jaada Bowens
Administrative Manager, Trinity College of Arts & Sciences Finance and Administration
"We can't and shouldn't forget our past. Nor should we forget our 'shared values' and who we are – our differences and what unites us," Bowens said of her piece which features campus scenes and images of important Black figures in Duke's history. "We must embrace, accept, acknowledge and understand the past and the present so that we can look forward and ahead to the future with hope and pride."
Jenn Parrish
Staff Accountant, Duke Clinical Research Institute
Parrish said she was moved by the Dr. Martin Luther King Jr. quote and wanted to use dramatic color contrasts and the stitching over the mouth to draw attention to how dangerous it can be when voices go quiet.
Valerie Fernandez
Manager for Coding Operations, Duke Health Office of Revenue and Document Integrity
Fernandez created a collage of inspiring images and phrases that embody diversity and the importance of embracing it.
Yholima Vargas-Aleem
Population Health Research Associate, Duke Population Health Management Office
"My art piece reflects a dancer celebrating her colors while understanding that she is a natural part of the world around her," Vargas-Aleem said. "There is no facial features as this dancer embodies anyone who has learned self-love, self-respect. Additionally, this dancer represents the beauty of diversity, growth, movement, and love for life."