Contact Tracing: When Duty Calls
How a diverse team of staff and volunteers filled the need for student contact tracers
It is meticulous and time-consuming work that never seems to end. But the efforts of Duke's student contact tracing team have been key to the university's success in containing the spread of the coronavirus this semester. What keeps the team going? Knowing they are making a difference and being able to rely on each other.
Associate Dean of Students Laura Andrews — who was appointed in May to lead the student contact tracing effort — is credited by many for the team's success.
"Her selfless willingness to always encourage and support the team has spilled over to every single team member and really set the precedence and tone for how we function right from the start. We are all just trying to emulate her example," Audrey Fenske explained. Fenske has served as a lead contact tracer since July, when she was redeployed from her regular role as a program assistant with the Duke Career Center. She is just one of many staff members from across Duke who were tapped to serve on the team full-time.
Sharon Barbour, who normally works as an assistant manager for Conference and Event Services in UCAE, is also a lead contact tracer. Like many of the team members, she is inspired by the opportunity to serve students. "Knowing I have a role in preventing the spread of COVID on campus is very motivating," she said. "We want to see the students remain healthy and safe while still being able to have an enjoyable on-campus experience at Duke."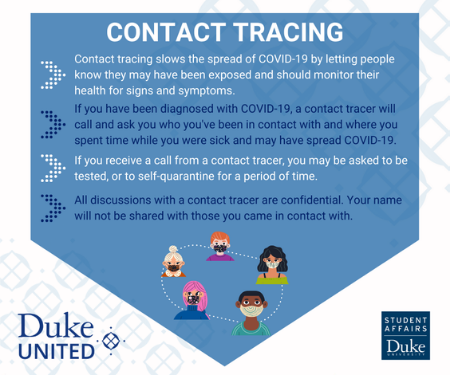 In total, the student contact tracing team is anchored by seventeen redeployed full-time staff and assisted by over 100 volunteers who stepped forward to take on part-time shifts. "We had a particularly amazing response from retirees," Andrews noted. "They came from the university and medical sides as well as staff and administration. They were excited about giving back and protecting the Duke and Durham community."
Liz Baran, a nurse practitioner who retired from Duke in 2017, learned about the opportunity from a notice in the Osher Life Long Learning (OLLI) newsletter and did not hesitate to sign up. "I wanted to be involved in some activity to help control COVID and this was the perfect opportunity to do that," she said.
Stewart Johnson was motivated to sign up for the Johns Hopkins contact tracing course after learning of a COVID outbreak at his former high school in Atlanta. Volunteering to support Duke's contact tracing effort "fit in nicely as a way to give to my community," he said.
Over the summer, all members of the contact tracing team completed the Johns Hopkins contact tracing training and were instructed in privacy policies and Duke's specific tracing protocols.
Of course, all the training and teamwork in the world was never going to make the job easy. Team members typically spend more than an hour with each student who has tested positive for COVID, tracing their activities over the prior two weeks and identifying others who may have been exposed to them before they knew they were infected. With quarantining close contacts a possible next step, the team is sometimes met with suspicion, or even fear, on the part of the students they call. Team members note that an important element of their work is reassuring students about the confidentiality of information shared during the contact tracing process.
"It's really hard to be a college student in this type of environment, especially with so many rules in place and COVID fatigue setting in," said Abby Grubbs, a contact tracer who usually serves as a program coordinator in Duke's Global Education Office for Undergraduates. "I applaud the students for doing their part to stop the spread."
In the end, despite the immense effort required, the student contact tracing team takes justifiable pride in what they are accomplishing. "I love the feeling of satisfaction and the idea of limiting the effect of COVID in our community that participation with this effort gives me," Baran said.
"I feel like this work has shown me the best example of collaboration across teams at Duke, all for the greater good of our entire Duke community," Audrey Fenske said. "It's an inspiration I will carry with me for a long time to come."