Two Duke Buildings Earn Architecture Awards
Karsh Alumni and Visitors Center and Student Wellness Center are recognized for design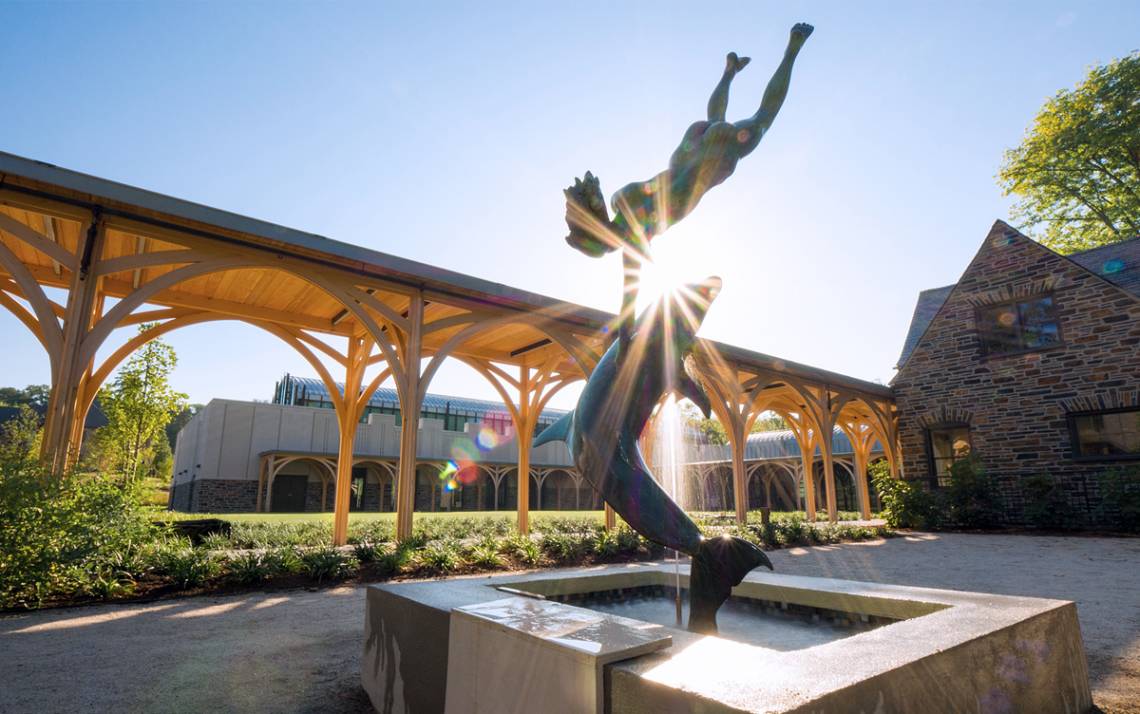 Two buildings on Duke's campus earned architecture awards recently, showcasing the university's emphasis on blending modern design into campus' signature mix of gothic revival buildings and natural setting.
The Karsh Alumni and Visitors Center, which opened in 2019, was recognized with a trio of awards.
It was one of several recently-completed projects to earn the American Architecture Award, which is given by the Chicago Athenaeum Museum of Architecture and Design and The European Centre for Architecture Art Design and Urban Studies, and is considered one of the nation's highest public awards for new architecture and planning.
The judges praised the center, which consists of four buildings surrounding a peaceful cloister, for reflecting "Duke's history and character but through modern construction." The facility features Duke stone and gothic arches alongside sleek glass and steel.
The center also earned a citation from American School & University Magazine, which recognizes outstanding architecture among educational institutions. The judges described the Karsh Alumni and Visitors Center as "modern gothic realness."
The Connecticut chapter of the American Institute of Architects also singled out the center with its Design Award and used a photo of the building for the cover of October issue of the organization's magazine. The architects who designed the facility are part of the Connecticut-based firm of Centerbrook Architects and Planners. 
The Duke Student Wellness Center, which was completed in 2017 and designed by Duda|Paine Architects, was among the honorees in The American Institute of Architects Healthcare Design Awards for 2020. The judges lauded the center for an airy lobby that showcases the buildings' forested surroundings as well as its contemplative spaces. Those quiet corners, along with the clinical areas of the building, speak to the center's purpose as a place to nourish all aspects of students' well-being.
Got something you would like for us to cover? Send ideas, shout-outs and photographs through our story idea form or write working@duke.edu.