Take Me Out to the Classroom
Duke faculty member uses stadium as improvised classroom during pandemic
When Eric Green, assistant professor of the practice of Global Health, met with students in his Global Health Research Methods class on Wednesday afternoons this fall, he didn't mind if their focus wandered.
While his actual classes are held on Zoom every Tuesday and Thursday, the informal outdoor Wednesday meet-ups he organized gave students a chance to review course material, meet the people on the other side of their computer screens and soak in the atmosphere of one of the prettier spots on campus.
"When they got bored of me, they could look out into the outfield and see a bunch of guys warming up," said Green, who held the in-person class sessions on the covered grandstand of Jack Coombs Field, which has been home to Duke's baseball program since 1931.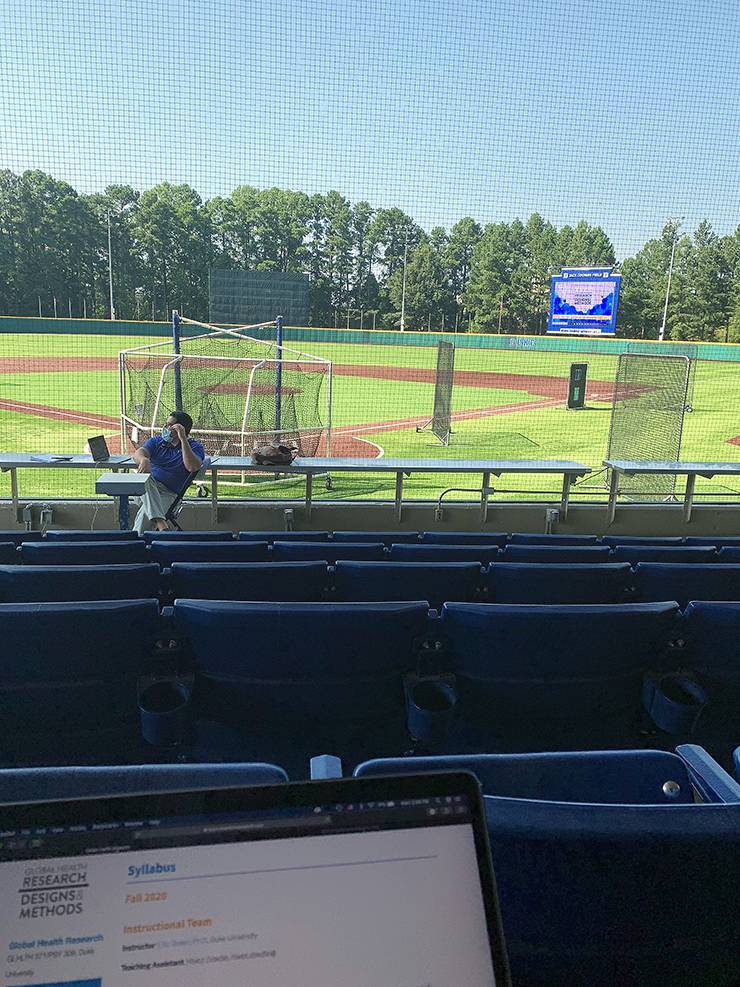 Green's course, which is for undergraduate and graduate students, is being taught remotely due to the threat of COVID-19. But Green felt that an in-person meet-up might help build a rapport among classmates. After considering outdoor spaces both on and off campus, Green's wife had the idea of Jack Coombs Field.
"It's covered, it's open air, it's walkable to the students who were already on campus," Green said. "It checks all the boxes."
In August, Green sent an email to Bob Weiseman, Duke senior associate director of Athletics/Athletic Facilities, Game Operations and Championships, with the idea. Weiseman approached Duke baseball coach Chris Pollard, who quickly agreed.
Pollard had already seen the value of the Jack Coombs Field grandstand as a gathering space, using it for team meetings and even the occasional post-workout team pizza dinner.
"It was a great idea on Eric's part," Pollard said. "I thought, 'Hey, he's thinking along the same lines as we are.' This is a really logical outdoor space in which to hold a class."
When the class met for the first time at the stadium in late August, Green said he was greeted by Pollard and a handful of assistant coaches who made sure he had everything he needed. They also showed Green how to hook his computer up to the stadium's video board, so his PowerPoint slides would show up two-stories tall in right center field.
"That's been my experience at Duke," Green said. "If you have an idea, just ask somebody. They'll go out of their way to help you bring it to life and that's what happened here."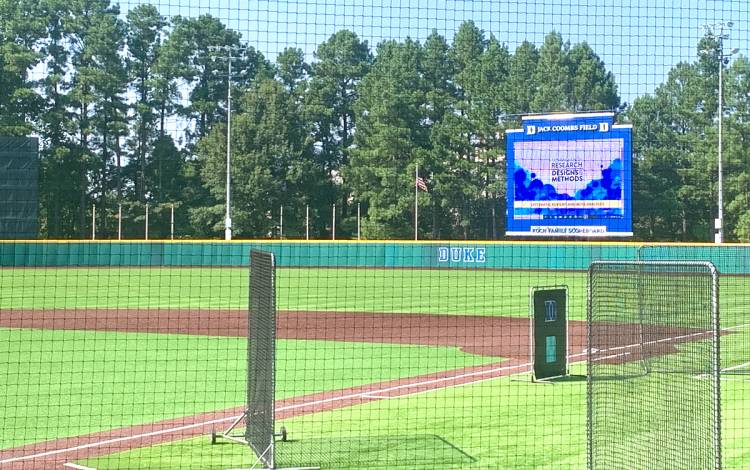 The idea was a hit with students, who said the sessions were a pleasant break from their steady stream of Zoom-based classes. The in-person conversation felt more natural and the fresh air was a welcome change.
"I think if nothing else, just sitting six feet apart from another student who's trying to learn the same concept just feels more comfortable than being in a totally different room," said Duke senior Bailey Knight. "There's more of a sense of camaraderie and engagement."
Green and his students met in Jack Coombs on most Wednesday afternoons in August and September before moving to Koskinen Stadium, home to Duke soccer and lacrosse, when the baseball team's fall workouts, which wrap up in early November, hit high gear, making the facility a little too busy for class.
"I hope it's used more often," said Monique Kelmenson, a first-year student in the Master of Science in Global Health program. "It was a great place. You could be physically distant and still hear the professor. I didn't feel like I was putting myself or anyone else at risk and I still had all of the benefits of an in-person class."
Meanwhile, the collaboration provided an opportunity for the Duke baseball program to lend a hand to a faculty member, and for Green to engage his students in a setting he'll never forget.
"I think it speaks to the cooperative spirit that exists not just in this athletics department but across the university," Pollard said. "The reality is that we're all in this new normal together and we're trying like heck to make things work for our students, our faculty and staff. This was great opportunity for us to help out and we were really happy to be able to do that."
Watch this fun video about Green's experience:
Help share the proactive and extensive work being done by all Duke community members during the COVID-19 outbreak. Send ideas, shout-outs and photographs through our story idea form or write working@duke.edu.