Races for Governor, Senate, Others Tied to Presidential Outcome in NC
Duke faculty share insights on down-ballot races in NC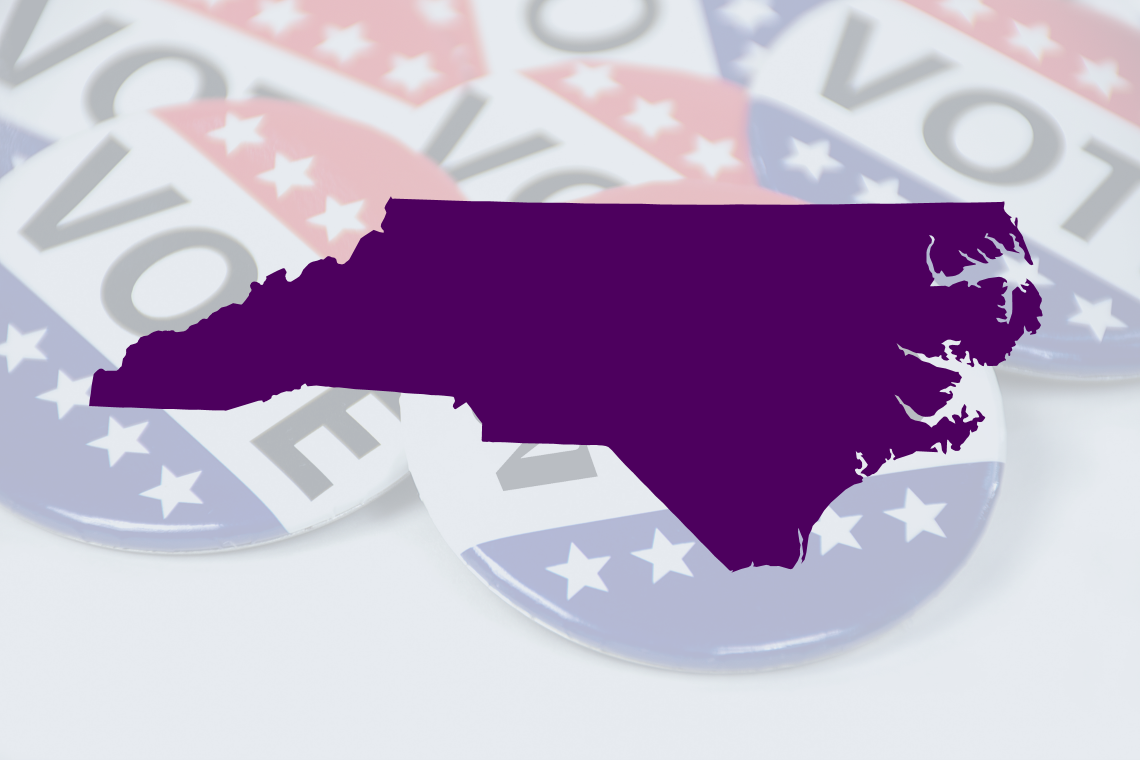 Sanford School professor Pope "Mac" McCorkle has a pat answer for the media when asked about the importance of North Carolina in the race for president: "How North Carolina goes this election, so goes the nation."
"Just as in 2016, North Carolina is an absolute must win for Trump. If the Democrats win North Carolina, I will boldly predict we will have a Democratic president in 2020," McCorkle predicted during a pre-Super Tuesday briefing for media in February. "It's a purple state, a swing state. It's a must win for the Republicans."
A recent New York Times article still underscores that view: The White House, Senate and Supreme Court Could All Hinge on North Carolina.
Whoever wins the White House will also influence so-called down-ballot candidates, including races for U.S. Senate, governor, secretary of state, General Assembly members and others.
Republicans will fare well if President Trump wins on Nov. 3, but Democrats will gain victories if the former Vice President Joe Biden becomes the nation's 46th president, according to McCorkle, director of the Polis: Center for Politics at Duke.
With the election only weeks away, McCorkle stands by that comment, though the race remains close.
In another major race here, incumbent Democratic Gov. Roy Cooper faces Republican Lt. Gov. Dan Forest. Polls show Cooper with a significant lead in recent weeks.
Forest has sought to fire up GOP voters by criticizing Cooper for closing businesses in response to the coronavirus pandemic.
"Forest will probably need a late general wave in favor of Republican candidates to make him more competitive and give him a chance to pull an upset," McCorkle said.
Another high-profile race is incumbent Republican U.S. Sen. Thom Tillis trying to fend off Democratic challenger Cal Cunningham.
Both candidates encountered negative headlines over the past week: Tillis contracted coronavirus and Cunningham admitted to sexting a strategist.
Both negatives may cancel each other out, McCorkle said.
"It could be said that the Senate race has featured recent developments that would usually be quite destabilizing, significant on both sides -- Tillis' virus and Cunningham's hijinks," said McCorkle, a former Democratic consultant. "But they may tend to cancel each other out -- and focus on Trump's situation and the presidential races may be burying the Senate race somewhat."
Duke political scientist John Aldrich told The Wall Street Journal that such developments this late in the race could still sway some voters, even just a little.
"Where it might change the dynamics of the campaign is that little tiny sliver that's available in changing side-to-side," Aldrich said. "Most of our statewide elections are really close, and you need that sliver."
The majority in the state's Senate and House chambers could also change. Republicans hold majorities in both chambers (29-21 in the Senate, 65-55 in the House).
The Democrats believe they are still carrying momentum from the 2018 race, where they chipped away at a wide GOP majority and gained a significant number of seats.
"The state will be using new legislative maps that are a bit more favorable to Democrats than the previous GOP-drawn maps, but Republicans start with an edge to keep control after 2020," according to the Cook Report.
Also on this year's statewide ballot are three North Carolina Supreme Court seats and three appellate court seats. Democrats already have a 6-1 advantage on the Supreme Court.
"It's dubious that you would see a big shift there in the Supreme Court," McCorkle said.
He also thinks Republicans may lose a couple of seats on the nine-member Council of State, which includes publicly elected secretaries of state, agriculture, labor, etc.
The council also includes the state's lieutenant governor, which would fill the post now held by GOP gubernatorial candidate Forest.
Regardless of who wins – Republican Mark Robinson or Democrat Yvonne Lewis Holley – the outcome will give North Carolina its first Black lieutenant governor.
Such progress reflects a changing dynamic in Southeastern states, and a warning to the GOP if the party continues to primarily focus on non-college-educated whites and white evangelicals, both declining segments of voters in the region, political science professor Kerry Haynie told CNN.
"Georgia, North Carolina and South Carolina look similar in terms of the trajectory of the demographic shifts," said Haynie, who directs Duke's Center for the Study of Race, Ethnicity and Gender.