Putting COVID-19 Safety Tools in Your Hands
Small boxes across campus serve as reminders of everyone's role in the fight against COVID-19
As one of the people responsible for looking after the Rubenstein Arts Center, John Kolba has paid plenty of visits to the central campus building during the pandemic. 
And each time he's there, the importance of stopping the spread of the virus is paramount.
"It's pretty much front and center," said Kolba, associate director of the Rubenstein Arts Center. "You can't get around it."
Kolba's days begin and end with wiping down doorknobs and drawer pulls, and in between he wears a mask, washes his hands and passes numerous signs reminding him to do so.
And the "Classroom Caddies" installed in 12 spaces in the Rubenstein Arts Center by Duke Facilities Management are yet another way to help Kolba, and everyone else who passes through the building, show their commitment to safety.
The small boxes bolted to the walls by doorways hold sanitizing wipes and a spray bottle filled with anti-viral disinfectant and are available for students, staff and faculty to keep their areas clean.
"It's a good combination of something that's practical and reinforces the idea that we're trying to convey," Kolba said. "From a logistical standpoint, it gives each of the spaces a home where the cleaning supplies are going to be. And it makes things a little more straightforward for folks."
The idea for the caddies took shape over the summer, as the university studied what kind of safety protocols would need to be in place for students to return to campus.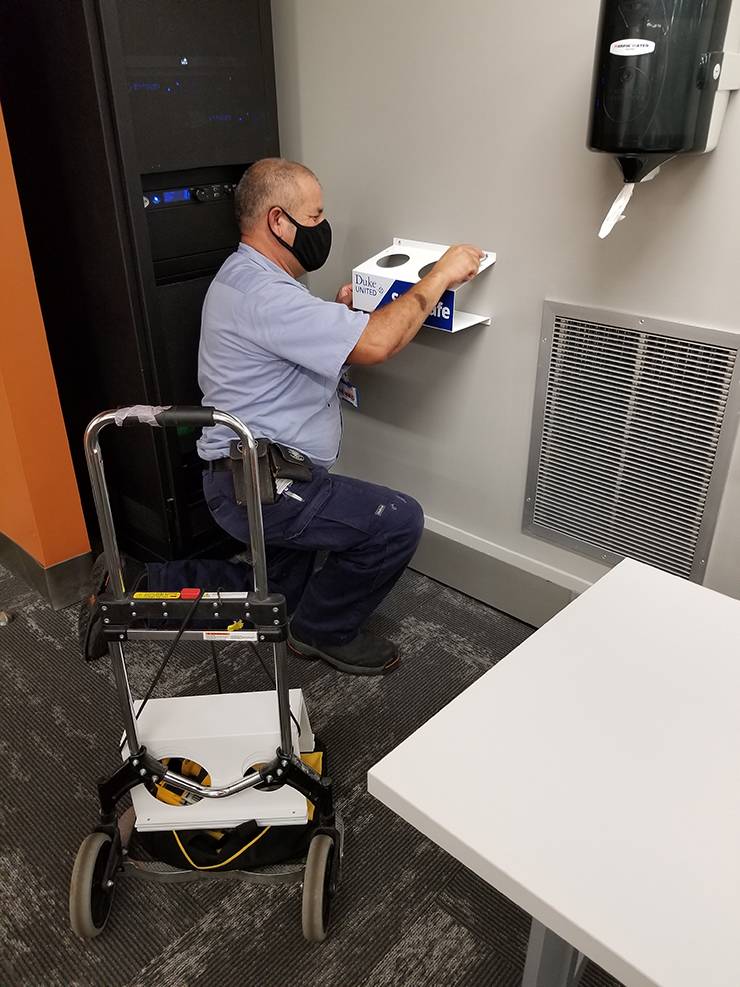 With Duke's housekeeping staff already busy tackling deep cleaning in classrooms and other areas, some cleaning responsibilities had to also fall community members who used the spaces. The next challenge was ensuring they had everything they needed.
"Once we decided that we'd need a tub of wipes and a spray bottle of disinfectant, we thought we could leave them on a desk near the door," said Steve Palumbo, director of facility operations for Duke Facilities Management. "But as we talked through it, we realized we needed a single spot where we could keep them and where housekeeping would know to check for them."
Palumbo and colleagues in Duke Facilities Management studied different options before finding a three-sided metal box concept online. After tweaking it to fit exact needs, Duke enlisted the help the same Raleigh-based fabrication company that made the hand-sanitizer stands, to make the caddies.
In August, the Duke Facilities Management's General Maintenance Mechanics began installing over 220 caddies across campus, with each school helping determine location. Housekeepers from University Environmental Services monitor and refill the caddies with cleaning supplies.
"They are nice because you can put them up and everything you need is right there," said Duke Facilities Management General Maintenance Manager Charlie Perez. 
As limited aspects of on-campus life has resumed this fall, the caddies serve as reminders that we all have a role to play in that effort.
"It keeps safety in the front of everyone's mind," said Kolba of the Rubenstein Art Center. "It's not like there's a spray bottle sitting on the floor in the corner of the room. It's right there. It helps get the message across."
Help share the proactive and extensive work being done by all Duke community members during the COVID-19 outbreak. Send ideas, shout-outs and photographs through our story idea form or write working@duke.edu.