PUBLISHED
The Numbers Behind Duke Students and Early Voting
Duke broke its record for early voting in 2018. Will students help set a new one in 2020?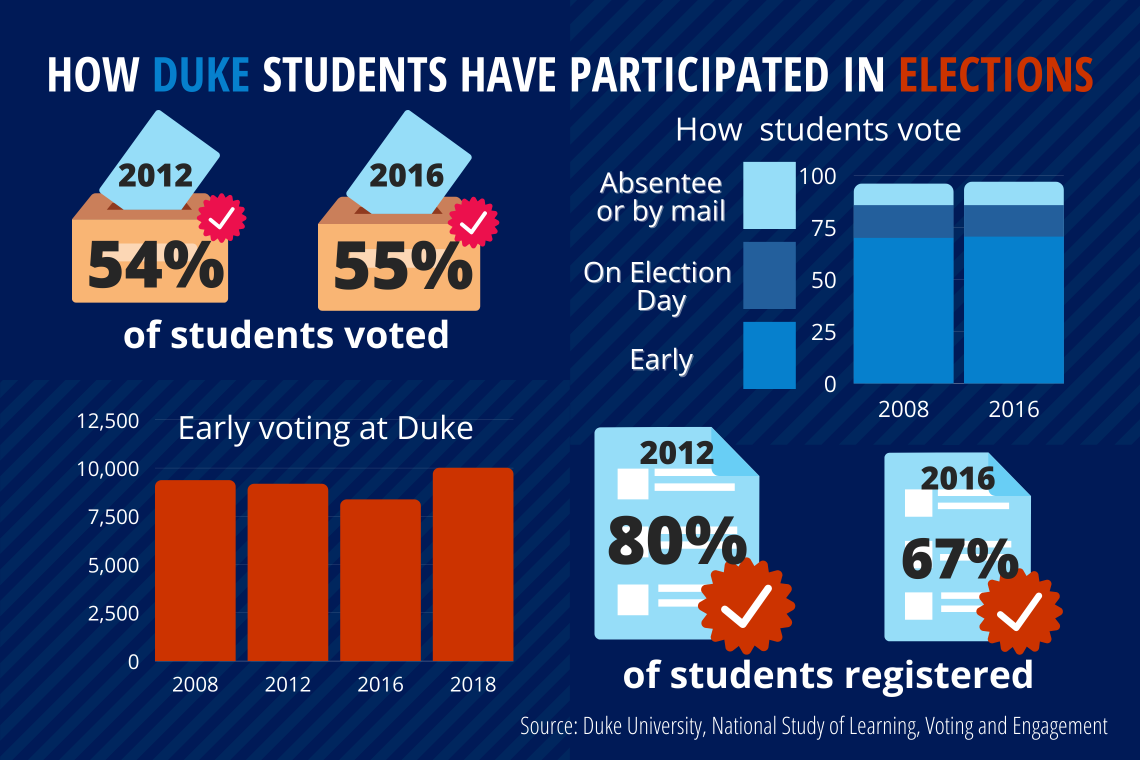 In the 2018 election, the early voting site on Duke's campus set a record with 10,003 people coming to early vote, more than in any of the three elections prior. With this year's contentious presidential election combined with a concerted effort to get out the vote across Duke's campus, there could be the potential for stronger voter turnout across campus, especially among students.
However, a Duke student-led effort aims to turnaround the voting patterns of youth voter turnout across the United States. Although 18- to 29-year-olds make up 22 percent of the voting age population, they made up just 13 percent of the voting electorate in 2018.
Political Science Professor Sunshine Hillygus has spent much of her time at Duke researching the very issue of youth voting. Her book with John B. Holdbein, Making Young Voters: Converting Civic Attitudes into Civic Action, describes the difficulty in getting young people to vote: while eight in ten young people say they're interested in politics, less than half of young people turn out to vote. At Duke, those numbers are only slightly larger: more than half of students turned out to vote in the 2012 and 2016 elections.
Although young people care about politics, they often face obstacles either personal or institutional in voting. Young people find themselves under-prepared by their high school civics classes, facing first time voting in a system where the laws vary by state and where their registration or ballot can be rejected by an accidental error. 
"We did qualitative interviews of young people to try and understand their barriers to participation, and all of those things are barriers," said Hillygus. "Even though they don't really seem like that big of barriers to people who have been established in their communities for a very long time and have lived at the exact same address for a very long time, they are actually big obstacles for young people and can make it harder for them to follow through on their intentions."
The 2020 voter effort, affiliated with POLIS: Center for Political Leadership, Innovation and Service, is educating students on how to register, research their ballot, and find out how to vote with a variety of student events, signs and voter registration drives. This year, they've partnered with organizations across campus to expand these efforts to staff and faculty.
This year, a convenient one-stop early voting station will be available at the Karsh Center for Alumni and Visitors from October 15th through the 31st. Durham residents will be able to early vote as well as same-day register when bringing a form of identification. The overwhelming majority of Duke students who voted in the 2012 and 2016 presidential election voted early – if they turn out in full force, Duke University's on-campus early voting site just may break its own record.