Five Things to Know About Early Voting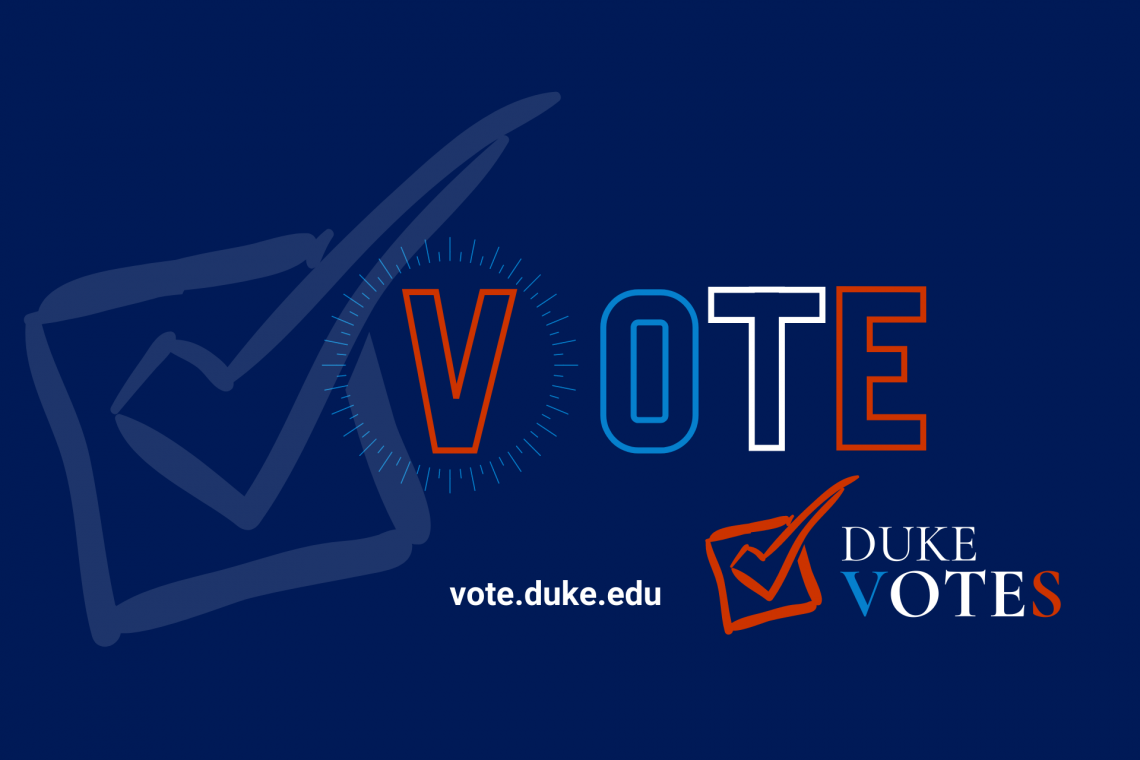 Early voting sites open today throughout North Carolina — providing you with an opportunity to avoid long lines on Election Day, change your voting address within the same county or even register to vote, if needed.
All N.C. early voting sites will be open from 8 a.m. to 7:30 p.m. Monday through Saturday, and from 2 p.m. to 7:30 p.m. on Sundays. The last day of early voting is Saturday, Oct. 31, when sites will be open from 8 a.m. to 3 p.m.
For more information on early voting, visit the NC Board of Elections website. Complete information on voting can also be found on the Duke Votes website.
Before heading to the polls, here are 5 things to know about early voting:
1. Duke has an early voting site located at Duke University Karsh Alumni and Visitors Center, 2080 Duke University Road.
Anyone who has been a resident of Durham County for at least 30 days prior to election day on Nov. 3 is eligible to vote at Karsh Alumni Center, including Duke students, staff and faculty. The Center is close to West Campus, making it an easy walk for most people working or learning on campus. There is also free parking provided directly outside of the Center.
It's best to vote mid-morning and mid-afternoons during the work week to avoid lines. The busiest early voting days tend to be the first and last days of early voting. Knowing your candidate choices in advance can make the voting process go more quickly. You can look up your sample ballot on the NC Board of Elections website using the Voter Search tool.
If another local site would be more convenient for you, this Durham County Board of Elections map shows all county early voting sites as well as their average wait times. If you are a resident of another county, multiple early voting sites are available in Wake, Orange, Person, and Alamance counties. You can also look up all county early polling locations on the state Board of Elections website.
Remember: if you choose to wait until Election Day on Nov. 3, you must vote at your regular voting precinct.
2. You can register and vote at the same time at all early voting sites.
Did you miss the Oct. 9 deadline for regular voter registration? If so, here's good news: It's not too late to register to vote. Same-day registration and voting is available on campus at Karsh Alumni and Visitors Center, along with other early voting locations. To register to vote at an early voting site you must be eligible to vote and provide proof of residency, and will be required to fill out a North Carolina Voter Registration Application at the polls.
To show proof of residency, you must provide an identifying document with your current name and address, which could include a North Carolina driver's license, a utility bill, or a bank statement. A full list of acceptable identifying documents can be found on the Board of Elections website.
Duke students living on campus only need to show their Duke student ID card to register to vote during early voting.
During early voting you may also update your name and address within the same county, if needed. You will not be able to register to vote or change your voter registration on Election Day.
For more information, review these complete voter registration rules in North Carolina or same-day registration guidelines.
3. You must follow all polling place rules when you vote.
North Carolina law prohibits voters from taking photos or videos inside the voting enclosure — meaning no "I Voted" selfies with your ballot are allowed. You may bring your phone inside the voting booth, but you are not allowed to communicate with anyone via talk, text, email if you do. You are allowed to bring print voting guides or endorsement slates in with you and you can use an electronic device to access a slate card or candidate information so long as you do not use your device to communicate with anyone.
In addition, whether voting early or on election day, NC law prohibits political activity within a buffer zone that usually extends 50 feet out from the entrance to the polling place.
The related law governing apparel, such as hats or t-shirts with political statements on them, is more complicated. You may enter a polling place to vote wearing political items so long as you proceed to vote in an orderly and timely manner and refrain from attempting to electioneer within the voting place.
If you violate this prohibition, you will be warned and, if necessary, asked to leave the polling place. However, because the definition of "electioneering" is sometimes a judgment call, and disputes can have a negative impact on voter safety, it is probably best to leave all political apparel at home. Read the NC law in full at the NC General Statues website.
4. You can still vote by absentee ballot — and have the option of dropping your ballot off at an early voting site.
If you have already requested an absentee ballot, you may drop it off at any early voting site in person, either for yourself or a close relative, but you will have to wait in line with on-site voters to do so.
If you do not drop your absentee ballot off at an early voting site, you can return it to your local board of elections or a designated drop-off site by 5 p.m. on election day. Remember that you must return your absentee ballot in the county in which you are registered to vote. You can also mail or deliver your ballot via UPS, FedEx or DHL, as long as it's postmarked by 5 p.m. on Election Day and received by Nov. 6 at 5 p.m. Be sure to use the return envelope provided with your absentee ballot when you turn it in.
It's also not too late to request an absentee ballot. You have until 5 p.m. on Tuesday, Oct. 27 to request an absentee ballot. You can easily fill out an absentee ballot request form online. When filling out your absentee ballot, you must fill it out completely and both you and a witness willing to attest to your identity must sign the completed ballot or your ballot will be ruled invalid. Almost anyone can serve as your witness so long as they are at least 18 years old and they are not running for political office (unless they happen to be related to you.)
You can make sure your absentee ballot was received by using Ballottrax, which is an absentee ballot tracking site operated by the N.C. State Board of Elections.
Note: Even if you have already requested an absentee ballot, you can still opt to vote in-person during early voting or on election day so long as you have not already voted by absentee ballot. In addition, if your absentee ballot is rejected for any reason, you can go ahead and vote in-person instead. Get more information on absentee voting in NC on the Board of Elections website.
5. Multiple precautions are being taken to keep voters safe. You can help make it safer.
North Carolina has instituted numerous measures to make voting safer during the pandemic. Polling places will be cleaned daily cleaning using hypochlorous acid, an electrostatic sprayer and disinfecting wipes before and after polls close.
In addition, hand sanitizer and disinfecting wipes as well as individual pens and styluses will be provided for both voter and poll worker use. There are also plexiglass barriers and a cleanliness coordinator at each polling site to clean surfaces and equipment throughout the day.
Karsh Alumni and Visitors Center will have close to 20 voting booths that will be appropriately spaced to adhere to social distancing guidelines. Election officials and poll workers are required to wear masks. You can do your part by following all COVID precautions when voting, including wearing your mask and observing social distancing guidelines.
Check back next week at Duke Today for information on voter intimidation prevention and other election topics.