Duke Housekeepers: A Front Line of Defense
International Housekeeper Appreciation Week presents a special opportunity to show gratitude for vital work
Cora Williams, a housekeeper specialist with Duke University Environmental Services for nearly 24 years, knows the people she encounters during rounds on East Campus appreciate her work.
"They know me, we work hand-in-glove," Williams said.
Since the beginning of the COVID-19 pandemic, her work has gone beyond simply keeping facilities clean. She knows that her job, like that of the rest of Duke's housekeepers, helps keep community members safe.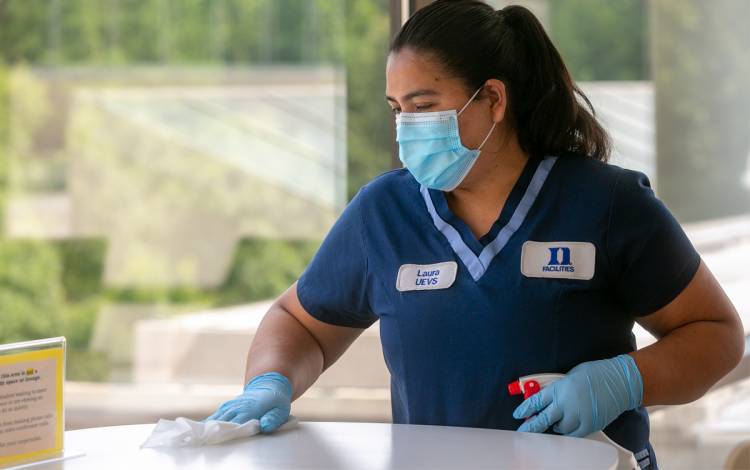 For International Housekeepers Week, we celebrate the roughly 250 housekeepers of Duke University Environmental Services and the roughly 100 housekeepers of Duke Housing and Residential Life who care for Duke's campus and the many people who work, study and live there. And in recent months, Duke's housekeepers have stepped up to face the challenge of COVID-19.
"They probably have one of the most important roles on our campus right now," said Leslye Kornegay, director of Duke University Environmental Services of Duke's housekeepers. "It's always been important, but it's really elevated now. They're the front line of defense."
The COVID-19 pandemic has required Duke housekeepers to change the way they work. They have increased the frequency of cleaning in many parts of campus. Some areas that may have been cleaned daily are now cleaned as many as four times a day.
Team members have embraced the use of new tools such as electrostatic sprayers and more thorough protective equipment for areas where there may have been coronavirus exposure.
"They've really been great about responding to all the changes, because there have been a lot," Kornegay said.
Duke senior Laudan Hatami has seen the housekeepers' commitment first hand.
"I get to interact with UEVS every day and the staff was so hard-working," she said. "They would come in on Sundays to make sure the job was getting done. So I really appreciated them for the clean campus."
For Williams, who reports to work each day having completed a symptom monitoring survey and wearing a mask, the changes brought on by the pandemic have left her with even more motivation to make a difference.      
"We've been doing things differently to protect ourselves and protect everyone else," Williams said. "I go home to my family each day, so that motivates me to be safe. But I'm around students, and people that come to work each day and who go home to their families, so I want to take my cleaning to the next level. We all need to work together to keep each other safe."
Watch a video featuring words of gratitude from Duke community members:
Share your appreciation for Duke's housekeepers by leaving a comment in our Facebook story below:
Got something you would like for us to cover? Send ideas, shout-outs and photographs through our story idea form or write working@duke.edu.