Body Language Tips for Engaging Video Meetings
How to improve your body language in the virtual workplace
Kathleen Moretz made a few adjustments to her body language after seeing herself on the computer screen during virtual meetings when her entire team started working remotely.
She now nods when a colleague speaks and smiles and looks at the webcam when someone addresses her. 
"I was always paying attention, but it didn't necessarily look like I always was," said Moretz, clinical trials project leader for Duke Clinical Research Institute. "It's been a learning experience to teach myself to nod and smile through a meeting to show that I am engaged and listening."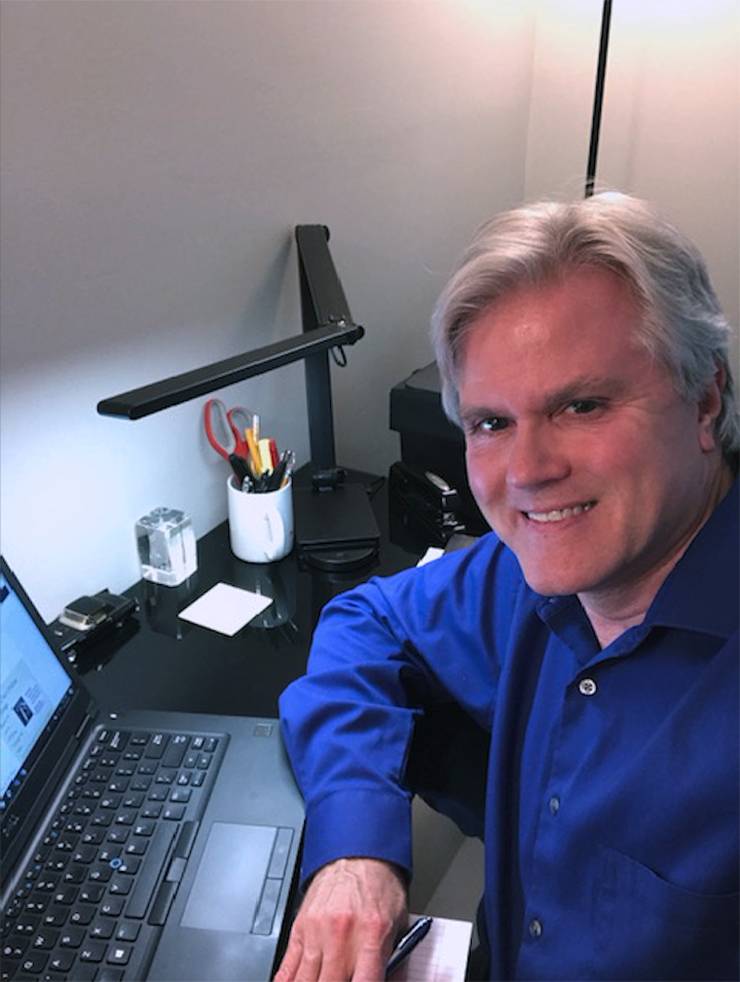 Moretz picked up pointers to practice positive body language during Duke Learning & Organization Development's "Communicating with Diplomacy & Tact" course in July. The class, scheduled again for Oct. 1, offers tips to address conflict, give feedback and communicate in-person, over the phone and through virtual meetings.
Don Shortslef, senior practitioner for L&OD who led the course, said body language in virtual meetings is important to pay attention to because facial expressions, hand gestures and posture can help you communicate and collaborate effectively with colleagues, demonstrate attentiveness and reinforce trust.
"If you see someone slouched over or they aren't blinking or reacting in any way, it's easy to assume they are not listening," Shortslef said. "Simple body language adjustments like smiling or nodding more can go a long way in convincing your colleagues that you're listening, engaged and comprehending what they're saying."
Here are four tips to improve your body language in the virtual workplace.
Express yourself 

Dave Solloway amplifies his facial reactions during video meetings. He raises his eyebrows, alternates between standing up straight and leaning forward at his standing desk, nodding and smiling. 
All of these behaviors are Solloway's way of combatting his natural resting face, which he said people may interpret as disinterested. 
"People can determine how you're feeling by this six-inch image of you on their screen," said Solloway, assistant director for daytime MBA career services at the Fuqua School of Business. "That means every blink, every grin and every time you lean toward the camera has much more power because they can't interpret your full body of energy."
Solloway, who prepares students for networking engagements and interviews at the Fuqua Career Management Center, recommends finding a few non-verbal cues that communicate you're paying attention. He recommends nodding, giving a thumbs up or raising your eyebrows to demonstrate interest.
"You want to be more animated," Solloway said. "That's going to help your audience understand your message and help presenters know you are engaged."
Straighten your posture

Don Shortslef's secret to maintaining good posture and keeping his back straight during virtual meetings is imagining all eyes are on him.
"It's not a good look if you're hunched over the computer, you're looking down or you're sprawled out on the couch," Shortslef said. "You could be saying the right things, but your body is conveying 1,000 negative cues. That negativity is what people are going to remember."
To help your posture, keep your feet flat on the ground and thighs level to the floor so you have a 90-degree angle at the knees. Your head, neck, back and legs should be aligned when standing. When seated, sit up straight so your ears, shoulders and hips are aligned.
Good posture makes you appear more energetic, self-confident and reduces stress on your body. Shortslef said proper posture helps him focus and get into a work mindset.  
"Sitting up straight makes me feel more engaged, more confident and more professional," Shortslef said. "I find that even my voice conveys more power and interest."
Leave room for your hands

As someone who gestures with her hands while she talks, Caroline Gorham makes a habit of positioning her chair a few inches away from her desk when a video meeting starts. 
Gorham keeps the computer about an arm's length away so colleagues see her shoulders and hands while she talks during staff meetings and virtual get-togethers with the "PRATTically Speaking Toastmasters" club. 
"When you're cutting out my hands then you're only getting half of what I'm saying," said Gorham, executive assistant to the director of the Duke Energy Initiative. "Talking with my hands is my way of showing excitement and enthusiasm. I'm metaphorically pulling you into the conversation."
Solloway, of the Fuqua School of Business, said sitting an arm's length away from the screen is the perfect distance for a virtual meeting. You want to be close enough so your colleagues can see your face clearly and far enough away so it doesn't appear as if you're a floating head. Aim to have your head, shoulders and top of your torso in view.
"The best speakers I've watched move their hands into the frame," Solloway said. "It's less inviting to only see someone's head because we're used to seeing their entire body when talking to them. Seeing someone move their shoulders and gesticulate creates a much more natural and engaging feeling for your virtual conversations."
Make eye contact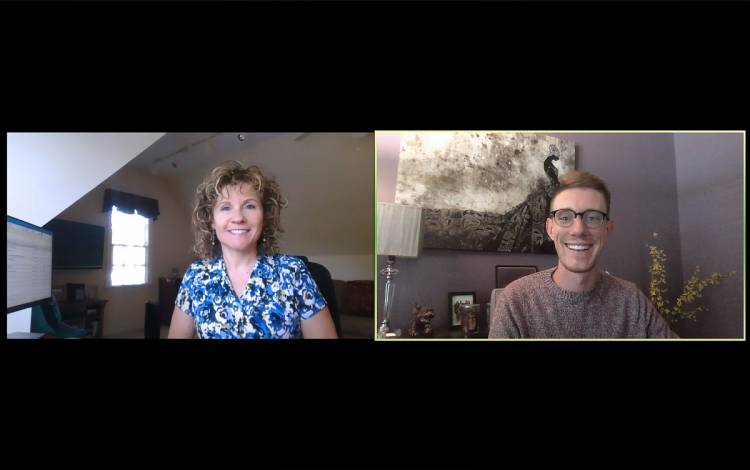 To replicate looking into someone's eyes, look directly into your webcam. 
Moretz of the Duke Clinical Research Institute alternates between looking directly at her webcam and the computer screen when she talks during meetings.
If you're typing notes online, have the notes on the same computer screen as your virtual meeting. Putting notes on a separate screen makes it appear that your attention is elsewhere. Continue to intermittently glance at the screen if you're taking notes by hand. Also, mute your microphone, so sounds of typing don't distract others.
Speak up using body language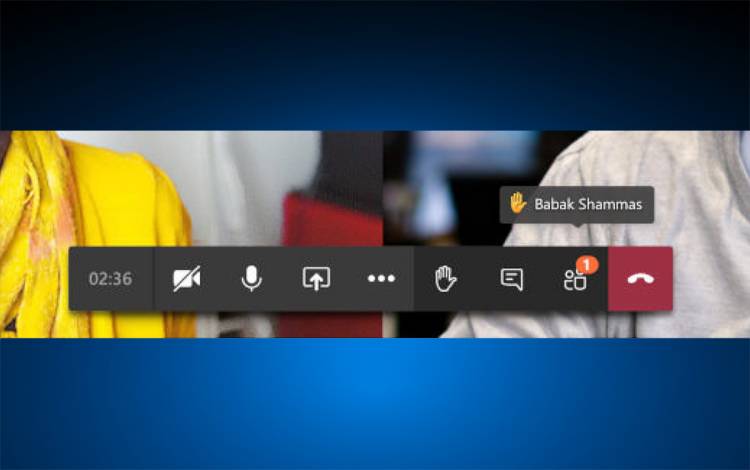 Solloway has a few tricks to silently indicate when he has something to say during a virtual meeting. 
He raises his chin and a hand or finger. Meeting attendees can also use a button that looks like a raised hand in Zoom, Microsoft Teams and WebEx to show you want to speak. 
"We could all do a better job at paying attention to how long we're speaking and acknowledging others if they appear to have something to say," Solloway said. "When someone uses their face to express an inquisitive look and raises their hand that's usually a sign they have something to say. Likewise, we all know raising your hand means you want to speak."
Got something you would like for us to cover? Send ideas, shout-outs and photographs through our story idea form or write to use at working@duke.edu.