Behind the Scenes: Duke's School of Nursing Building Reopens
Collaborative process allows limited return of students, staff and faculty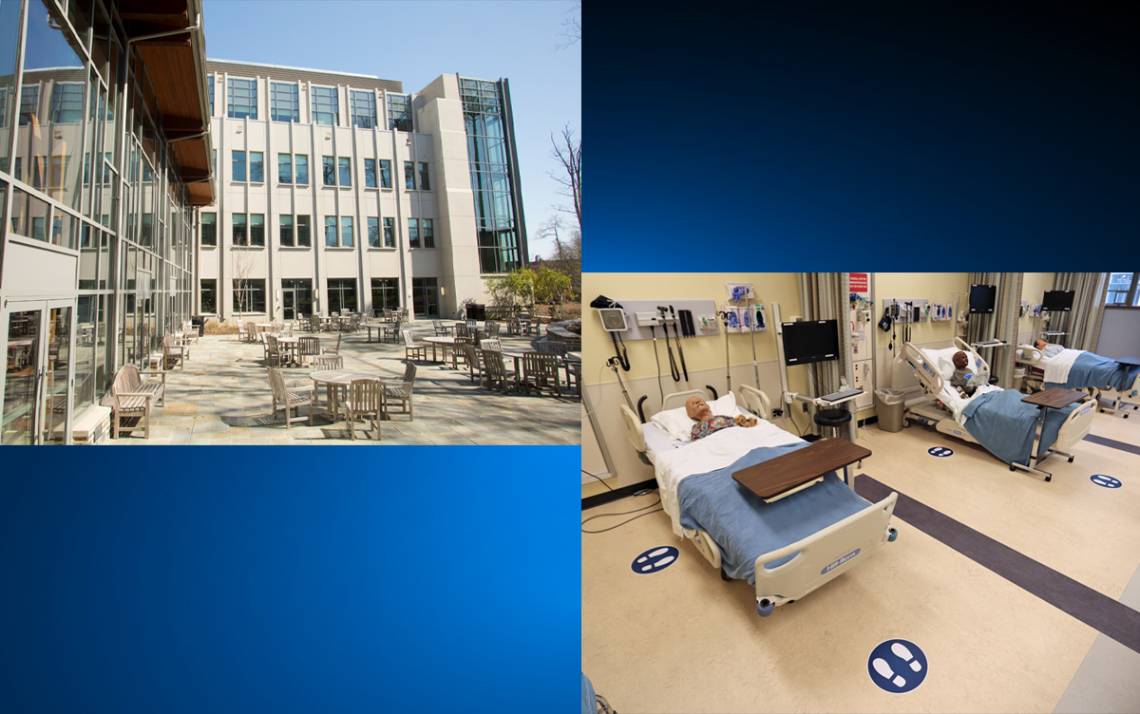 For Tina Leiter, the near-constant foot traffic in the sunny atrium and hallways of the Pearson Building showcase the vitality and value of work at the School of Nursing.
But for the past three months, since the threat of COVID-19 moved work off campus, the building has been eerily quiet.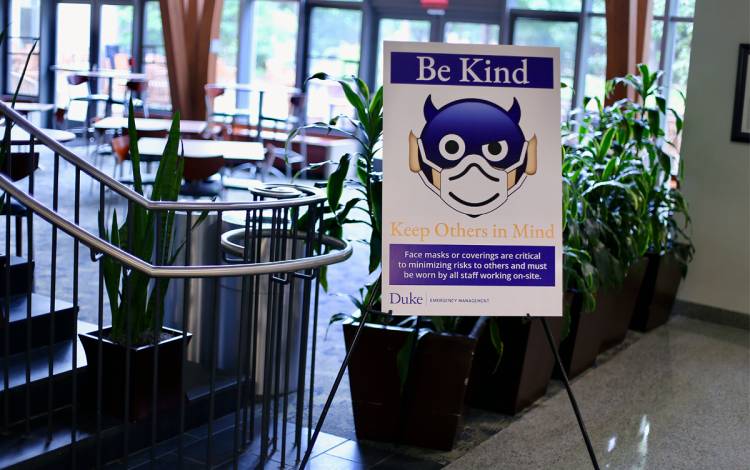 "We're used to seeing this place so lively," said Leiter, director of Facility Operations for the School of Nursing. "It's been tough not to see people in the building."
Last week, a small dose of life returned as around 50 students, faculty and staff per day re-entered the school's main building. The reopening featured tight restrictions and a robust cleaning protocol, the result of months of teamwork and planning. But even in limited capacity, life returning to the school's hub was a welcome scene, one that will be repeated over the coming months as buildings across Duke begin to stir back to life.
"It's going to be different for a while," Leiter said of the gradual reopening. "But we've been looking forward to this."
Since March, all of the School of Nursing's teaching and training has been done online. Much of that work will continue to be done remotely this summer because there still is no clear timetable for when the building will fully reopen.
But in order for students in the Accelerated Bachelor of Science in Nursing and Doctor of Nursing Practice-Nurse Anesthesia programs to gain clinical experience in Duke Health's facilities, they need to practice and be tested in simulation labs that are part of the school's Center for Nursing Discovery, which is housed in the Pearson Building.
"We are a hands-on profession," said Eleanor Stevenson, a clinical professor and chair of the school's Health of Women, Children and Families Division. "In order to send our students into the clinical space, we need them to have laboratory simulation experiences so they can safely and confidently go back into the clinical setting."
Last week, a small number of those students – and the faculty and staff there to support them – returned to the facility while adhering to a detailed safety protocol. Each hallway and lab has decals on the floor showing where people should walk or stand while watching lessons. Housekeeping staff has an enhanced cleaning plan, and the students will help by sanitizing mannequins and bedside equipment after each simulation. Everyone wears a mask.
The path to this point began picking up steam in early May, when school leaders sought input from across campus to devise a plan to reopen safely.
The school got help with Duke Facilities Management in creating space layouts and signage that could move people through the building while maintaining proper distancing. There were also consultations with Duke Employee Occupational Health & Wellness and the Duke Office of Student Health to come up with measures for operating safely while also providing the educational opportunities the students needed.
"It was a huge team effort from experts from the health system, the university, our school," said Valerie Howard, Duke University School of Nursing associate dean for Academic Affairs. "We followed the Centers for Disease Control guidelines and World Health Organization guidelines on how to keep people safe."
And the school worked closely with Duke Health's environmental services team to come up with an enhanced sanitizing plan that involves increased frequency of cleaning all occupied spaces and constantly sanitizing door knobs, elevator buttons, push plates on doors and handles in bathrooms.
"We've been ramping up what we do," said Clifton Williams, director of environmental services for the Duke University School of Nursing. "We know that cleaning and sanitizing are going to be very important in the coming months and the foreseeable future. Everybody has a heightened awareness of sanitizing all high-touch surfaces and keeping everything as clean as possible."
The highly orchestrated reopening is tightly coordinated and controlled.
Each day, the school puts together a list of the roughly 50 people allowed to enter the building and when they are to arrive. Each visitor must fill out an online symptom survey and take their own temperature prior to arriving to the building's lone open entrance. Once there, they sanitize their hands, receive a fresh mask and show their completed symptom screening survey to a staff member. The scene unfolds to the soundtrack of an upbeat playlist chosen by members of the school community.
They then follow signs to the specific part of the building – only about 15 percent of which is open – they're assigned to and, once their work there is done, they must leave the building.
School of Nursing student Cara Adams was among the students who came in on Monday, visiting simulation labs that had a maximum capacity of around 15 people and set places – denoted by floor decals six feet apart for where to stand.
"It feels a little weird because it's so quiet in here," Adams said. "I'm used to it being more lively with people sitting out in the common area, walking around, studying, eating, chatting. So it's a little eerie with so few people around, but hopefully that will change soon."
While the activity in the building is nowhere near where it usually is, the fact that some life has returned is one small-but-appreciated step.
"We all want to be back," Stevenson said. "We all miss our old pattern and the flow of work. We miss our colleagues and students. We have a good culture in our building and I personally miss it. But we all understand the situation. We get it. So we all have patience when it comes to getting back to something close to normal."
Help share the proactive and extensive work being done by all Duke community members during the COVID-19 outbreak. Send ideas, shout-outs and photographs here or write working@duke.edu.