Real World Lessons from Work-At-Home Parents
After two months of integrating work and childcare, Duke employee parents share what they've learned
Around two months ago, when the coronavirus forced many Duke employees to work from home, Tatiana Sherman helped create an online forum for parents in the Sanford School of Public Policy.
With around 20 members, the group quickly became a hub for how-to articles and home-grown pointers for handling jobs and family at home.
In those heady early days, Sherman posted a schedule she hoped would allow her to attend to work duties while having time to care for her two daughters, ages 6 and 11.
"It completely fell apart," said Sherman, a Sanford School program coordinator. "I followed the schedule for a couple of days, and it really didn't work at all. I think I might come back to the group and say 'Hey guys, remember that thing I said? It was a total failure. Here's what's actually happening. How are you doing?'"
Sherman isn't alone. For working Duke employees who are also parents of school-aged children, the last few months have been challenging.
The combination of jobs that were likely never meant to be done remotely, children who have been tasked with learning online since schools closed in March, and an anxiety-inducing global pandemic, created a situation previous work-from-home parents never had to deal with.
But Duke's working parents have spent roughly two months navigating this uncharted territory. We caught up with some parents and Duke experts to hear what real world wisdom they can share about integrating jobs and families during these strange and stressful times.
Go Easy On Yourself
In mid-March, when he learned that he'd be working from home while his two sons, ages 9 and13, would be home from school, Duke Benefits Financial Analyst Percy Hill III figured he could manage without too much trouble.
But after a few weeks of doing his job while playing teacher, cook, playmate and IT technician for his kids, he realized what he was up against.
"I kind of thought this was going to be a breeze, but it was anything but," Hill said.
Parents across Duke likely came to similar epiphanies over the last few months as they struggled to fill roles as employees and parents.
Moira Rynn, chair of Duke's Department of Psychiatry and Behavioral Sciences, said that without essential elements of working parenthood – such as school, daycare and a reliable daily routine – both parents and children are simply trying to do the best they can. So, it's important for parents to recalibrate their own expectations of how well they can manage this unprecedented situation.
"Sometimes there aren't great solutions, there's just an OK path forward," Rynn said. "One of the things I've said to my faculty and staff is 'Look, everything is going to be less ideal, there will be less perfect work, a little less productivity.'"
This was a lesson Kyle Fox, director of Creative Services for Duke University Center Activities and Events, took to heart while working from home with his 2-year old daughter and 4-year old son. At first he envisioned being able to do work while they were napping or otherwise entertained. He even put a tentative schedule in his email signature to help people see when he might be free. But with childcare duties shaping his schedule, he's had to have more fluid workdays, which occasionally bleed over into the evening.
"My strategy now is to just play it day-by-day," Fox said. "It sounds cliché, but that's really what it is. You just have to see how everybody's doing that day, see where their energy is. Maybe I can get to a certain project or maybe not."
If parents need help coping with the stress of balancing work and childcare, Duke's Keep Working site has wellness resources and information on how to seek help from Duke's Personal Assistance Service, as well as a free phone service is staffed by a team of Duke doctoral psychology interns, social workers, psychiatry residents and psychologists.
Relax Some Rules, Maintain Others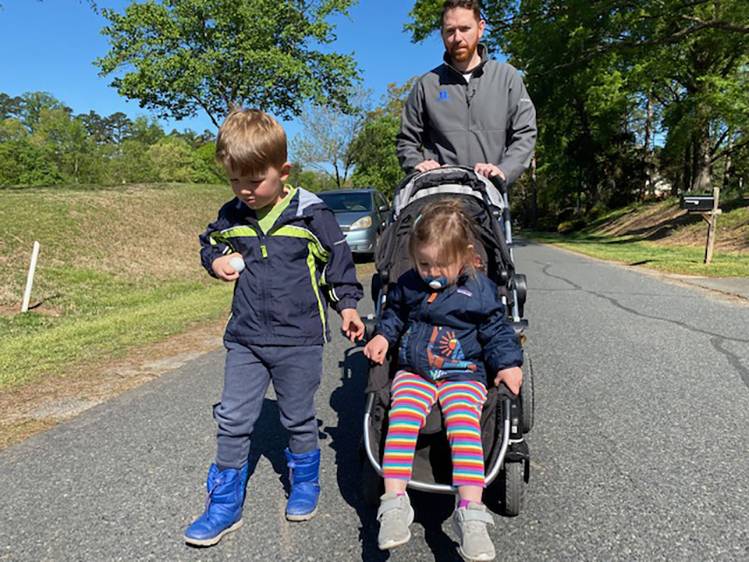 A necessary part of parenting is enforcing boundaries on such things as bedtimes or how much of the day children can spend staring at screens. But over the past few months, parents have seen the lines that were once hard-and-fast become blurry.
During this time, it's not uncommon for parents who once carefully regulated the amount of screen time their children had, now allow much more to keep kids occupied so they can work.
"The threshold where I'd try to rein some of that in is different now than it was two months ago," Fox said.
According to Rynn, chair of Duke's Department of Psychiatry and Behavioral Sciences, it's fine to let some household rules become flexible. But Rynn, and the authors of the Duke Center for Healthcare Safety and Quality's resource guide for parents, said maintaining consistency with things such as bedtimes, wake-up times and chores, is an important step to maintaining a sense of normalcy.
"I think everybody respond to some global structure," Rynn said. "I don't think it has to be perfect or rigid. But there needs to be some kind of scaffolding, as I call it, or markers throughout the day. There's got to be a lot of flexibility infused with some global structure to keep everybody moving forward."
For Sherman, the Sanford School program coordinator, her structure comes in the form of simple daily goals for her children, which include time spent outdoors, virtual chats with classmates and friends and forging ahead with school work.
"If we can do that, we're OK," Sherman said.
Duke offers a handful of resources for parents looking for educational video content, such as Duke Garden's list of links to nature-themed videos or Lilly Library's streaming video options, which has documentaries and theatrical productions that could be of interest to older children.
And for parents looking to help their children get more activity, there's Wellbeats, an on-demand video fitness program that offers children's programming.
Slow Down and Appreciate the Opportunity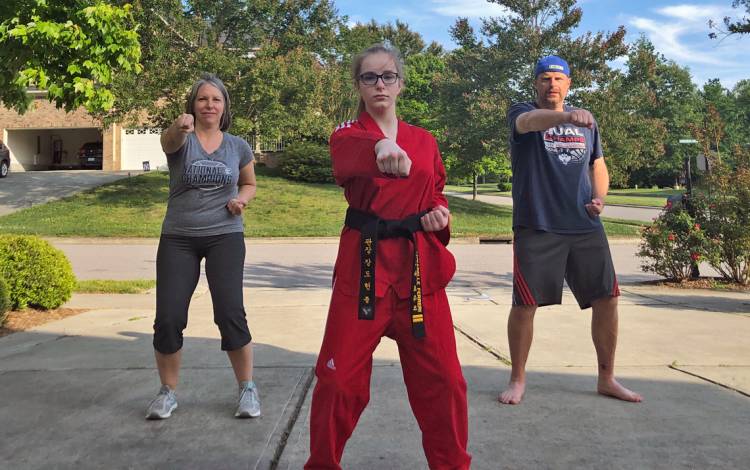 Since Eric Ferreri has been working from home, he's picked up a new hobby. Along with his wife, Stefanie, he's begun learning the Korean martial art of taekwondo through regular classes taught by their 12-year old daughter Annabelle, who is a second-degree black belt.
"It's been a lot of fun," said Ferreri, senior writer with Duke University Communications. "It's a way to find some new connection, some new fun thing to do together."
While staying home with children can make work challenging, the proximity with your kids – and the resulting opportunities to bond – is a silver lining. Taking advantage of these chances, like the Ferreri family has done with taekwondo sessions, is a great way to create more balance.
"Unless I hit the lottery, we're probably never going to have this much time with our children," said Hill, the Duke Benefits financial analyst . "Through all of this, I've tried to step back and look at the positives. And it's definitely a positive to have this much time with them."
Kelly Wooten, research services and collection development librarian for the Rubenstein Library's Sallie Bingham Center, said that while balancing work and parenting has been challenging, she's found solace in fun moments she's shared with her two children.
Wooten and her elementary-school-aged children have enjoyed plenty of walks, board games, Lego builds and backyard games of cornhole. She said these memories are likely to endure.
"I've been taking a lot of pictures of the fun things we've been doing," Wooten said. "I'm not taking pictures of the difficult moments. I feel like the family togetherness part of this will be what we remember. We'll remember that it was hard, but we'll also have this visual record of the fun we had together during all of this extra time."
Help share the proactive and extensive work being done by all Duke community members during the COVID-19 outbreak. Send ideas, shout-outs and photographs with here or write working@duke.edu.