Duke in Pics: Bringing the Office Home
Employees share pictures of home workspaces during COVID-19 outbreak
From a desk near his bedroom window, which provides plenty of natural light and a view of his garden, Francesco Bianchi has been working on an academic paper for the past two weeks.
He's among the thousands of Duke staff and faculty working remotely to help stop the spread of COVID-19. For his set-up, Bianchi has ceded his living room to his two young daughters.
"The best part is still to have the girls running inside the room to say 'Hi' and check on how I am doing," said Bianchi, an associate economics professor at Duke. "It's hard to focus sometimes but being home with my family is one of the few positive aspects of this emergency. I am lucky because I can still work from home, while other workers are more affected by this situation."
With many employees across Duke finding spaces at home to do work, see what kind of nooks they've created.

While Ashley Lunn, program manager for Disability Services and Program Management for Duke Divinity School, has a neat desk with everything she needs for work and some personal touches, perhaps the best feature of her workspace resides under the desk.
"I like that I have lots of sunshine and my dog curled up at my feet to keep me company," Lunn said.

Victoria Bright, assistant director of regional engagement for Duke Alumni Affairs, passed along this idea for creating a place to work when space is limited.
"I got this cart from Home Goods to hold many of the items that used to be on my desk at the office," Bright said. "It also helps me save the limited space I do have on my home desk for my computer."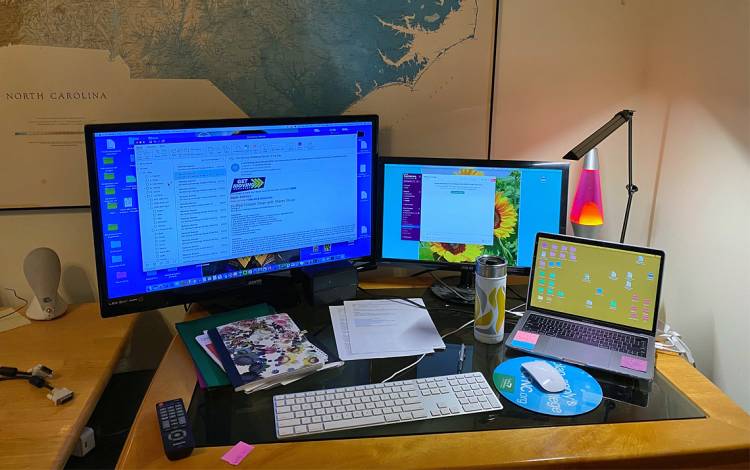 Melissa Graham, a program coordinator with the Duke University School of Medicine's Office of Curricular Affairs, said her home office is working out well. Not only does she have everything she needs, she's also got access to sunshine and fresh air.
"It works nicely for me because it is in my sunroom so I see outside, can open windows for a fresh breeze, and it's a large room, so I can spread out," Graham said. "My favorite part is feeling like I'm part of nature with the view of outside plus my inside plants so it is light and airy and helps my mood."

Senior International Student Scholar Advisor Claudia De La Cruz shared a photo of her home work setup at a desk in her spare bedroom.
"Not ideal, but hopefully brief," De La Cruz said. "Missing my stand-up desk and two monitors."
She did add that her work companion, her cat, made the transition easier.
"I can't complain about my new office mate," she said.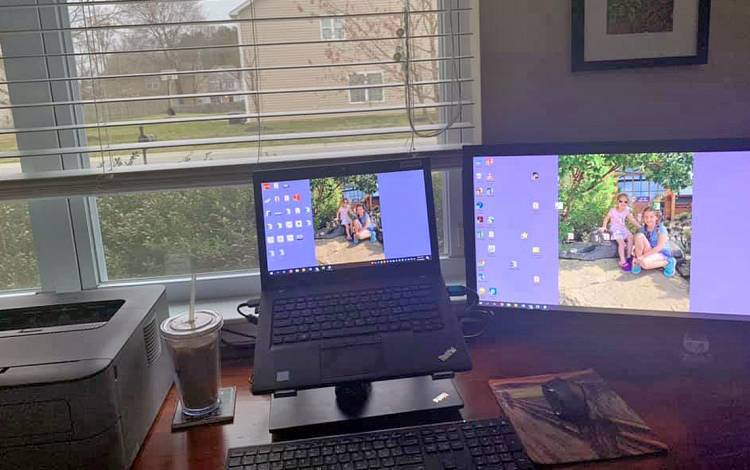 It's far from lonely at Marianne Drexler's home workspace. The Duke University School of Medicine program coordinator is working at home alongside her husband, two young children and two cats.
"It's a full house!" she said.
But a window by her desk helps keep things comfortable, supplying natural light and a momentary escape.
"The best part of this space is being able to watch the activity of the neighborhood," Drexler said.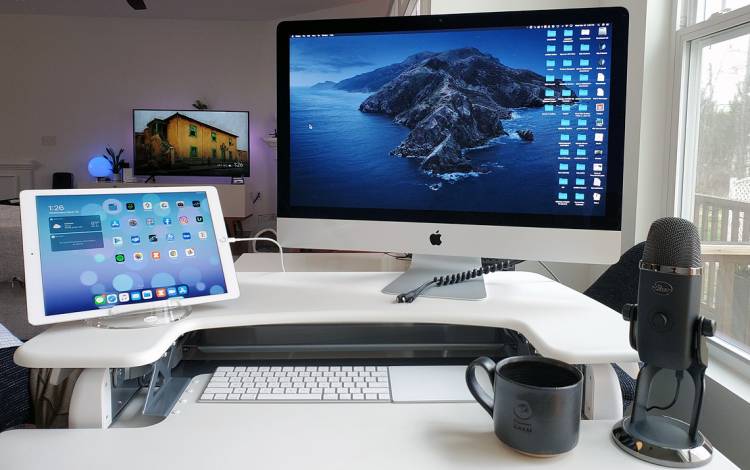 Senior Public Relations Specialist for the Duke Department of Political Science Shaun King shared this photo of his home workspace, which features work essentials such as his computer, microphone and coffee.
Said King, "This is the new normal."
If you'd like to share what you like about your home workspace, add to the conversation in the comments on our Facebook page.
Duke scientists from every field have found ways to continue their teaching, analyses, and grant-writing from their home offices.
We ask for your continued help to share the proactive and extensive work being done by all Duke community members. Please share ideas, shout-outs and photographs with us here or write us at working@duke.edu.