Walking in Their Shoes
A wide variety of jobs at Duke require employees to embrace an array of footwear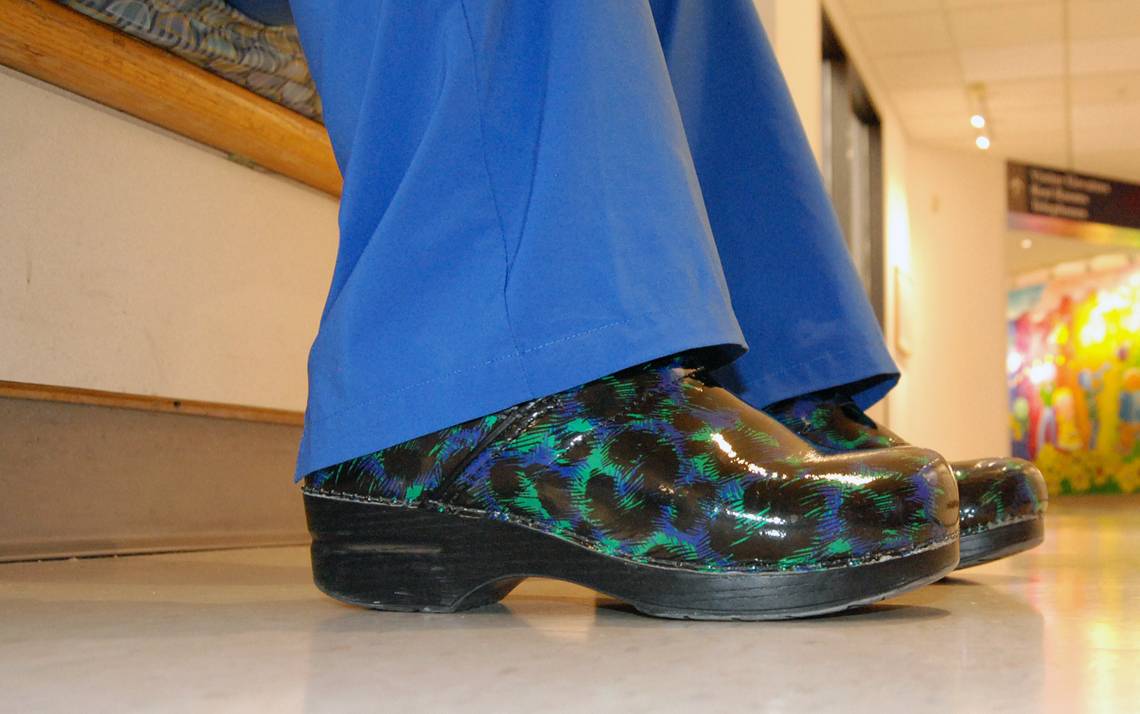 Every so often, Jean Gregory will buy a new pair of sneakers, often Reeboks or New Balances because of their combination of comfort and understated style.
When she's buying them, Gregory, a sterile processing technician at Duke University Hospital, knows the shoes will never see the light of day.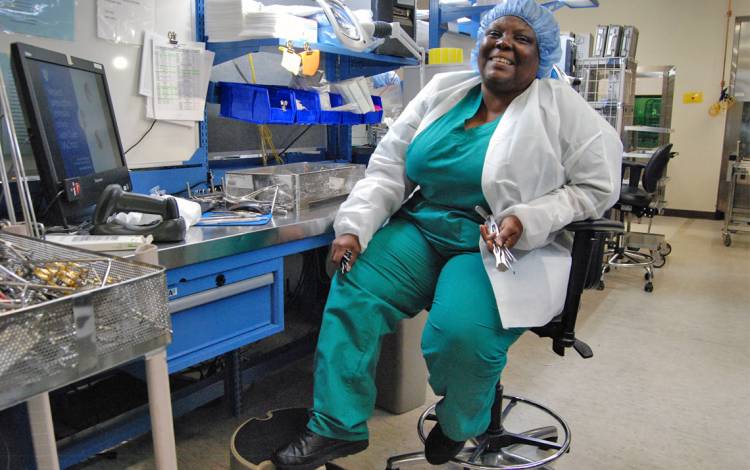 Gregory works in one of the sterile processing facilities in the heart of Duke's sprawling medical complex, where medical instruments goes to be cleaned, sterilized, repackaged and made ready to be used again. The work takes place in space free of outside contaminants, meaning the staff wears scrubs, gloves, hair covers and single-use gowns.
"Everything is about processes and the certain order of how we do things. And that starts with how we dress every day," said Jennifer Vieau, director of sterile processing for Duke University Hospital.
On their feet, sterile processing staff members either wear fabric shoe covers, or they bring new, never-worn shoes and wear them exclusively in the sterile workspace. That's what Gregory does with the black Reeboks she's currently wearing.
"When I get to work, I just switch them out," Gregory said. "It's just more comfortable, especially when you have a pair of shoes you love. They're broken in and they feel right."
In locker rooms of the sterile processing department, there are lines of pristine shoes, left there by employees, for use only in their unique workspace.
Across Duke, employees engage in jobs that feature their own, unique quirks. And for many of these positions, different challenges can be illustrated in the shoes employees wear.
An Important Tool
Much of Baxter Remington's day unfolds to the clatter and hum of lawnmowers and leaf blowers. In his third year with Duke Facilities Management's Landscape Services Department, the senior grounds equipment operator knows what tools he needs to keep the grass, trees and planted areas on West Campus looking beautiful.
Chief among those items is a good pair of boots.
After trying out a few different types, Remington, who clocks in around 16,000 steps per day, swears by the Hytest Footrest boots he wears around campus. The worn leather and specks of dried mud on them bear witness to the demands he puts on them.
"These are only about a month old," Remington said.
Boots are a vital part of the job for the Landscape Services team. So much so that Duke Facilities Management requires employees in areas such as Landscape Services to wear boots that protect them from punctures and slips. Duke Facilities Management also helps cover the cost of boots for employees in specific work areas.
"Some people like leather, some people want boots that are breathable," Remington said.
Having waterproof boots is optional, but Remington said he'd strongly recommend wearing them.
"In the winter, you've got to have waterproof boots, not just to keep your feet dry and warm, but also because you have to be ready for the snow and ice," Remington said. "You don't want any moisture in there. When it comes to stuff like this, you can't mess around."
Ready to Move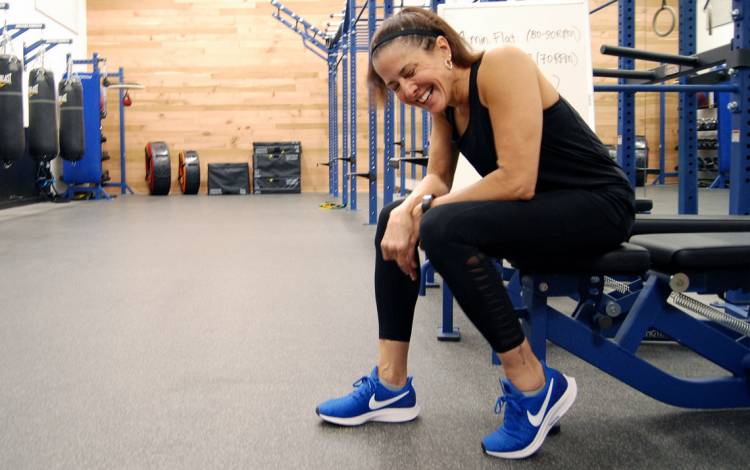 While much of campus enjoyed a calm lunch hour during a recent Wednesday, Lisa Jindra was in a corner of Wilson Recreation Center leading a group of Duke students and staff members through a class called "XTrain." Part cycling, part floor exercises, the 45-minute high-intensity session had Jindra bouncing around and shouting encouragement while wearing a pair of royal blue and white Nike Air Pegasus.
"For me to be able to keep up, coach and be relevant, it's a big deal for me," Jindra said. "I like the arch-support in these, and I feel like I have enough cushioning."
Jindra, Duke Recreation's coordinator of fitness and wellness, has brought energy to group workouts of Duke community members for 27 years. These days, she teaches boot-camp style classes such as "XTrain," as well as Pilates-based classes and and yoga.
She also oversees Duke Recreation's group fitness program, which features around 75 classes in three locations, which means she also hires, trains and supervises a team of instructors.
Her mix of office work and exercise means she needs shoes that are comfortable and versatile. For that mix she spends most of her day in the sleek running shoes that Duke Recreation provides for staff members.
"I like to not think about my shoes," Jindra said. "I like to put them on and go. If I have to jump in and teach a class, I'm ready. It's always good to be prepared."
Up to the Challenge
Like the other nurses in Duke University Hospital, Maddie Morales spends most of her day on her feet.
"I help the other nurses, assign patients to rooms and move beds and cribs around," said Morales, who often serves as charge nurse for the 5100 Pediatric Hematology, Oncology and Neurology Unit. "I get things set up for new patients that are coming and take down stuff for patients that have left."
She does all this while wearing Dansko clogs, a popular choice among nurses for their durability, traction and support.
"I started wearing them in nursing school because that's what a lot of the other nurses would wear," Morales said. "And my feet have never ached, had any problems or been uncomfortable, so I never switched."
For nurses everywhere, footwear is an important issue due to the physical challenges their position requires.
"I'd say at least 75 percent," 5100 Unit Nurse Manager Kathryn Duarte said when asked what percentage of the nurses' days are spent on their feet. "They sit to chart, but they're busy the rest of the time."
Duarte said most nurses often find what works best for them – often either running shoes, Dansko clogs or occasionally Crocs – and stick with it.
Morales said she has a few pairs of Dansko clogs to choose from. She tries to add new ones, and decommission old ones, about once a year. Currently, she's likely to be found wearing a pair with flecks of rich blue and green that sparkle when the light hits them.
"I picked these because they had Duke blue in them," Morales said. "Everybody says they look like peacocks. People will stop me on the elevator and say "I like your shoes!'"
Have a story idea or news to share? Share it with Working@Duke.