Former Obama UN Ambassador Reflects on Syria, Trump Policy
Samantha Power served in all eight years of the Obama administration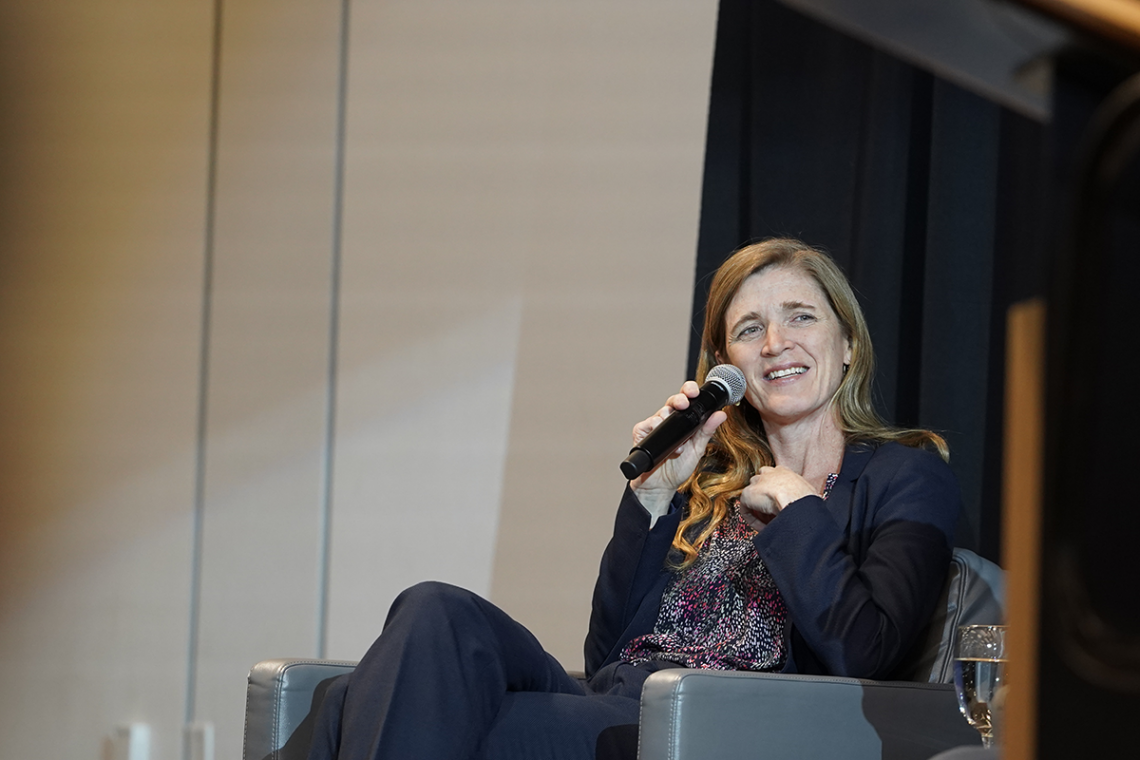 No administration has been consistent on human rights issues, "but you need one that's way more consistent than this one," President Barack Obama's ambassador to the United Nations (UN) told a packed Penn Pavilion Tuesday night.
"You can't just show up and talk about human rights in one country while you excuse a government that murders one of its dissidents in a consulate in another part of the world," said Samantha Power, referring to President Trump's foreign policy.
"Or when you're saying Kim Jong-un is a wonderful man at the same time you're saying (Venezuelan President Nicolas) Maduro is a terrible creep," Power added. She spoke at the Duke Program in American Grand Strategy's Fall 2019 Dave and Kay Phillips Family International Lecture.
"You just have to have some kind of baseline principles … to be more effective at building coalitions and to be heard as credible and legitimate."
Power, who previously worked as a war correspondent, served in all eight years of the Obama administration, first as special assistant to the president and senior director for multilateral affairs and human rights on the National Security Council then as US Ambassador to the UN.
She did offer some tepid praise for the current administration.
Moderator Peter Feaver, a political science professor, American Grand Strategy director and former national security adviser in the Clinton and George W. Bush administrations, asked Power what Trump foreign policy will be judged most kindly in the future.
"I think what people will take away from this period is a greater use of the leverage we have," which has not always been the case, she said. "We need to use that leverage to secure optimal terms."
But, she cautioned, that doesn't mean just waving money and guns to get what we want.
Power, now a professor at Harvard Kennedy School and Harvard Law School, said she sometimes clashed with Obama over his Syria policy.
Power said she pushed for but didn't get a stronger response from the United States, including a no-fly zone over the northern part of the country, which has been divided by armed conflict since 2011.
Obama stating that Syrian leader Assad "must go" then not providing resources toward that end was problematic, she said. But the statement is understandable considering the assessment at the time, she said, when defections were on the rise and it appeared the "bottom would fall out of the regime."
"I still don't really understand Obama's calculus on Syria," she said. "I hope his (forthcoming) book explains that."
When meetings did get tense between Obama and Power, she said then Vice President Joe Biden would slip her an encouraging note along the lines of "Go Irish" (her native country), or "Don't give up, we love you."
Power read from her newly released memoir, "The Education of an Idealist." It follows her book, "A Problem from Hell: America and the Age of Genocide," which won the Pulitzer Prize in 2003. She has been named one of the "World's 100 Most Powerful Women" by Forbes and one of TIME's "100 Most Influential People."
During a Q&A period, a Duke student from Bosnia-Herzegovina thanked Power for her reporting on the war there.
"Without people like you, I would not be able to be here," he said, asking her how she maintains her values.
Power said you need to have people in your life "who keep you honest."
Duke's Department of Political Science co-sponsored Tuesday's event.