Musicians that Rocked Duke
Through the Years, Duke has hosted an impressive list of bands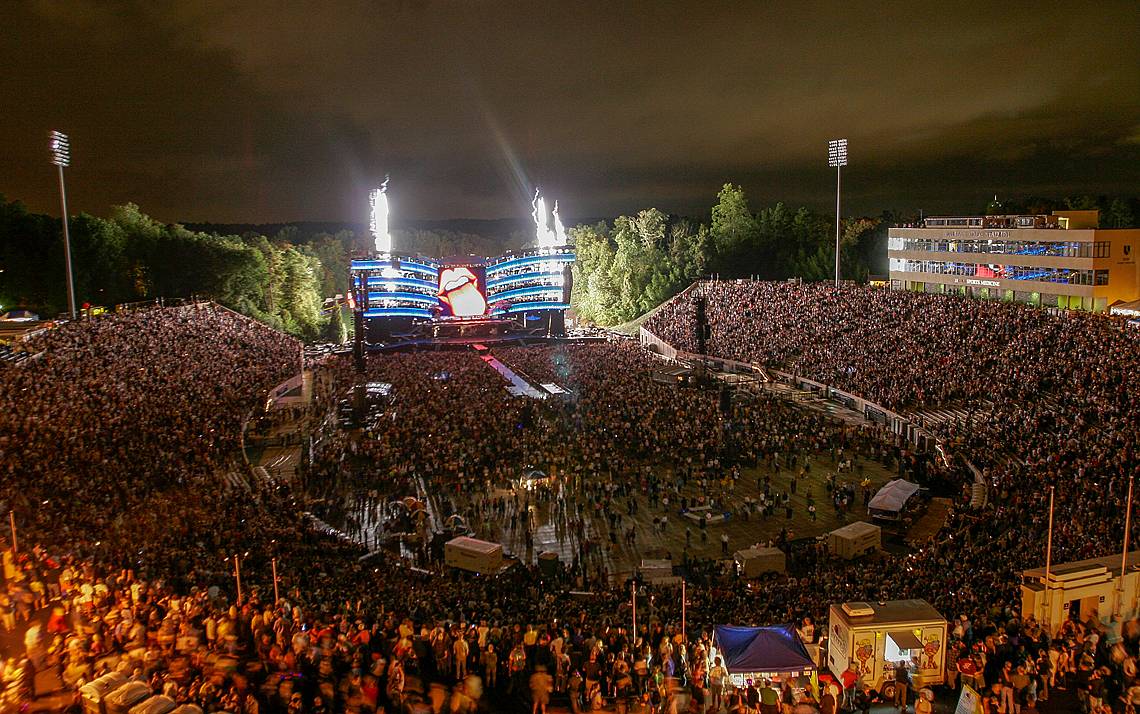 In the May 10, 1940 issue of the Duke Chronicle, the opening line of a story about an upcoming Glenn Miller's concert in Cameron Indoor Stadium, hinted at the rarity of such an event.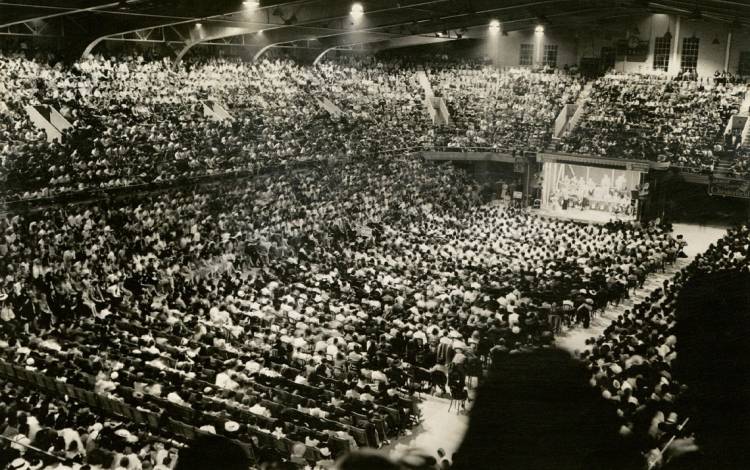 "A major dance band has finally been signed to appear at Duke University," the article reads.
It continued to say that the show should "satisfy a campus that had been crying all year for this or a similar group."
The Glenn Miller concert filled the brand-new arena, and Duke's desire to attract musical star power to campus didn't fade. In the 1940s, Duke was a regular stop for big band-era stars such as Benny Goodman and Duke graduate Les Brown. And in years since, a steady flow of marquee talent – from the Rolling Stones to Kendrick Lamar has played at Duke, creating thrills that last well after the last note has been played.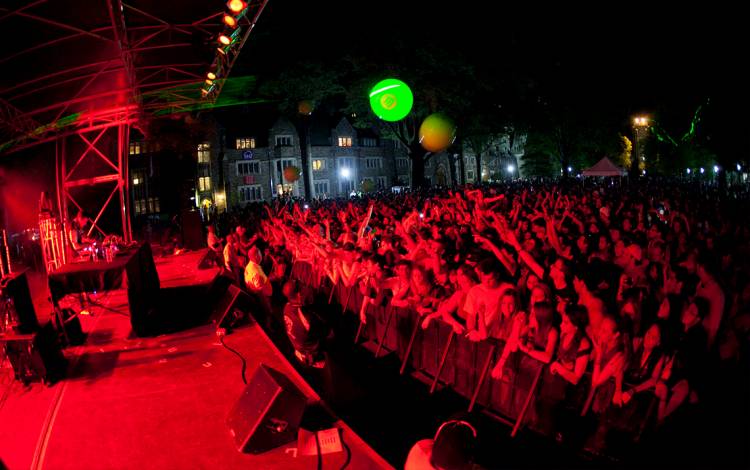 Rite of Spring
Kyle Fox, director of Creative Services for Duke University Center Activities and Events (UCAE), jokes that when his time at Duke is done, the only thing his children and potential future grandchildren will want to hear about are annual concerts Duke holds on the last day of class (LDOC).
"Anything else I will have done won't be as cool," Fox said.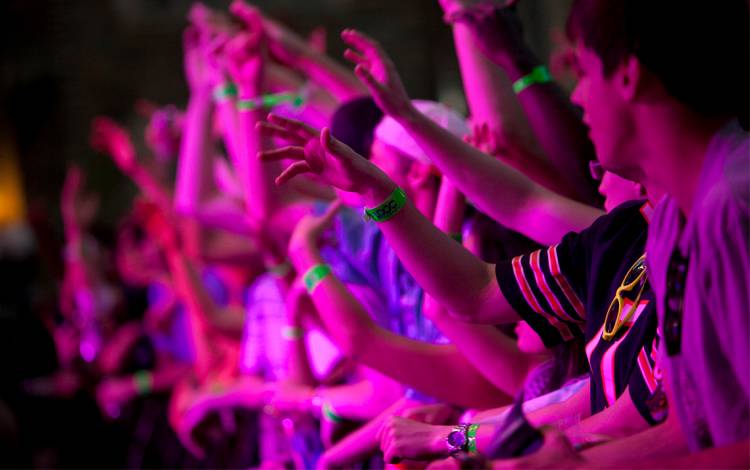 For Fox, who's been involved with putting on the LDOC show since 2006, and Tearria Beck-Scott, associate director for Student Engagement, Involvement with UCAE, who has worked behind the scenes on shows since 2015, the event has provided encounters with plenty of big names.
While there have been many springtime concerts through the years at Duke, the tradition of LDOC concerts began in the late 1990s. Through the years, the show on Abele Quad has featured headliners such as Run DMC, The Indigo Girls, The Roots, Wilco, Ludacris and Kendrick Lamar.
In 2004, Kanye West provided perhaps the most talked-about performance.
"That one has a mythology round it," Beck-Scott said.
Already a well-known rapper and producer, West agreed to play the show several months before his debut solo album College Dropout – which eventually went triple-platinum and made West a household name – was released that February. By the time he arrived at Duke on April 21 – where he played a short set in front of a large crowd – he was one of music's hottest stars.
And West brought along another performer who, at the time wasn't widely known, but who eventually went on to become a star in his own right in John Legend.
The work that goes into organizing the LDOC celebration – most of which is done by students – goes far beyond booking music acts. The event is filled with performances and activities that focus on both fun and wellness. The event requires coordination between nearly every part of the Office of Student Affairs, Duke University Police, Duke Facilities Management and other campus entities.
"It's super-fun," Beck-Scott said. "There are not a lot of jobs where you get to do what we do. Every time is different, not all concerts are great, but a majority are, and the students are always excited."

Jazz Hotspot
For a peek into Duke's jazz history, head to the lower level of the Flowers Building, where the walls of the Mary Lou Williams Center's "Underground" are decorated with show posters featuring Dizzy Gillespie, Sonny Rollins and other jazz greats who've passed through campus.
The legacy of Williams, a groundbreaking jazz pianist and composer and artist in residence at Duke from 1977 until her death in 1981, helped attract jazz heavyweights to campus. They often came as part of the Mary Lou Williams Jazz Festival, which was the precursor to the current incarnation of the festival which takes place each year in Washington D.C.
From Gillespie, who played at the dedication of the Biddle Music Building in 1974, to Wayne Shorter, who played Page Auditorium in 2011, elite jazz talent has always found a receptive audience at Duke.
Four times a year, Duke brings established jazz musicians to serve as guest artists to perform with and interact with ensembles in the Duke Jazz Program.
"Since I've been here, we invest in bringing in a relatively big name guest artist for every concert," said John V. Brown, director of the Duke Jazz Program and Professor of the Practice of Music. "They come and spend three days with our students. The students see them in a variety of contexts and then perform with them."
Grammy winners such as Branford Marsalis, Arturo O'Farrill, Dee Dee Bridgewater, Ron Carter, Terri Lyne Carrington, Herbie Hancock and Roy Haynes have all come to campus to serve as guest artists or take part in workshops.
"This experience provides our students with so much," Brown said.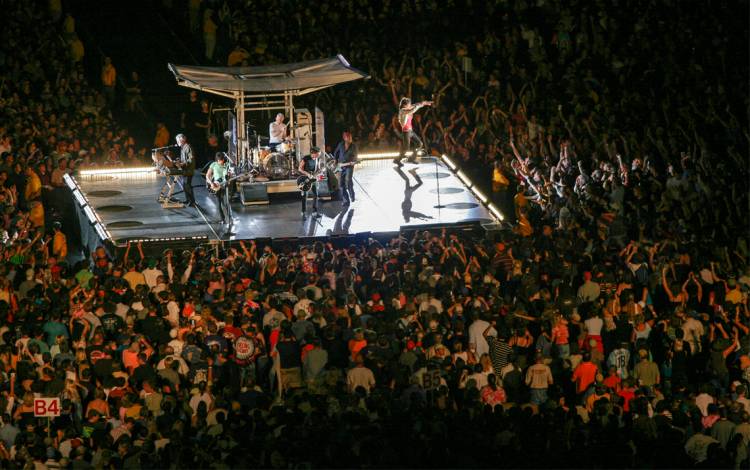 Rocking Campus
Perhaps Duke's biggest show started with a call Mitch Moser took from a concert promoter in the summer of 2005. The Rolling Stones were looking for a venue for a concert on October 8, and the promoter wanted to know if Brooks Field at Wallace Wade Stadium was available.
"I had to sit down," said Moser, Duke deputy director of athletics/ for resource development and management and chief financial officer.
After checking with university leaders, Moser said yes, beginning four months of whirlwind preparations.
Major touring acts weren't anything new. Through the years, Duke has hosted Frank Sinatra, Bob Dylan, Johnny Cash, the Grateful Dead, R.E.M., Bruce Springsteen, Eric Clapton and Stevie Wonder. Duke Performances, which was formally established in 2004, has brought artists such as Joan Baez, Bon Iver and, earlier this month, Mavis Staples, to Duke.
But shows of the Rolling Stones scale are rare for Duke.
"From an institutional perspective, it was a huge team effort," Moser said.
Campus entities such as Duke Athletics, Duke Facilities Management, Duke Police, the Office of Student Affairs, Parking and Transportation Services and Duke University Stores worked together to handle safety, traffic flow and the needs of the roughly 40,000 fans who eventually showed up.
As the six-story stage – which took around 95 trucks to transport – rose in the stadium's south end zone and a village of trailers and tents sprouted up nearby, Moser and Duke colleagues spent the week of the show busily tending to final preparations.
On the day of the show, Moser darted around in a golf cart, fielding requests for assistance, including one from the band itself. Before the Rolling Stones' set, Moser was summoned to the band's compound near the Blue Devils' practice field. Mick Jagger wanted to speak with someone from Duke to gather some material for his onstage banter.
"I'm escorted through the area and I see Keith Richards outside talking to people," Moser said. "And then there's Mick in his trailer, with all of the incense and humidifiers for his voice."
Moser recalls Jagger being cheerful and especially curious about the chants the Cameron Crazies used during games.
"I was only in there about two minutes and then it was over and I was out," Moser said. "But it was so surreal, just an unbelievable experience."
Toward the end of the Rolling Stones' 21-song set – which featured fireworks and a mobile stage - Moser recalls concert staff breaking down the infrastructure they'd spent the previous week building.
By Monday afternoon, the stadium was back to normal. The physical reminders were gone, but for the people who helped put on the show, the excitement still endures.
"I think it united people on campus," Moser said. "You felt a kind of a sense of satisfaction and camaraderie with your fellow faculty and staff members who came together to make this happen."
Have a story idea or news to share? Share it with Working@Duke.