Former Israeli Foreign Minister Discusses Conflict, Two-State Future
Tzipi Livni encourages students to engage on ideology and policy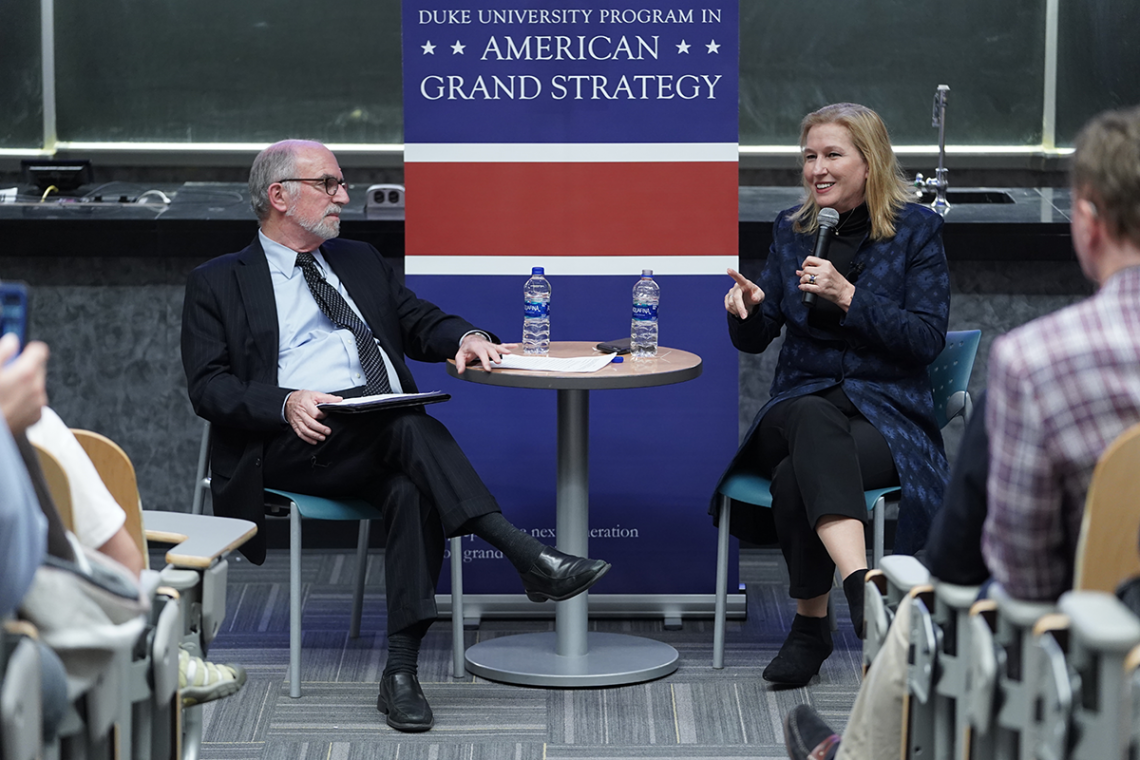 In a discussion on the challenges and opportunities for Israel, the United States and the broader Middle East, former Israeli Foreign Minister Tzipi Livni shared her own beliefs and experiences on both the historical conflict and current issues for the region.
The event, hosted by the Program in American Grand Strategy, was moderated by Bruce Jentleson, William Preston Few Professor of Public Policy.  Addressing debate that Livni's visit had sparked across campus, Jentleson opened the event by requesting that the audience participate in "respectful and civil discourse" during the event.
Shortly after conversation began surrounding the 2008-2009 Israeli-Gaza war, student protestors across the auditorium rose holding signs and photos.  Jentleson and Livni allowed the protestors to speak before the students got up and exited together, interrupting the discussion for only a few minutes.
Livni said she felt it was a shame the students did not allow for conversation on these passionate issues.  She further defended Israeli actions, stating that the Israelis act to target terrorists as would any state in its right to protect its citizens.
American Grand Strategy Director Peter Feaver, who was in attendance, later said, "I was disappointed that a few students were so opposed to core Duke values of learning and civil exchange that they tried to prevent others from engaging with this important speaker. After their brief disruption, the Duke community was able to hear a tough and thoughtful conversation on thorny issues."
Livni, also a former vice prime minister, minister of justice, and leader of the opposition, served as the chief negotiator in the last two rounds of negotiations between Israel and the Palestinians and is widely known for her promotion of a two-state solution.
 "Am I optimistic about a two-state solution?  No, I'm not," she said, "but I still believe in the two-state solution." 
"In order to keep values of Israel as a Jewish democratic state with a Jewish majority within the borders of Israel, we need to accept the idea of two states for two peoples," she added. 
Livni told the audience that she was first attracted to public service by the opportunity to protect these values.  Acknowledging the possibility of a one-state solution, Livni said, "If it becomes one state, there must be equal rights for everyone."
Later in the discussion, when addressing social issues in Israel, Livni told the audience, "Equality is part of who we are.  Within the state of Israel, Arabs have equal rights as citizens.  This is what I have fought for."
Addressing Palestinian hardship related to the existing wall between the West Bank and Israel, Livni stated, "The idea of a fence was to remove Israeli soldiers from Palestinian cities … It's not Israeli policy to make it harder on the Palestinians, but this is the reality of the security situation." 
She noted this is another reason why there needs to be a two-state solution, established borders and two states for two distinct peoples.
Speaking to economic considerations, Livni supported international support to Palestinians. "I believe it's time for the world to invest in the West Bank and Gaza. … It's in Israel's best interest for Palestinians to have a good quality of life."
Livni also addressed U.S.-Israel relations.
"You can criticize an Israel policy, but you also need to support the state of Israel," she told the audience.