Central Campus Burns -- With a Purpose
Durham Fire trains using Central Campus apartment buildings scheduled for demolition
Sometimes the best thing you can do with an old building is burn it to the ground – especially if you're assistant chief of training for the Durham Fire Department.
Chief Willie Hall will get that opportunity over the next two months. The Durham Fire Department is working with Duke University to burn the old Duke Central Campus apartments for training firefighters, the biggest training exercise the department has seen in decades.
Duke acquired the land for Central Campus in 1964 from Erwin Mills, a hosiery factory. The Central Campus apartments were built in the 1970s as one, two and three-bedroom spaces with their own kitchens and bathrooms for graduate students and their families. In the 80s, the apartments were used for undergraduates as well. Selective Living Groups (fraternity, sorority and social selective groups) were housed on Central Campus, and while it was close to the main areas of campus, it was separate and calmer. Undergraduates continued to live on Central Campus throughout the 90s and 2000s.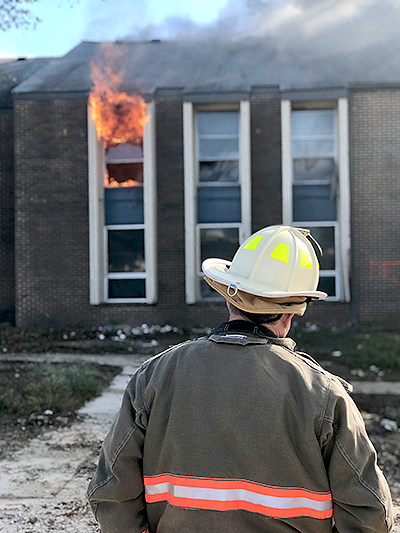 Now, the Central Campus apartment buildings are beyond their lifespan. The last students moved out of Central Campus in May 2019, and the new 700-bed Hollows buildings came online in the fall to accommodate Duke undergraduates.
While the apartments are no longer usable, Duke will retain the land. Portions will be used to expand Duke Gardens and as temporary employee parking. But most of the space is being reserved for future strategic uses in support of Duke's mission.
In the meantime, most buildings on Central Campus will be demolished, and that caught the attention of the Fire Prevention Division, which needs old buildings for training.          
Duke and the Durham Fire Department worked to get the appropriate city and state permits. They thought through safety precautions, such as ensuring asbestos remediation was complete and that the water supply was sufficient.
A large apartment complex for this training exercise is a boon for the fire department, which usually trains using single-family residences. They rarely get to train in buildings with multiple floors, varied rooflines, shared attic space and multiple points of entry, fire officials said.
"This is a once-in-a-career opportunity to train a whole department," Hall said. "It will be the biggest magnitude training event in my 32 years on the force."
From October through December, all of the 400-plus members of the Durham Fire Department will train in the buildings. They'll light fires in the buildings and treat them just as they would in a real fire: pulling hoses, setting up ladders, forcing entry and conducting search and rescue.
People in the area surrounding Central Campus may see and smell smoke on the training days, and traffic will be limited in the area. The fire department says that access along Anderson Street, Alexander Avenue, and Oregon Street should not be affected. The first training burn was held Thursday and will continue Oct. 25-26. Future training burns may change depending on the weather but are tentatively set for:
Nov. 14-15
Nov. 20-23
Nov. 25-27