What You Need to Know for the 2019 Duke Football Employee Kickoff
Check out details on new prizes, free food and the pregame celebration on Sept. 7
The 2019 Duke Football Employee Kickoff Celebration will take place before Duke football's showdown with North Carolina A&T at 6 p.m. Sept. 7.
Here's a look at what Duke staff and faculty need to know before heading to the game.
Pregame Celebration
The pregame event for Duke employees will take place on the concourse of Brooks Field at Wallace Wade Stadium.
Stadium gates will open for employees and fans at 4:30 p.m. There will be face-painting, interactive kid-friendly activities and music.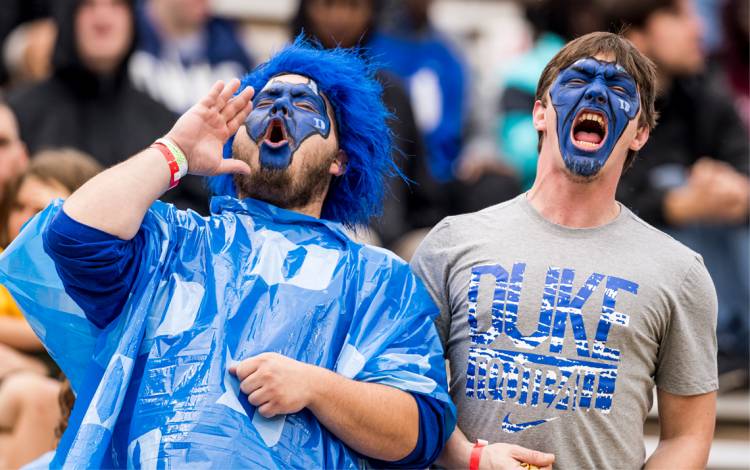 Tickets for the Game
Duke employees who reserved their free tickets and meal vouchers before the August 30 deadline should print their tickets and meal vouchers in advance using the link in the confirmation email. Bring tickets and meal vouchers with you.
Those who requested to pick up their tickets and meal vouchers in person can find them at the Duke Athletics ticket window at the Scott Family Athletics Performance Center. Pick up tickets in advance to avoid lines on game day. Employees must present their DukeCard ID to pick up tickets. Tickets can be picked up during regular business hours (8:30 a.m. – 5 p.m.) on Friday, or on game day up until halftime.
If you reserved seats for game but will be unable to attend, please use the Ticket Back feature online to return your tickets or contact the Duke Athletics ticket office at 919-681-2583 so the tickets can be redistributed to other fans.
How Concession Vouchers Work
Faculty and staff receive one meal voucher per football ticket (maximum of 8) for a meal redeemable at Blue Devil Concessions stands #1, #3, #4 and # 5 (West Concourse) and #7, #8 and #11 (East Concourse) inside the stadium.
Each voucher is redeemable for a bag of potato chips, a fountain drink and one of the following items:
Hot dog
Veggie burger
Barbecue sandwich
Concession vouchers will be included with online ticket orders, or they can be picked up at the Scott Family Athletics Performance Center with reserved tickets.
Concession vouchers are valid until halftime. Vouchers must be redeemed at one time, and no substituting of meal options is allowed.
Win a Prize from the Stands
You may not be on the field for the game, but you could score big by attending.
Staff and faculty who reserved tickets and attend the Sept. 7 game will be entered into a drawing for several marquee prizes, including:
Two tickets to the home football game against Notre Dame on Nov. 9
Two tickets to watch the game in Blue Devil Tower for the Pittsburgh game on Oct. 5
$100 gift card to Duke University Stores
$100 gift card to Durham Performing Arts Center
$50 gift card to Duke University Stores
Employee tickets will be scanned when entering Brooks Field at Wallace Wade Stadium. A random drawing will be held the following week of all employee tickets scanned at the game.
Where to Park
Parking is free on game day in general public parking lots:
Bag Policy and Safety Protocol
In order to keep with security protocol, bags or purses of any kind (including but not limited to backpacks, duffel bags, tote bags, fanny packs, clear bags, drawstring/cinch bags, messenger bags, plastic grocery bags, camera bags, binocular bags, etc.) are not permitted to enter Brooks Field at Wallace Wade Stadium on football game days.
Use this guide to avoid a return trip to your vehicle on game day.
Also, there is no stadium re-entry once a ticket has been scanned for entry at the stadium gates. This means if you leave the stadium during the employee celebration, you will not be able to re-enter the stadium.
For additional Duke Football game day information, see the A-Z Game Day Guide. The Duke Athletics ticket office may be reached at 919-681-2583.
Strike a Pose on Game Day and Share Your Fun Pics
Swing by the Working@Duke tent on the concourse, strike a pose and get your photo taken with a Working@Duke magazine backdrop. The first 50 employees who visit us receive a free "Proud to be Working@Duke" T-shirt. All employees who have their photo taken will be entered in a drawing to win a Duke football signed by Duke Football Coach David Cutcliffe.
Also during the pre-game celebration and game:
Have a story idea or news to share? Share it with Working@Duke.