Honorary Employee Football Captain Spreads Duke Spirit
Donna Flamion, who has worked at Duke for 36 years, will be on the field on Sept. 7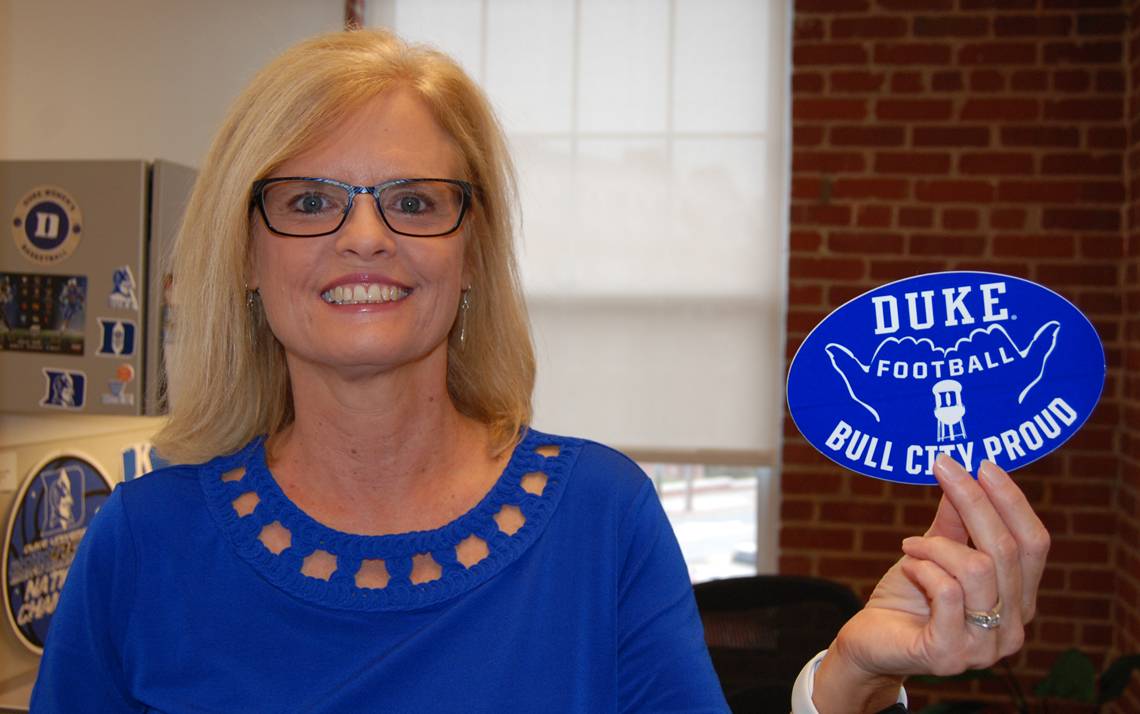 Nearly every time Duke plays a home football game, Donna Flamion is there, happily in her element.
Drawing friends, family and colleagues from Duke's Student Information Services and Systems (SISS) Office, Flamion's pregame tailgate parties in the Blue Zone have become can't-miss events.
"It could be anywhere from 20 to 50 people," Flamion said. "We have a good time hanging out and socializing before games."
Once kickoff comes, the Durham native and longtime Duke Football season ticket holder is in her seat, cheering on the Blue Devils like she's done since childhood.
And when Duke takes the field on September 7 against visiting North Carolina A&T for the Duke Football Employee Kickoff Celebration, Flamion will have a new perspective. This time, she'll take the field alongside the Blue Devils as the 2019 Honorary Employee Captain. She was chosen from a field of employees nominated by their peers.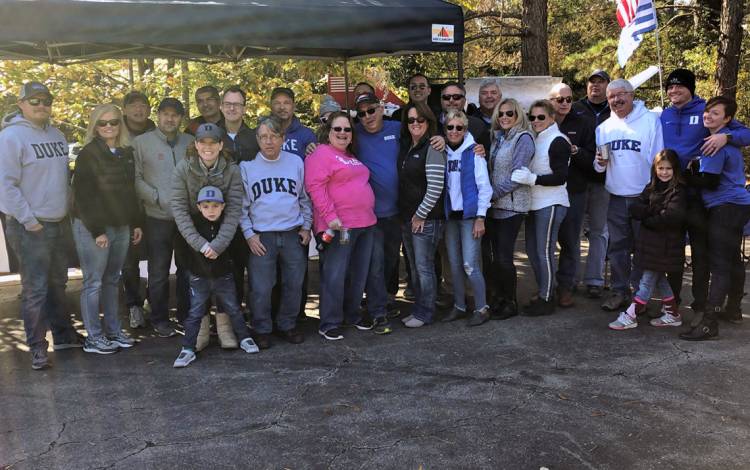 The Honorary Employee Captains have been a featured part of the Employee Kickoff Celebration since 2012. The captains are selected for their willingness to go above and beyond in the workplace and for embodying Duke's Guiding Principles of trustworthiness, respect, diversity, learning and teamwork.
As honorary captain, Flamion will attend the weekly press conference with head coach David Cutcliffe, run onto Brooks Field at Wallace Wade Stadium with the football team prior to kickoff, watch pregame warmups from the field and participate in the pregame coin toss.
"Like any good captain, Donna is the glue that holds our entire office together," Assistant Vice Provost and Director of SISS Chris Derickson wrote in his nomination. "She is the person who is willing to do the less-than-glorious tasks that every office needs in order to keep running smoothly. The SISS Office has an abundance of high-profile projects any given year that often result in staff receiving recognition and appreciation for their good work, but it's the behind-the-scenes work that someone like Donna does that makes it all possible."
Flamion has worked at Duke for 36 years. Prior to joining the staff of the SISS Office 15 years ago, she worked for the University Registrar, Duke University Hospital Pharmacy, Duke Diet & Fitness Center and the Duke University School of Medicine.
"I've been fortunate to work with many wonderful people during my time here at Duke," Flamion said.
At SISS, where she serves as administrative coordinator, Flamion and her colleagues assist the university's central administration and school offices to provide efficient services to students, faculty and staff.
"She is the epitome of what a Duke employee is – helpful, generous and great to be around," wrote SISS Business Systems Analyst Delia Patrick.
In addition to Flamion, other 2019 employee captain nominees were:
George Awad, Duke Outpatient Pharmacy
Kim Bradsher, Neurosurgery
Lamont Cannon, Office of the Provost, Faculty Data Project
James Cellura, Duke Dermatology South Durham
Amanda Ciriello, Duke Health Technology Solutions
Joel Crawford-Smith, Office of Information Technology
Michael Kelly, Nuclear Medicine
Erin Pratt, Duke Health Marketing & Communications
Joyah Sumpter, Duke Children's Primary Care Brier Creek
Previous honorary employee captains:
2018: Lola Martin, Nicholas School of the Environment
2017: Adam Tomasiello, Undergraduate Admissions
2016: Dink Suddaby, Graduate Liberal Studies
2015: Keith Lawrence, News and Communications
2014: Anthony Galanos, Palliative Care
2013: John Caccavale, Economics
2012: Malinda Whitson, University Development
Have a story idea or news to share? Share it with Working@Duke.