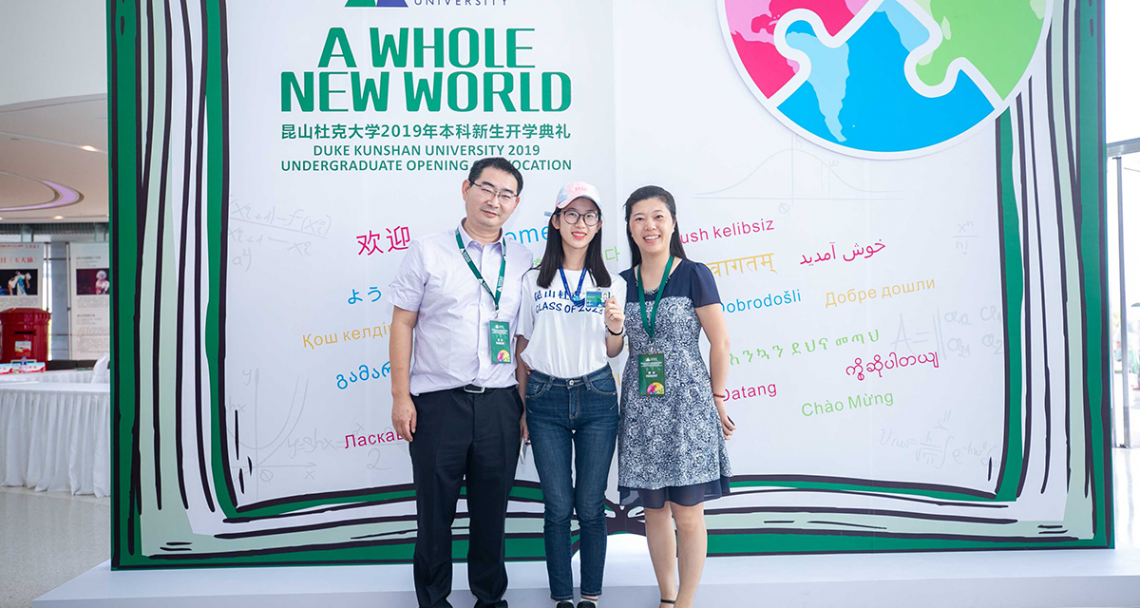 Big dreams are accomplished with small steps, not great bounds. And remember to get some rest!
That was the message to students on Aug. 15 when Duke Kunshan held an opening convocation for the university's second undergraduate class.
Students in the Class of 2023 and parents filled out the Poly Grand Theatre in central Kunshan, where they received a warm welcome from representatives of Duke University and Duke Kunshan's leadership, faculty and staff.
Special guests included Sean Stein, the United States consul general in Shanghai; Xiaoshu Li, director of international relations at Wuhan University; and Hui Li, vice mayor of Kunshan.
Freshmen were encouraged to aim high and forge their own innovative path over the next four years and beyond, but also to remember that hard work, persistence and intellectual flexibility are essential qualities for success.

"I hope that you will aspire to make a great contribution to society and, at the same time, understand that one must start with small steps in a down-to-earth manner," Chancellor Youmei Feng said in her opening remarks.
"Life is like climbing a mountain," she added. "When you don't focus on the daunting height, you can have the courage to climb to the top and enjoy a panoramic view of all other mountains and hills. But you still must see the mountain and concentrate on each step until you reach the peak."
The Class of 2023 is made up of 325 young scholars – 255 from the Chinese mainland, 12 from Hong Kong, Macao and Taiwan, and 88 international students from across six continents. They include a 15-year-old high achiever, winners of international science contests, and students inspired in a written exchange with Chinese President Xi Jinping to be 21st-century explorers like Marco Polo.
In a video address recorded especially for the convocation, Vincent Price, president of Duke University, urged freshmen to fully explore and embrace the opportunities that lay ahead.
"You will get to know classmates from around the world and all walks of life, forging lifelong friendships and broadening your perspectives," he said. "You will also have the chance to learn from, and work with, a world-class faculty who are committed to fully supporting your growth and curiosity.
"There will be challenges along the way, and I give you the same advice I give our students in Durham: Be sure to get some rest," he said. "Be sure to make time for renewal and reflection."

Michael Schoenfeld, Duke's vice president for public affairs and government relations, who attended the convocation, said the joint-venture university carries Duke's DNA, which is characterized by a pioneering spirit, liberal arts and innovation.
Just like in Durham, Duke Kunshan is committed to teaching students "not only facts and formulas but how to think critically, how to write persuasively, how to analyze incisively and how to discuss thoughtfully," he said. "We know that this element of the Duke DNA will carry you far in the world – as leaders and builders and connectors."
Duke Kunshan students have the option in their junior year to spend a summer and a semester at Duke University's campus in Durham, North Carolina. Upon graduation, they will also receive degrees from both Duke and Duke Kunshan.
A Venn diagram of explorers
The incoming class represents 28 countries including China, Canada, the U.S., the United Kingdom, Mexico, Japan, South Korea, India, Italy and Ethiopia. Last fall, the university welcomed an inaugural undergraduate class of 259 students, with 173 from the China mainland, seven from Taiwan and 79 international students.
Scott MacEachern, interim vice chancellor for academic affairs, made special mention of his pleasure in the fact that his native Canada is represented this year, while the Class of 2023 also includes students from different parts of Africa, the continent where he worked as an archaeologist for four decades.
He said the undergraduate degree courses at Duke Kunshan are designed to foster intellectual flexibility, allowing students to look across the boundaries between disciplines and see common themes.
"People are better at what they do, more creative, more successful over time if they can access a wide range of experiences, even experiences not directly connected to their work," MacEachern said, adding that Apple founder Steve Jobs credited the design aesthetics of Mac computers to a calligraphy course he took in college.
"What students need today are the skills, intellectual abilities, international perspectives and habits of mind that will allow you to prosper in a fast-changing world," he added.
The university recruited nearly 30 new faculty members from across North America, Europe and Asia this summer to teach the undergraduate degree program. Among them was Bryce Beemer, assistant professor of history, who represented the faculty at the convocation.
He spoke on the shared spirit of adventure among the Duke Kunshan community, which he described as a Venn diagram of explorers seeking a wide variety of experiences.
The circles in this Venn diagram only slightly overlap, but they are not caste in iron or stone, he said. "They are clusters of people, with hearts and with feet, and they can choose simply to walk closer together, to become a single circle; a community with a core set of values."
During the ceremony, each freshman received one of four colored puzzle pins – red, yellow, green or blue. Combined, the four different pieces form the university's 2019 convocation logo.
Marcia France, dean of undergraduate studies, explained that some orientation activities would require students to form groups with classmates who received different pins, an initiative aimed at inducting them into Duke Kunshan's "whole new world of diversity."
"You will meet new friends, interact and forge bonds, all the while knowing that you are an integral piece in the 'new world' we are making here at DKU," she said. "You are each different, but you are part of the whole. ... This pin symbolizes the common thread that binds us all together."
'The stratosphere is your limit'
Zhang Haibei, representing the Class of 2022, welcomed her new classmates and spoke of the vast educational resources they will benefit from over the next four years, as well as the myriad opportunities to contribute to the building of this young university and to the wider society, and to interact with faculty and other world-leading experts.
"Last year, I enjoyed eating porridge with Chancellor Youmei Feng and sharing stories about things that have happened on campus. When I faced difficulties, she was there, willing to listen and to give me advice, just like my parents did," she said. "The DKU community creates infinite possibilities to inspire and support you."
As the Class of 2023 student representative, Gaurav Rajesh Parikh from India talked of the privilege, challenge and responsibilities that come with studying at a global university like Duke Kunshan. He urged his cohort to "strive through our work to seek global solutions" that can make a difference.
"It is our responsibility that we don't become so immersed in our own lives here that we forget the challenges that people face across the world and in our home countries," he said. "Let us remember that our bravery, the wealth of resources we have at our disposal and the privilege we hold put us in a singularly unique position to understand the world and impact it."
Making the closing remarks, Denis Simon, executive vice chancellor, recalled his personal journey of discovery in China, which began in the 1970s, and urged the Class of 2023 to keep an open mind as to the endless possibilities that lay ahead as they forge their own unique path.
"I have enjoyed my life and career, but I would give anything to be where you are today. The sky is no longer the limit – today it is something like the stratosphere is your limit … and even that is not certain anymore," Simon said.
"I would urge each one of you to commit yourselves to thinking outside the box, breaking new ground, and exploring new things – some of which may seem uncomfortable at first. Don't worry, we are here to be your safety net. We are here to encourage you, to stimulate you, and to share with you the excitement of learning and becoming the person you will evolve into along this new, awesome educational journey."