Blue Devil of the Week: Aiding the Quest for Knowledge
Lilly Library's Carson Holloway provides a helping hand to curious Blue Devils and other library patrons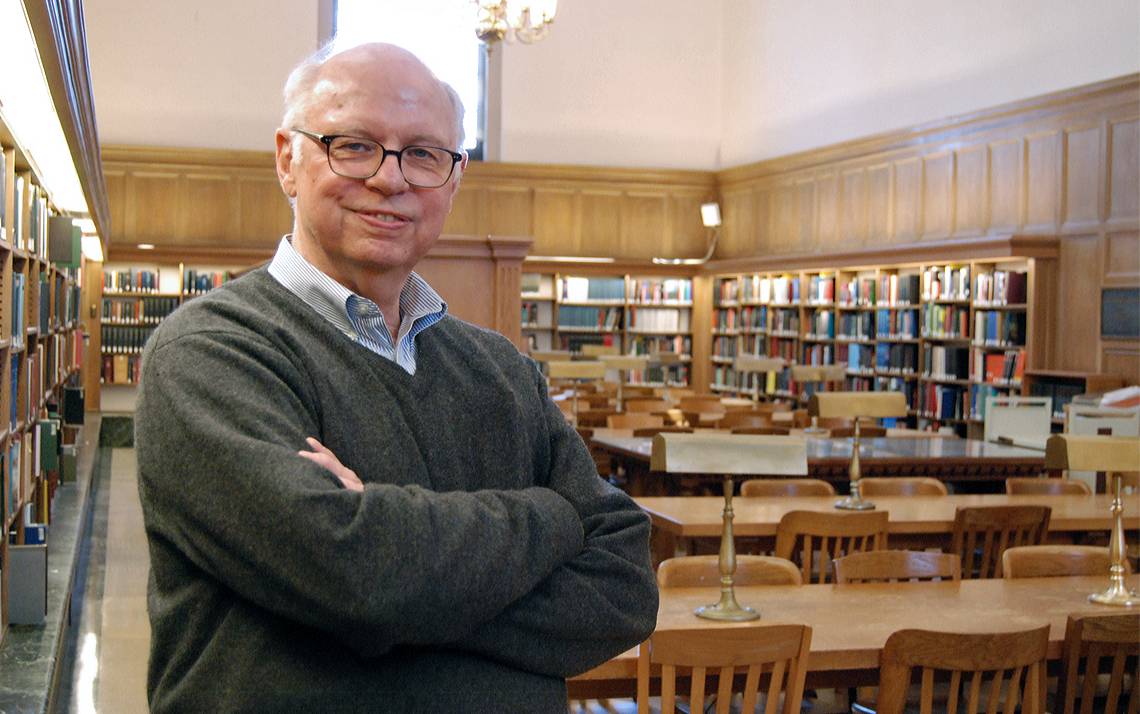 Name: Carson Holloway
Title: Reference Librarian, Lilly Library
Years at Duke: 17
What he does at Duke: For Duke students and faculty looking for answers buried somewhere in Duke University Libraries or one of its partners, Carson Holloway is an invaluable resource.
About 30 or 40 times a semester, Holloway, Lilly Library's Reference Librarian for British and Canadian Studies, Military History and the History of Science and Technology, entertains requests from Duke students and faculty searching for some piece of hard-to-find information that is often critical to their research.
With decades of library experience and a patient, positive attitude, Holloway enjoys throwing himself into their search.
He's recently helped a student find documents relating to the formation of Statesville-based regiment that fought in the Revolutionary War. He helped a Duke faculty member find writings related to the planning of an important stretch of the Blue Ridge Parkway. He also helped a group of researchers from the Nicholas School of the Environment find nearly century-old plans for the city of Durham which were in the possession of the library at Cornell University.
"It was more than a pamphlet, it was about 50 pages with maps and drawings," Holloway said. "It was done by a consultant and nobody down here happened to have a copy of it, but Cornell did."
Holloway began his library career at the University of North Carolina and later at North Carolina Central University. Along the way, he saw the way libraries preserve and organize their materials change. As a result, whether information is stored in books, on microfilm or digitally, Holloway has experience seeking it out.
"It's really fun," Holloway said. "I have a natural curiosity and a long experience at trying to make the resources fit the questions."
What he loves about Duke: As a Durham native and 1975 graduate of Duke, Holloway has seen the university grow considerably. And he takes particular pride in the extent to which the Duke University Libraries collection has grown.
"It's gone from a small, regional collection to be a national collection," Holloway said. "That growth over time has made this a very rich place to work."
He points to Lilly Library's collection of art and Rubenstein Library's collection of Civil War and Revolutionary War materials as especially strong. He's also encouraged by the amount of resources – often digital – Duke has committed for researchers in science.
"Having a collection that can support the people working in the humanities and social sciences is critical," Holloway said. "But it's the sciences, too. With so much going online, those researchers in science and medicine need to be able to get to the resources they need. So we can't just think about the library as books and special collections, we also need to think of databases and online resources."
Something he can't do without: A librarian is only as good as extent to which the information they sift through is properly organized and cataloged.
And much of that organization is built on the collections of terms used to describe what each book or piece of material contains. These descriptors are often referred to as "subject headings" and are what show up in searches, allowing materials to be found.
Holloway said that understanding the system of subject headings is the secret to a librarians' searching acumen.
"If you understand how that system works, you can bend it to your will," Holloway said. "Once you know what those proper terms are, you can find that material."
Memorable day at work: Holloway said his favorite days are ones when he can unite a student with something that can open up new avenues for research.
One such moment came a few years ago when a student was looking into the experience of soldiers who'd volunteered to fight in World War I. She had looked into the story of a college student from Washington & Lee University who fought in the war and later wrote a memoir.
With help from Holloway, she was able to find a collection of the former soldier's papers, which had been donated to Duke by his nephews, a discovery that allowed her to dive much deeper into the topic.
"Those kind of days are the days that I like best," Holloway said.
First ever job: After graduating from Duke, Holloway taught English, math and debate at Jordan High School. He also served as the school's junior varsity boys' basketball coach.
"It was great," said Holloway, who coached for four season. "I learned a lot about working with motivated people."
Best advice received: Holloway recalls former Duke literature professor Edwin Harrison Cady telling him to "be as direct as possible."
Holloway said he periodically has to put this advice to use when it comes to especially difficult research requests.
"If you don't know, say you don't know," Holloway said. "It's hard, but occasionally you have to tell somebody you can't help them or that an idea is not going to work. It's about being able to help people be realistic about what they can do."
Something that most people don't know about him: Every so often, you can catch Holloway and his band, the Hollow Rock Ramblers, on stage at Durham's Blue Note Grill.
The trio plays acoustic swing music and Holloway plays guitar and provides vocals.
"We all have other professions, and we get together and have a good time," Holloway said.
Is there a colleague at Duke who has an intriguing job or goes above and beyond to make a difference? Nominate that person for Blue Devil of the Week.