Noted Architect Phil Freelon Dies, Made Significant Contributions to Durham & Duke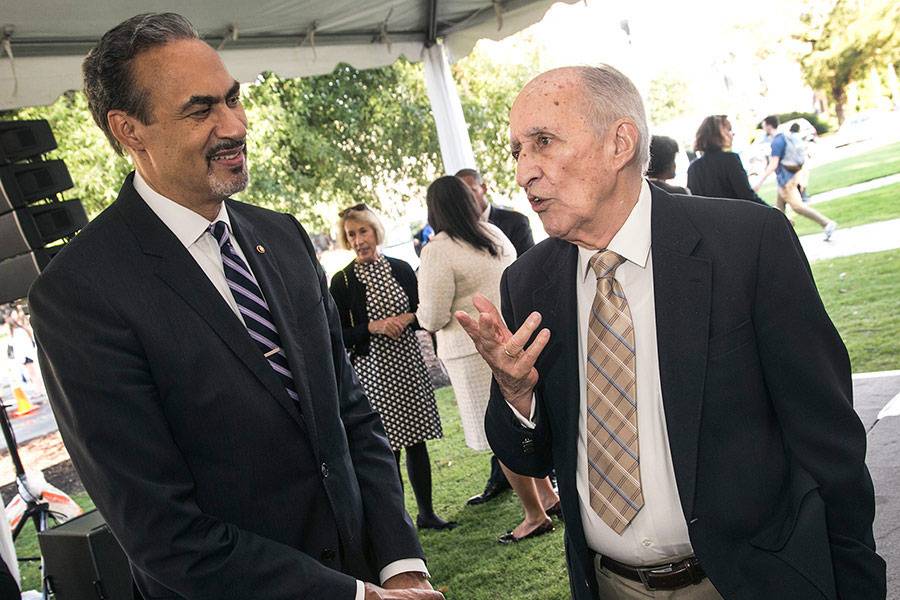 Phil Freelon, the distinguished Durham architect responsible for designing the Smithsonian Institution's National Museum of African American History and Culture and two buildings on Duke University's campus, died Tuesday. He was 66.
"He was a wonderful colleague and one of the very best architects of his generation," said Tallman Trask III, Duke executive vice president, who worked with Freelon on campus projects and on several initiatives in the local community. "I was honored to be his friend and his sponsor when Duke gave him a well-deserved honorary degree."
A native of Philadelphia, Freelon lived in Durham for decades and had many connections to Duke. In December 2016, Freelon announced he had been diagnosed with amyotrophic lateral sclerosis, or ALS. He also launched "Design A World Without ALS," a fund-raising effort to support research at the Duke ALS Clinic.
He was particularly celebrated for designing buildings for public institutions that encouraged interaction, collaboration and education of community members. His most prominent work was the $500 million Smithsonian National Museum of African American History and Culture in Washington, D.C., which opened in 2016. The new museum on the National Mall was immediately celebrated for its striking beauty and symbolic impact; Freelon has stated that he aimed to "infuse African American and African influences into the building to create a distinctive form."
The Freelon Group has also served as the design architect for many other significant cultural and civic buildings, including the National Center for Civil and Human Rights in Atlanta, the Museum of the African Diaspora in San Francisco, the Harvey B. Gantt Center in Charlotte and two neighborhood libraries for the Washington, D.C., public library system.
Locally, Freelon was responsible for designs that helped transform Durham, including the Durham Transportation Center, the Durham Bulls Athletic Park and the Durham County Human Services complex, among other civic facilities. He also designed multiple buildings on the Duke campus, including the current financial aid office, the Medical Science Research Building 3 and the new Duke Hospital Bed Tower, which is under construction.
But Freelon's contributions to Duke's campus went beyond design. He was one of an 11-member committee appointed in 2015 by then-President Richard H. Brodhead to explore ways of honoring African-American architect Julian Abele, who designed much of Duke's West Campus. The West Campus quad was dedicated in Abele's name in 2016.
Freelon gave the keynote address at the university's annual Martin Luther King Jr. commemoration in 2017. And in 2018, he received an honorary degree from Duke in recognition of his accomplishments and contributions to public life.
Among his many honors and awards, Freelon was a Fellow of the American Institute of Architects (FAIA) and was the 2009 recipient of the AIA Thomas Jefferson Award for Public Architecture. President Obama appointed him to the National Commission of Fine Arts.
His death was announced in a Facebook message from the North Star Church of the Arts, which he founded with his wife, the jazz singer and composer Nnenna Freelon. Details about a memorial service are forthcoming.
For more, read the Washington Post story on Freelon here.