Duke To Award Six Honorary Degrees At Commencement
Ceremony is May 13 at Wallace Wade Stadium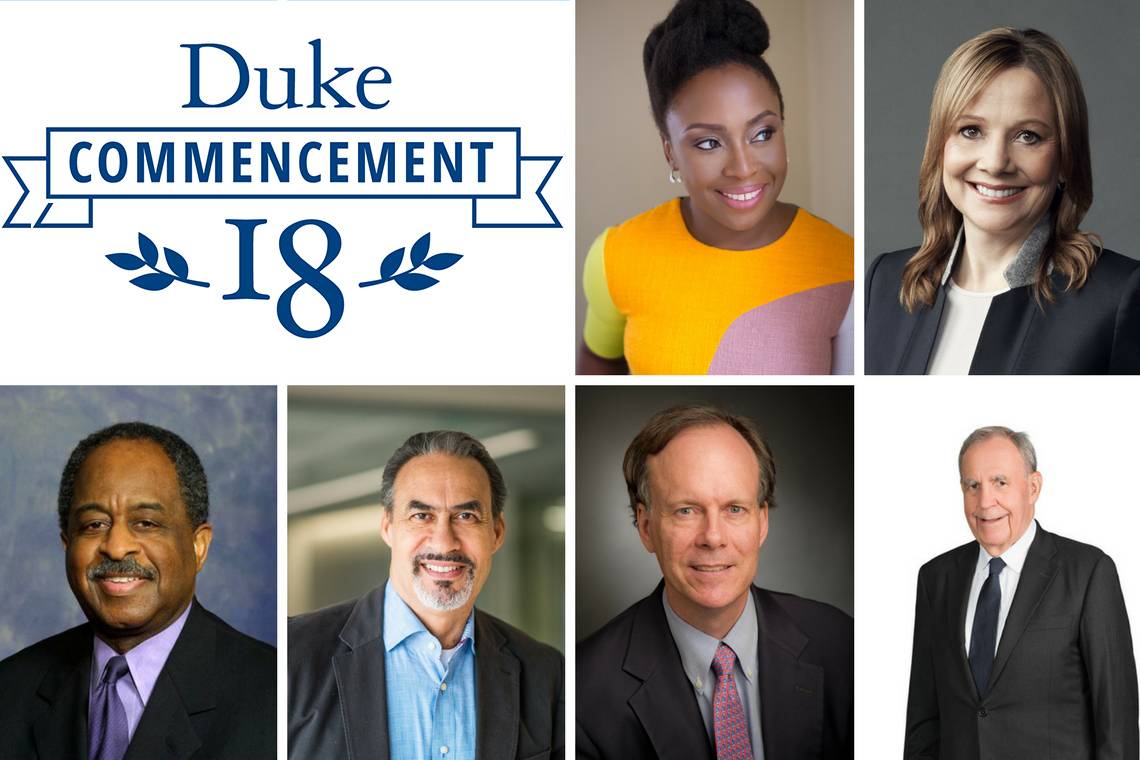 Duke University will award six honorary degrees at its commencement exercises on Sunday, May 13, Duke President Vincent E. Price announced Friday.
This year's recipients are Nigerian-born writer Chimamanda Ngozi Adichie; General Motors Chairman and CEO Mary Barra; former Durham Mayor William Bell; Phil Freelon, lead architect for the Smithsonian National Museum of African American History and Culture; Dr. William Kaelin, professor of medicine at Dana-Farber Cancer Institute and at Brigham and Women's Hospital, Harvard Medical School; and Russell M. Robinson II, attorney, community leader and philanthropist.
Commencement, featuring an address by Apple CEO Tim Cook, begins at 9 a.m. at Wallace Wade Stadium and is open to the public. Cook is a graduate of Duke's Fuqua School of Business and a member of the university's board of trustees.
"Duke is proud to recognize the contributions that this distinguished group has made to society," said Price, who will be presiding over his first commencement since becoming Duke's 10th president last summer. "They each have been bold leaders in their respective fields, and their work has enriched and improved our lives. I am delighted to have the honor of awarding their degrees, and I am certain that the graduating Class of 2018 will be inspired by their example."
Adichie has been recognized as a voice of both contemporary African and global Anglophone fiction. She is the author of three novels – "Purple Hibiscus" (2003), "Half of a Yellow Sun" (2006) and "Americanah" (2013). 
"Americanah" won the National Book Critics Circle Award for Fiction and was named one of The New York Times's Ten Best Books of the Year. It was selected as the first-year summer reading assignment for Duke's Class of 2018. 
Adichie earned a bachelor's degree summa cum laude from Eastern Connecticut State University in 2001, a master's degree in creative writing from Johns Hopkins in 2004 and a master's degree in African Studies from Yale in 2008.   
Barra was elected chair of the General Motors Board of Directors in January 2016, two years after she was named CEO. Her priorities include vehicle safety, reducing emissions and leading the transformation of personal mobility in GM vehicles through advanced technologies like connectivity, electrification, autonomous driving and car-sharing. Barra previously served in multiple executive leadership roles at GM, in which she and her teams were responsible for the design, engineering, program management and quality of GM vehicles around the world. She began her GM career in an undergraduate co-op program in 1980. 
Fortune placed her at the top of their Most Powerful Women list in 2015, 2016 and 2017. Barra's son Nick and her daughter Rachel are both Duke undergraduates.  
Bell served eight terms as mayor of Durham (2001-2017), making him the longest-serving mayor in the city's history. He opted not to seek another term in last year's election.
As mayor, he led the revitalization of northeast central Durham and much of the Southside community, started a data-driven Poverty Reduction Initiative, and forged partnerships with Duke and others to create DPAC and the American Tobacco Campus. 
Bell previously was a member of the Durham County Board of Commissioners (1972-1994; 1996-2000, chair from 1982-1994). He also worked as executive vice president and chief operating officer of UDI Community Development Corp. and as a senior engineer at IBM. Bell earned electrical engineering degrees from Howard University (undergraduate) and New York University (master's).
Freelon was the lead architect for the $500 million Smithsonian National Museum of African American History and Culture, which opened in 2016. He also designed the National Center for Civil and Human Rights in Atlanta, the Museum of the African Diaspora in San Francisco, and the Harvey B. Gantt Center in Charlotte. 
Freelon, a Philadelphia native who lives in Durham, has served as an adjunct faculty member at North Carolina State University's College of Design and has lectured at Harvard, MIT and the University of California, Berkeley.
His honors include the AIA Thomas Jefferson Award for Public Architecture in 2009 and President Obama appointing him to the National Commission of Fine Arts. 
Kaelin, a Howard Hughes Medical Investigator since 1998, is also senior physician at Brigham and Women's Hospital and former associate director for basic science of the Dana-Farber/Harvard Cancer Center.
He researches how mutations affecting tumor-suppressor genes cause cancer. His work has implications for diseases beyond cancer, such as anemia, myocardial infarction and stroke. Kaelin is a member of both the National Academy of Sciences and the National Academy of Medicine and received the Albert Lasker Basic Medical Research Award in 2016 and the Canada Gairdner International Award in 2010.
 He earned both a medical degree and undergraduate degree (summa cum laude and Phi Beta Kappa) in chemistry and mathematics from Duke, and received the Duke School of Medicine Distinguished Alumni Award in 2007.
Robinson is a founding partner of Robinson, Bradshaw & Hinson, one of the largest law firms in North Carolina, where he focuses primarily on corporate and commercial law, securities and nonprofit organizations. He is the author of "Robinson on North Carolina Corporation Law."
Robinson served for 30 years as a trustee and 11 years as chair of The Duke Endowment, and on the boards of Duke Law School, UNC Charlotte and Johnson C. Smith University.
He transferred from Princeton to Duke as an undergraduate. He received his law degree from Duke in 1956, where he was editor-in-chief of the Duke Law Journal. Robinson has received honorary degrees from UNC Charlotte and Davidson College.