The Hidden Side of Duke's Famous Places
Meet employees who work in places you know, but workspaces you don't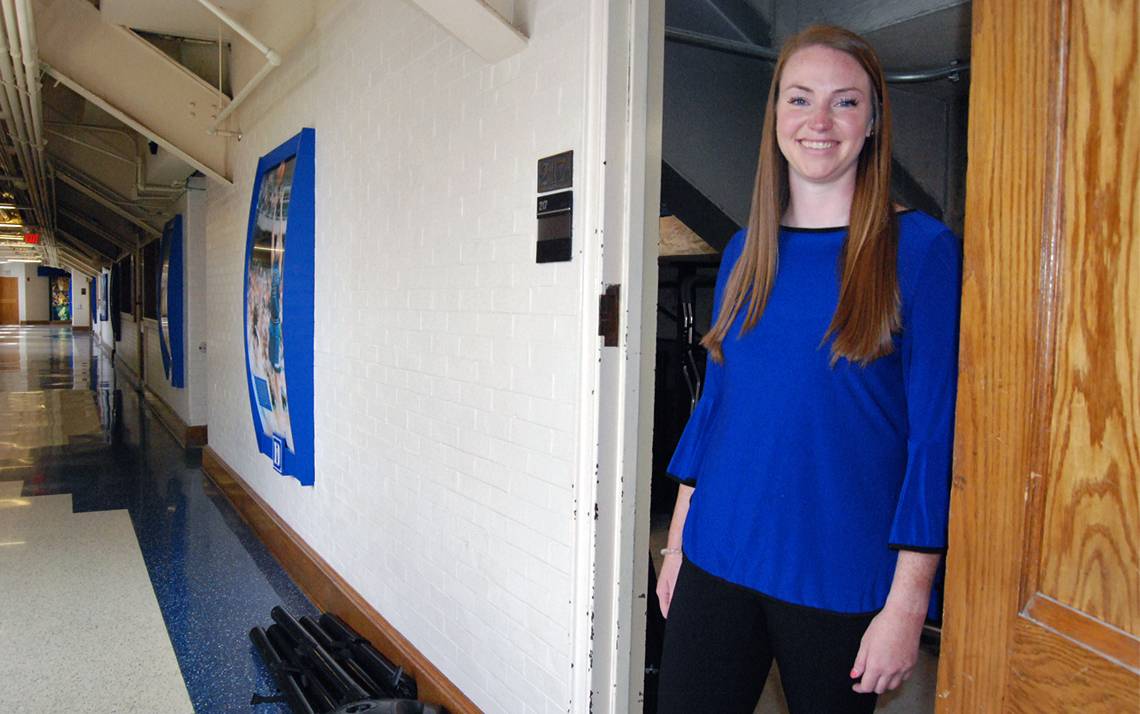 When she explains what she does, Mikaela Ryan's job doesn't sound all that extraordinary.
As assistant director of game operations and championships for Duke Athletics, she handles the unglamorous logistics that go into holding many campus sporting events. With a blizzard of emails and phone calls, she arranges parking, works with outside vendors and ensures visiting teams, officials and TV crews have what they need.
But what makes her job different is that she's doing all this in one of the most famous and quirky venues in American sports.
"Some of the things we go through to put on a game are different because of the small space and the fact that it's an iconic and old building," Ryan said. "But it makes it fun. There's no other place like it."
Cameron Indoor Stadium is the most famous arena in college basketball. Those who work there see sides of it that few others do. Ryan's job takes her into the hidden hallways, cramped storage rooms and hard-to-find luxury suites that make it unique.
"Nobody else has a Cameron," Ryan said.
Across Duke, there are people who, like Ryan, do their jobs in rarely-seen spaces in very prominent facilities. Meet some of these people and hear what it's like to work in the hidden side of some of Duke's most famous spots.
Keeping the Hospital Ready
While many of medicines used at Duke University Hospital come from pharmacies scattered throughout the sprawling medical campus, there are other things – such as flavored syrup for children's medicine or medications needed in common emergencies – that are better off made in bulk.
That's the job of the Duke Compounding Facility.
While thousands pass through Duke University Hospital each day, the Duke Compounding Facility is buried deep in the basement of Duke South, far from the beaten path.
Here, to the soundtrack of air handlers and refrigerator motors, pharmacists mix up 50,000 to 60,000 sterile doses per month of medications that get used across Duke Health System.
Inside the facility's "clean room," a team of 10 technicians and five pharmacists wearing sterile suits work amid heavily filtered and pressurized air, mixing powders, forming pills and portioning medications into ready-to-use doses.
"There are hospitals that do this on a smaller scale, but there aren't many that are doing it on the scale, with the same level of quality and safety, that we are," said Matthew Brown, the manager of the Duke Compounding Facility.
Pharmacy technician Courtney Pringley has worked in the facility for 12 years. While the medicines she makes are used in all corners of the hospital, she and her team embrace the facility's status as an essential, but largely unknown, part of the health system.
"We're like the hidden gem," Pringley said. "We don't draw a whole lot of attention to ourselves. A lot of people see the label, but they have no idea this place exists."
Below the Lunch Rush
On most days, the heart of the Brodhead Center is a hive of activity. While it peaks at lunchtime, a constant flow of hungry students and staff keeps West Campus dining facility bustling.
But in her office in the basement of the building, Aris Marton, Duke Dining's associate director for Retail Operations, can't hear any of it.
The offices of Duke Dining are found down a stairway and beyond a non-descript door, seemingly miles away from the mass of people upstairs.
But as Marton points out, it's still not exactly quiet.
"You can hear the hustle and bustle of the kitchen because it's right on the other side of this wall," Marton said.
While the food is served from 14 vendor locations throughout the building, it's prepared the Brodhead Center's sprawling kitchen downstairs. There, members of the kitchen staff stay busy on massive steam kettles, mixers and woks.
A few steps away, walk-in coolers – one for each vender – line one wall of a white-tiled hallway.
During lunchtime, Marton walks through the action, both upstairs and downstairs, to make sure the day is running smoothly.
"I like it when it's busy," Marton said. "When it's quiet in here, that's when I'm worried."
Under the Chapel
When Michael Lyle shows friends Duke Chapel, the breathtaking gothic revival building where he works, he finds himself making the same joke.
"It's a pretty nice office, huh?" he'll say.
But in truth, Lyle's actual workspace is much less grand. In his eighth-year, Lyle, the program coordinator for chapel music, is one of more than two dozen Duke Chapel and Religious Life employees who work in the basement.
"No one thinks of this place when they think of the Chapel," Lyle said of the maze of hallways, common spaces and small offices.
While the spare rooms and painted walls don't look much like the ornate space above, there are quirky reminders of where you are.
Like all buildings with stone walls, the Chapel creates a fair amount of dust, meaning Lyle and his colleagues are vigilant about wiping down their desks. And with two powerful organs in use just above their heads, the Chapel's staff knows that quiet moments will be impossible during practices and performances.
And then there are the low ceilings. Lyle stands 6-foot-3. In some spots of the basement, the ceiling is less than two inches from his head.
"Some of the doorways are even lower," Lyle said. "For the most part, I've gotten used to it."
But no matter how small or plain the basement offices are, they're a few steps away from what makes working at the Chapel magical.
"I find myself having to make sure I take time to go upstairs when I don't have to," Lyle said. "Sometimes I take a break to walk upstairs for five minutes and just sit. You just have to appreciate the fact that that space is always there."
Where the Work Happens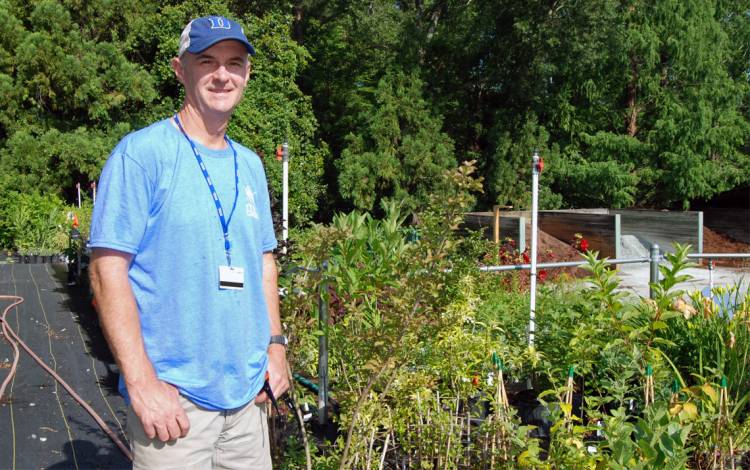 When Bobby Mottern, director of horticulture at the Sarah P. Duke Gardens, visits other gardens, he looks just as hard at the behind-the-scenes work area as he does the flowers and trees.
To him, that's the best indicator of how serious the operation is.
"You can't have a garden without a good support area," Mottern said while sitting in one of the five buildings in the work area on the east side of Duke Gardens' 55 acres. "Resources have to flow into places like this to produce a healthy garden out there. It's a direct correlation."
Duke Gardens' support area is a few steps away from the Doris Duke Center but hidden by green fences and shrubs. In addition to parking for Duke Gardens' golf carts and heavy equipment, such as the skid steer which Mottern said comes in especially handy, the area is also home to three greenhouses. Inside, out-of-season potted perennials wait for their turn to shine and young plants sprout up, bound for a future plant sale or a spot in the gardens.
There are piles of mulch waiting to be spread, piles of compost waiting to nourish soil and a handful of bee hives that yield golden honey and give a home to valuable pollinators.
Mottern isn't the only person who's fascinated by what happens in the Gardens' work area. Duke Gardens offers occasional tours of its greenhouse as a perk to members and donors, which are always popular.
"People are curious about what's going on and how the gardens are supported," Mottern said. "This is, on a grand scale, the same thing every gardener has at home. Everybody's got their tool shed. A lot of gardeners have things like this, but we have a tool shed for a 55-acre garden."
Have a story idea or news to share? Share it with Working@Duke.