Blue Devil of the Week: Finding Solutions Early for Attention Problems
Scott Kollins wants to improve diagnosis and treatment of children with ADHD
Name: Scott Kollins
Position: Professor in Psychiatry and Behavioral Sciences, Director of the Duke ADHD Clinic
Years at Duke: 19
What he does at Duke: Kollins is a clinical psychologist and scholar who has devoted his career to researching attention-deficit/hyperactivity disorder (ADHD).
His career began at Duke, where as an undergraduate student, he worked with adolescents suffering from serious mental illness at Central Regional Hospital in Butner. While obtaining his Ph.D. from Auburn University, Kollins began working more closely with children suffering from ADHD.
"I realized we needed better ways of identifying and treating children with ADHD," Kollins said. "That problem has propelled my career."
He's working to find a solution with the Duke A+ Study, which aims to improve screening, diagnosis, assessment and treatment of children with autism and/or ADHD. Kollins, his co-Principal Investigator Dr. Geraldine Dawson, and collaborators from a range of departments are enrolling children between 1 and 10 years old to monitor for early signs of autism or ADHD, to study how these conditions differ from one another early in life, and how to most effectively treat children with co-occurring autism and ADHD. The study began in 2017.
"We want to be able to diagnosis kids earlier with autism or ADHD," Kollins said. "If we can diagnosis someone at 3 years old versus 8, then we can mitigate educational and performance issues that might cause problems with a range of problems they might experience later in life."
As part of other studies, Kollins has also researched the intersection of ADHD and substance abuse. He and his collaborators recently discovered that cannabis use among men effects the epigenetic profile of their sperm. Kollins continues to research whether this could cause effects on children
What he loves about Duke: Kollins appreciates the collaborative environment. For example, in the Duke A+ Study, he works with colleagues from the Schools of Medicine, Pratt School of Engineering and Sanford School of Public Policy.
"Duke is the kind of place where there's a world expert down the hall or street for anything that you can imagine scientifically," Kollins said.
A memorable day at work: Kollins has two fond memories of the Duke A+ Study so far.
One is when the study reached 1,000 participants 18 months after it began. It now has about 1,800 participants after two years.
The second was when the first participant in the study screened positive for autism and was able to be seen for a thorough evaluation very quickly, leading to early diagnosis.
"We were able to tell the patient's parents that 'we can help you and get you seen really quickly to help the process of early intervention,'" he said.
Special object in his workspace: Kollins' undergraduate 1992 diploma from Duke University hangs next to his desk. He received a degree in psychology.
"I'm really proud of that," he said. "It's such an honor to work at the place where I found my passion."
Best advice received: Get as many perspectives as possible from trusted sources when making a big decision.
Whenever Kollins is struggling to make a personal or professional decision, he seeks advice from loved ones and coworkers.
After working at Western Michigan University for three years, Kollins had job offers from Duke and the University of Massachusetts. He initially considered the job at Massachusetts, but friends told him to consider the bigger picture.
"I wasn't considering the long northeastern winters," he said. "I might not have made that decision without talking my decision over. Take advantage of the human capital around us."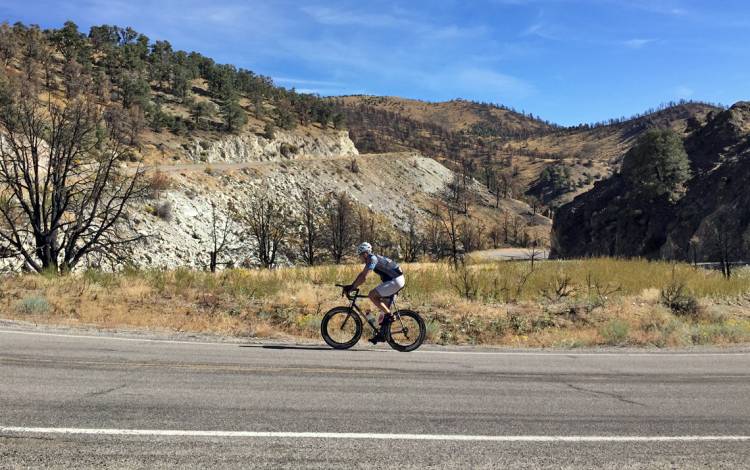 First ever job: Kollins worked at a lumber yard in Mocksville, N.C., during high school.
"I hauled sheetrock and rebar steel around," he said. "It kept me in good shape."
Something most people don't know about him: He has competed six times in the "Silver State 508," a 508 mile bike race across the Nevada desert. Kollins also finished the Lake James "SwimRun" in April, which is a 3.5-mile swim and 14-mile run in the North Carolina mountains.
"I love doing an event where you're not sure at the starting line if you can physically make it," he said. "You don't know what to expect."
Is there a colleague at Duke who has an intriguing job or goes above and beyond to make a difference? Nominate that person for Blue Devil of the Week.