Duke-NCCU Internship Program Launches Careers
Former communications interns now work at Duke in various roles
North Carolina Central University students are busy leaving their mark in communications offices around Duke this summer. 
The 17 students, who are part of an annual paid summer internship program managed by NCCU and Duke, receive hands-on experience around coding websites, designing infographics, writing content, shooting video and more. 
"I spent yesterday watching my team handle a video shoot at Duke Hospital," said Alynda Pratt, a senior at NCCU and intern for Duke Health News & Communications. "It was a whirlwind of signing media releases, setting up rooms for interviews and making sure no patients were impacted. I loved it."
The Duke-NCCU program began in 2005 as a way to address an underrepresentation of minority candidates in communications, news and marketing. A 2018 survey by the American Society of Newspaper Editors found that people of color represent 22.6 percent of the workforce in U.S. newsrooms. 
Since the Duke-NCCU program started, about 170 English and mass communication students at NCCU have interned with Duke communications offices. Interns work 20 hours per week for 10 weeks performing tasks such as writing, editing, shooting video, graphic design and managing social media. They also attend lunch-and-learn sessions about web design, social media and photography. 
"This program has been so rewarding for our students," said Charmaine McKissick-Melton, associate professor and internship coordinator at NCCU. "They gain the confidence and skills to enter the workforce."
Nine former interns now work at Duke in full-time positions in units such as the Office of Global Affairs, Geriatric Medicine Division, Social Science Research Institute and Duke Human Resources.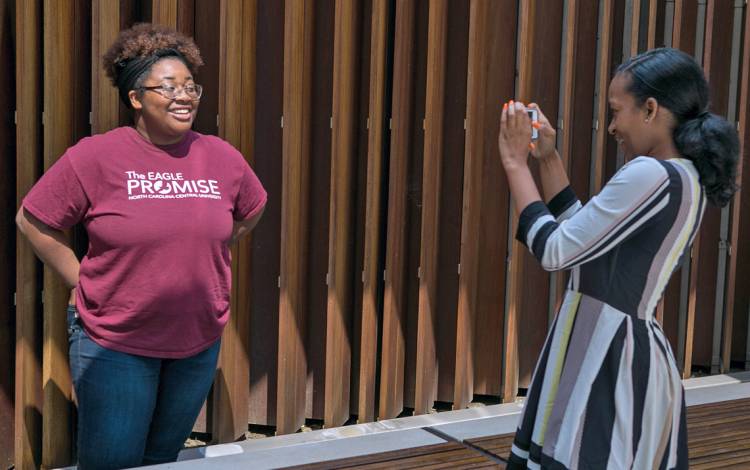 "In addition to getting eager young people to help out during the summer, the internship program allows supervisors to identify talented individuals who might one day be a great fit for Duke's full-time workforce," said Keith Lawrence, manager of the program and Duke's executive director of University Communications.
Evan Owens interned at Duke Talent Identification Program through the Duke-NCCU program in 2016. During his internship, Owens wrote blog posts, updated content on the TIP website and helped manage Facebook and Twitter. 
Owens stayed on as an intern during his senior year and after graduation. He earned a full-time position at TIP as a communication specialist in 2018. He continues to manage social media and crafts press releases and blog posts. 
"TIP is a pretty complex organization, so those two years interning really helped me understand the organization," Owens said. "If it hadn't been for the Duke-NCCU program, I wouldn't be here now."  
Camille Wright interned with Duke University Press in the summer of 2017 and now works in the office as a publicity assistant. 
She's seen her work shift from providing administrative support and maintaining databases to writing blog posts related to book content. She also coordinates book reviews and contributes social media content. 
"It's been amazing to start my career straight out of college," Wright said. "I've always wanted to work in publicity, so I'm getting to do exactly what I wanted." 
Have a story idea or news to share? Share it with Working@Duke.