Duke Honors Return-to-Work MVPs
Employees recognized for helping injured colleagues continue to work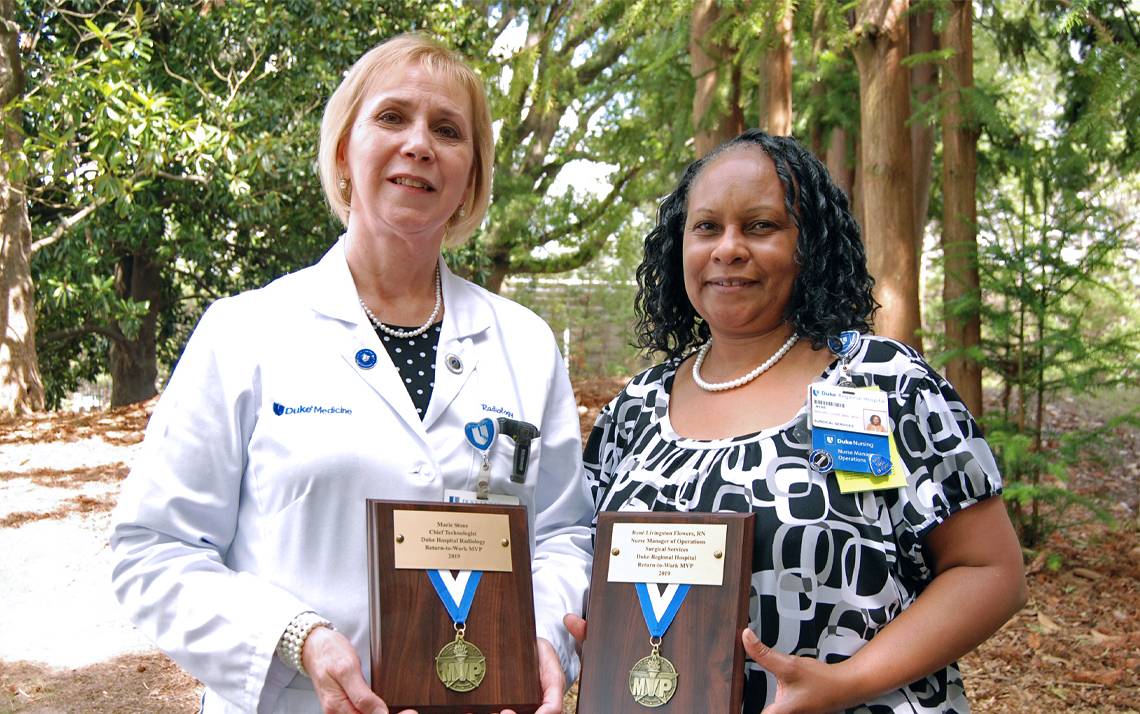 Duke recognized five employees on Tuesday for their role in helping colleagues continue to work while recovering from injuries.
The Return-to-Work MVPs were presented with plaques during a meeting of the Duke Workers' Compensation Advisory Committee. They earned the honor by helping make it possible for injured Duke co-workers to work safely during their recovery.
"The opportunity for injured workers to continue working, and maintain their productivity while they're recovering from their injury, is something I like to describe as a shared goal because it benefits the injured worker and Duke at the same time," said Chip Kyles, Duke's director of Workers' Compensation.
Duke emphasizes the importance of affording injured employees the opportunity to continue working. That effort requires a strong partnership between staff, supervisors, managers and human resources representatives.
"Our claims team is really dedicated to making sure that injured employees have the opportunity to maintain their wage-earning capacity and maintain their connectivity to their work and their co-workers," Kyles said. "But we can't do that alone, we can only do that in partnership with managers and HR professionals who are actually able to help injured workers in their departments or other people's departments to have those opportunities. These awards are a way to say, 'Thank you.'"
The 2019 Return-to-Work MVP Award Winners are:
Matt Sears, Director of Educational Programs, Duke Talent Identification Program
Terra Ylizarde, Human Resources Manager, Duke Talent Identification Program
Marie Stone, Chief Technologist, Duke Hospital Radiology
René Livingston Flowers, Nurse Manager of Operations, Surgical Services, Duke Regional Hospital
John E. Trotman, Transit Operations Manager, Duke University Parking & Transportation
Have a story idea or news to share? Share it with Working@Duke.