Smaller Graduation Ceremonies Require Big Efforts
Commencement weekend events give students an intimate celebration
Two years ago, Nancy Kelly stood at a lectern in front of a thousand onlookers in a large white tent, trying to hide the fact that she was freaking out.
Part of the anxiety came from the fact that Kelly had been petitioned by students to deliver remarks for the Nicholas School of the Environment's graduation ceremony for master's and doctorate students.
But the butterflies also came from the gathering storm clouds and predictions of lightning that threatened to derail the event that Kelly, the Nicholas School of the Environment's director of community engagement and events, and several colleagues spent a year organizing.
"There are thousands of little details that have to be managed," said Kelly, who got through the ceremony without weather interfering and is busy planning this year's version.
While Duke's commencement ceremony on Sunday, May 12, at Wallace Wade Stadium is the signature event of graduation weekend, it follows several days of smaller events orchestrated by schools, programs and campus groups.
Behind these celebrations are scores of staff members who work hard to make each one special.
Uniting the 'Villages'
Nancy Kelly often calls the Nicholas School a "collection of villages."
Here, students work toward several types of degrees, some study online, others at Duke Marine Lab and yet more do research far from campus.
Graduation weekend marks one of the few times when the villages come together to celebrate as one.
"As we've built a community here, this event has become so important," said Kelly, who's been on the Nicholas School staff for 15 years. "It's a celebration of what we're doing, so more time and effort has been put into it."
The Nicholas School holds three ceremonies and five receptions in the days leading up to the Sunday commencement ceremony, honoring students who completed graduate programs, undergraduate programs and those who spent time at the Duke Marine Lab in Beaufort.
Pulling the events off takes preparation and coordination.
Preparation begins a year in advance when reservations for the tent, caterer and other essential elements are made. After that, Kelly said around 30 people help with logistics such as parking, hotels for faculty coming in from out of town, and invitations.
When the day arrives, a team of around 30 Nicholas School staff members ensure everything's perfect as graduate and undergraduate recognition ceremonies unfold in an outdoor tent and three separate receptions – for undergraduates, graduates and the Duke Marine Lab – take place inside parts of Grainger Hall.
"It's one of my favorite days," Kelly said. "We're counting on our students to go out and save the planet and do amazing things, so we want to celebrate with family and friends and acknowledge what they have done."
Personal Touch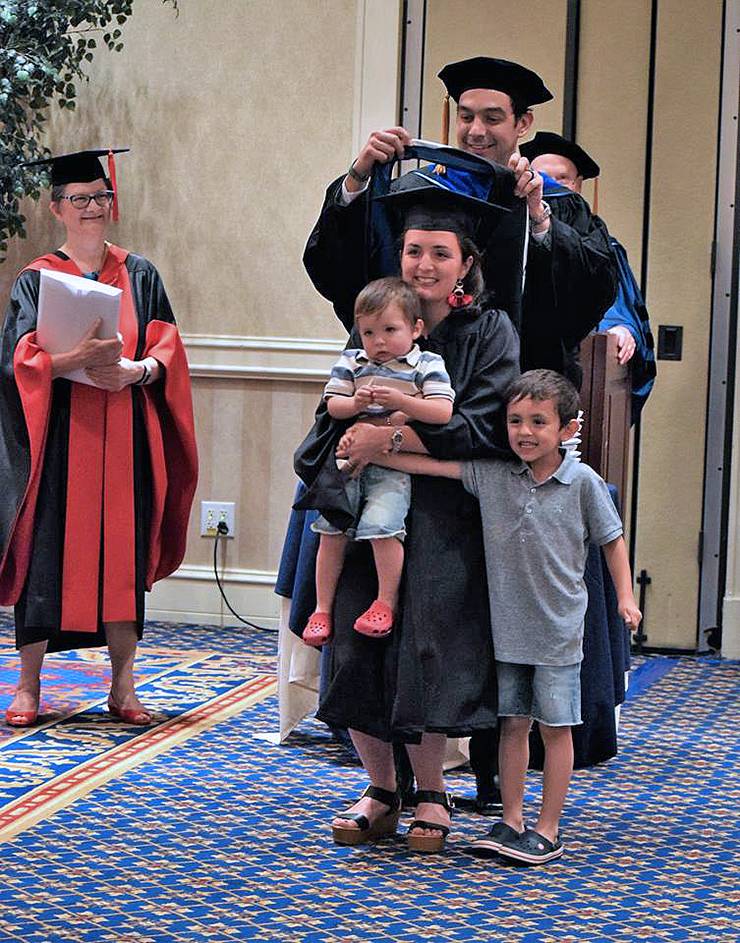 Dink Suddaby said that, over the years, the graduation and hooding ceremony for the Graduate Liberal Studies Program has gotten a little fancier.
The event, which takes place on Saturday afternoon of graduation weekend, is at the Washington Duke Inn and features a string quartet and dramatic procession of graduates receiving master's degrees.
Given the program's unique place among Duke's academic offerings, Suddaby, staff assistant with the program who helps organize the ceremony, said there's no concern that the ceremony will ever get too formal.
"We'll have parents with young kids, and sometimes when a child sees Mama, they'll go sit on Mama's lap," Suddaby said. "It's just so heart-warming because these are the people that this program is tailored for, the people that can't stop everything and get a traditional master's degree."
In all, Duke's different schools and programs have 79 different recognition ceremonies over commencement weekend. The Graduate Liberal Studies celebration is likely one of the smallest.
The program usually graduates around 30 students per year, many of whom are already in the workforce or have children themselves. And as a result of the program's size, students often create tight bonds with the staff and one another.
By now, Suddaby, who's been at Duke for 33 years, has the preparation down. She knows to reserve space, get the musicians on board, and get the event on the calendars of faculty members as soon as she can.
No matter what special touches get added, Suddaby knows that what makes the event different is the intimate feel created by the program's tight-knit nature.
"The big Duke commencement exercise is quite an event, but this means a lot when you can sit down and know all of the graduates with you," Suddaby said.
Bringing Students' Vision to Life
For student groups – which often feature unique elements each year – the work of organizing a graduation event is less predictable.
As one of the main organizers of the Final Honors Ceremony, Chandra Guinn, the director of the Mary Lou Williams Center for Black Culture, understands this challenge well.
Guinn gets details, such as venue and caterer, nailed down well in advance. But with students responsible for the content of the event – which traditionally takes place the night before commencement in Page Auditorium – the planning process takes shape over a period of months.
"Every year it's a unique and special journey," Guinn said.
Celebrations for affinity groups, religious groups, ROTC groups and scholarship programs dot campus on commencement weekend. With students in these groups often sharing similar interests, these events often feature much more personality than the more formal academic counterparts.
Started in 1993, the Final Honors Ceremony – which is sponsored by the Mary Lou Williams Center for Black Culture, the Black Student Alliance and the Division of Student Affairs – recognizes graduating seniors of African descent and their allies with a night of speakers, music, a slideshow, and student performances that can range from poetry to dance.
There are also poignant moments such as when graduates present their parents with roses as childhood photos are displayed, or when each graduate recites their own name, or when each graduate is presented with a handmade Kente cloth stole featuring designs and symbols chosen by graduates.
The student input makes the ceremony unique. But it also presents a challenge for organizers.
"There are a lot of things that need consensus and there are a lot of people who want to have a voice," said Hildana Haileyesus, who took part in the ceremony at a graduate last year and is helping organize this year's event as a staff assistant with the Mary Lou Williams Center.
Often key pieces of the ceremony – from the design on the Kente stole to the photos selected for the slide show – don't get finalized until the spring semester.
While the preparation may not move at a predictable pace, the final product never fails to move the graduates and their families.
"It's their celebration, it's not created by someone else for them," Guinn said. "It's by them, for them. It's their last salute to being Duke students."
Have a story idea or news to share? Share it with Working@Duke.