When Final Exams Hit
For some Duke staff, final exams bring a change to work's regular rhythm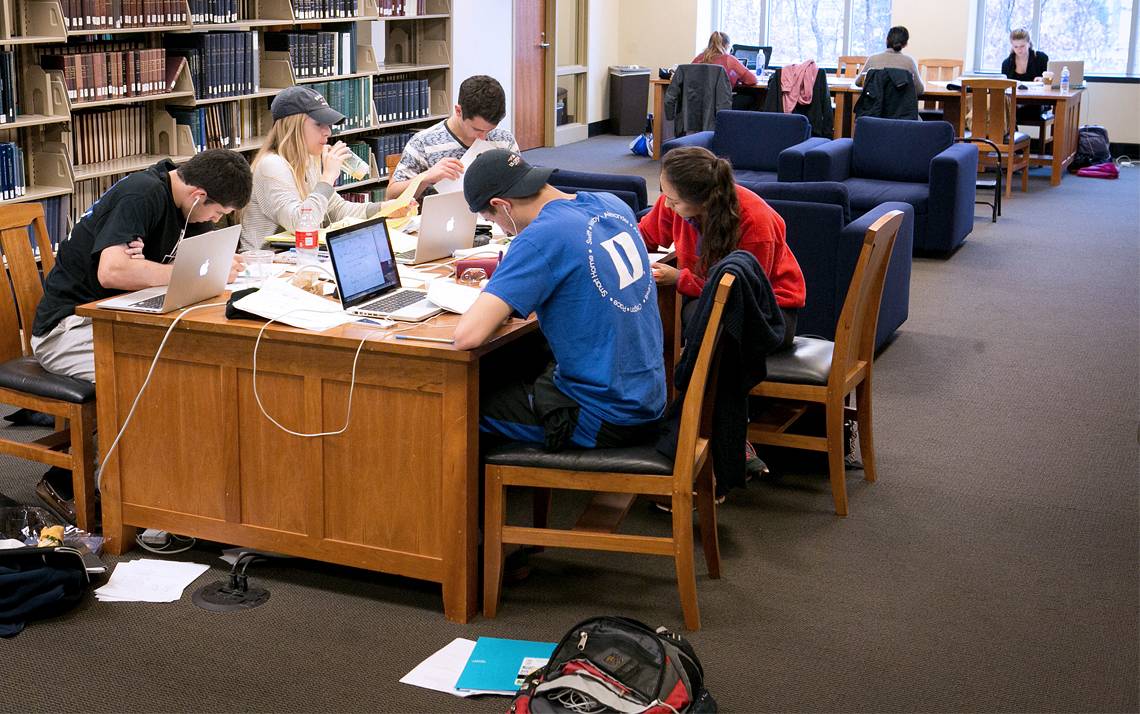 With a combined eight decades of feeding students, Duke Dining's Saundra Norwood and Julia Anderson have a pretty keen sense of the rhythm of student life at Duke.
Based on interactions with the students who pass through the Marketplace on East Campus, they can tell when mid-terms are coming, when a break is approaching and, especially, when final exams arrive.
"We pretty much know," Norwood said. "You can tell because they haven't gotten as much rest or sleep. We've even seen some that will do all-nighters in here."
Beginning Monday and finishing on Saturday, final exams mark the culmination of a semester of work. For Duke University staff members, even those whose work take place far from classrooms, this time of year takes on a special meaning.
While there are parts of the university – such as Counseling & Psychological Services (CAPS) and Student Health – that help with exam stress, other areas kick into gear, too.
Meet a few of the Duke employees whose work adjusts when exams hit.
Around the Clock Service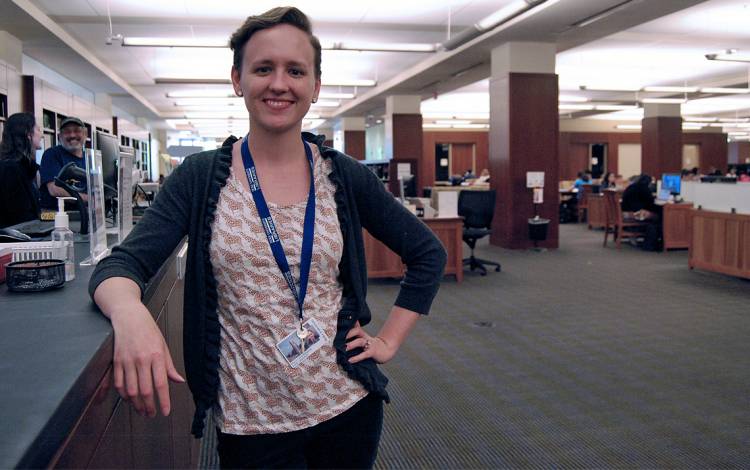 Few places see the effect of exams quite like Duke's libraries.
Both Perkins and Lilly Libraries alter their schedules during exams, staying open around the clock for eight-straight days. From the morning of April 25 until the evening of May 4, the facilities stay open and busy, with students finishing papers and prepping for tests.
The libraries are such a hub of activity this time of year, they organize stress relievers such as the "Puppies at Perkins" event. From 1-3 p.m. on Tuesday, April 30, visitors can get a break from studying with the help of therapy dogs.
Kelli Stephenson, Perkins Library's Access and Library Services Coordinator, understands what kind of challenge this time of year presents. She's in charge of ensuring that the help desk on the first floor of Perkins is staffed and ready to fulfill an array of requests – from help finding textbooks to assistance with urgent printing jobs.
"It's a very tense time for our patrons, so we just try to help them with whatever they may need," Stephenson said.
What makes Stephenson's job tricky during this time of the semester is that, for the most part, the people staffing the help desk are also students. She said she often has around 20 students on her staff at any point.
"It's a crazy time for them because their No. 1 priority is being a student, so they're trying to balance their papers and their tests, but it's also the absolute busiest time of year for their job at the library," Stephenson said.
She said her team embraces the opportunities exam season presents. Stephenson and her colleagues know that, as the hub of information at the heart of campus, this is the time of year when the library plays a central role.
"Everyone does a little extra," Stephenson said.
Finding the Words
For students looking to refine a piece of writing, or for ones who are bedeviled by an especially difficult paper, the Thompson Writing Program's Writing Studio provides a helpful resource.
Around 3,000 times a year, consultants in the Writing Studio sit down with students, and sometimes faculty and staff members, for a 45-minute collaborative conversation about a piece of writing.
"We work with writers on all manner of things, anything from first-semester students' first college papers to graduate students bringing in chapters of a doctoral dissertation," said Eliana Schonberg, assistant professor of the practice in the Thompson Writing Program and the director of the studio. "And it's every subject you can think of and any stage in the process."
The Writing Studio has locations on both East and West Campus, and they get their busiest when exams approach. Appointments – available from 9 a.m.-9 p.m. Monday through Thursday and 6-9 p.m. on Sunday – fill up fast, but cancellations and no-shows aren't uncommon, so students who walk in without an appointment can often get seen.
The Studio's consultants help student writers work out the kinks of end-of-semester assignments while also trying to be an empathetic voice during what can be a stressful time.
"We meet for an hour as a staff every week during the regular semester, and when it gets late in the semester, several of our staff meetings are focused on thinking about stress management techniques, both for ourselves and for the writers that come in," Schonberg said.
Keeping Spirits Nourished
Julia Anderson and Saundra Norwood said that each school year has a similar arc.
At first, students they see each day at the Marketplace on East Campus, many of whom are in their first year of college, can be shy. But as the year goes on, the students get more familiar with staff and open up.
Anderson, who often works the Marketplace's registers and is very good at remembering names, said she enjoys getting to know customers. She even jokes that she takes on a "Mama role," at times.
"I might be like, 'I didn't see you for breakfast, what's going on?'" she said.
When final exams approach, both Anderson and Norwood said they often make a special effort to be cheerful. For many of students they serve, this is the first taste of college-level exam stress, so a dose of positive reassurance will likely carry weight.
"A lot of people don't think that young people have tension, but they have it just like we do," Norwood said.
"That's why I like to encourage them," Anderson added. "I'll tell them, 'Oh, you've got this!'"
Have a story idea or news to share? Share it with Working@Duke.