Challenging the Way People Think about 'Normal'
Father of son with autism urges moving from inclusion to a purpose-filled life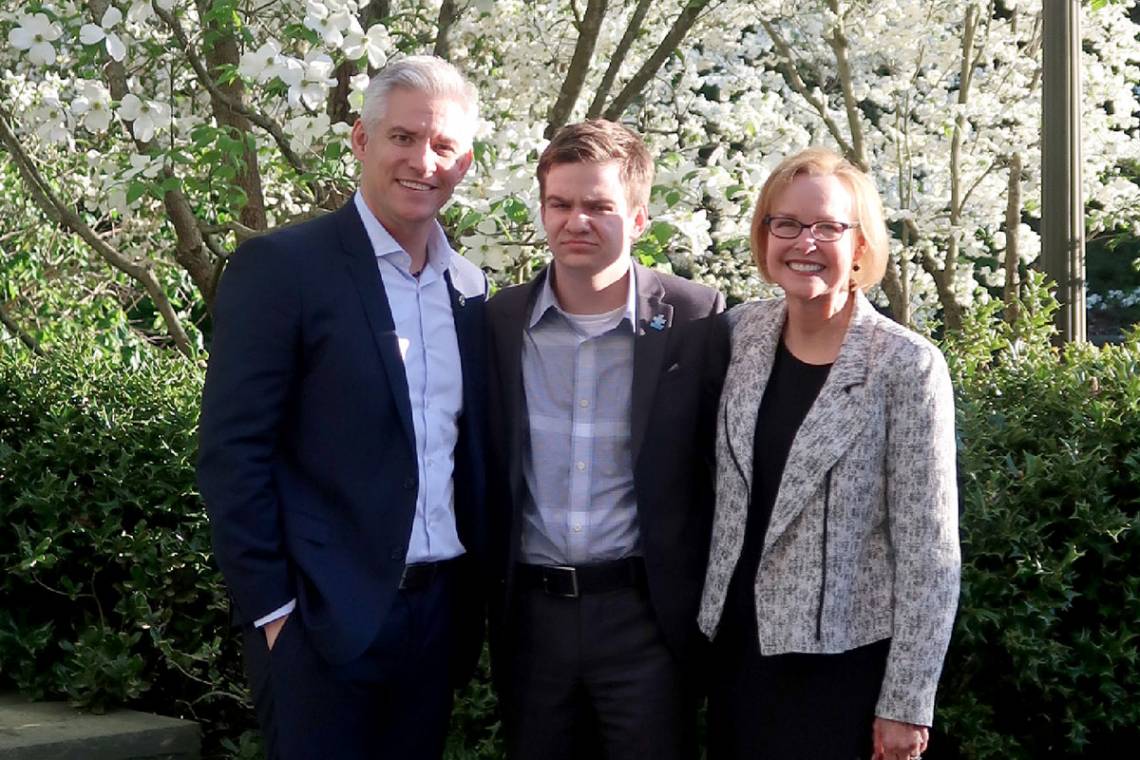 The Hon. Mike Lake's Twitter account description sums up his busy life: "Canadian Conservative Member of Parliament for Edmonton-Wetaskiwin. Shadow Minister for Youth, Sport and Accessibility. #Autism parent. @EdmontonOilers fan. ("Shadow Minister" refers to the fact that his party is not currently in power.)
What the words cannot convey is the bond Lake shares with his 23-year-old son, Jaden, who has autism. Experiencing their love in person was the highlight of Lake's April 15 presentation at Duke, "Expect More: An Autism Adventure," an evening event recognizing Autism Awareness Month. Together, he and Jaden challenged how we think about the people around us, emphasizing that we all have special abilities and challenges.
More than 100 people attended the event organized by the Duke Center for Autism and Brain Development and held at the Duke Institute for Brain Sciences, which also co-sponsored it.
Lake has been a global autism advocate since Jaden was a youngster. When asked what is most important to him about advocacy, Lake said, "We want to challenge the way people think about 'normal.'" Inclusion [of people with different abilities] is good, he said, but it's not the ultimate goal.
"I want us to move beyond inclusion to contribution—to do a better job of unlocking each person's potential," he said. "Our purpose is to help others find their purpose."
As an example, he described Jaden's work at his school library, where he separates books into piles and re-shelves them alphabetically—much more quickly and efficiently than his classmates. Jaden excels at numbers and letters, especially when combined with concrete, understandable tasks. Shelving library books gives him both a purpose and a sense of belonging.
At the same time, Jaden experiences challenges in more abstract areas. "He doesn't understand the concept of danger," Lake said.
Lake makes certain to hold Jaden's hand when they are out, because if Jaden sees a large dog across the street, and he will immediately run to the dog without regard to oncoming traffic. "You can teach him to look left and right before crossing, but he doesn't know how to estimate the speed of oncoming cars or the threat they pose if he crosses the street."
Jaden also isn't able to understand that not all dogs welcome an enthusiastic greeting from a stranger, or that it's inappropriate to grab the ice cream off the top of another youngster's ice cream cone, then eat it. When something like that happens, Lake takes it in stride, explains that his son has autism. The incident makes people aware of Jaden's autism.
Jaden's exuberance was on full display Monday night, as he high-fived nearly every audience member after the presentation. Lake clued in everyone on the "only one high-five" rule. "Jaden only gets to give you one high-five," Lake said. "Otherwise, he would keep high-fiving you forever."
Asked what still surprises him after all these years of advocacy, Lake said, "How much work we need to do around autism awareness." Another surprise, he said, "in the best possible way, is how responsive people are to the message—how little convincing people take to understand the importance of understanding and inclusion."
In 10 years, Lake hopes to see much more progress in reducing stigma and increasing awareness of autism around the world. One way to do that, he said, is to leverage the work being done by international agencies such as UNICEF. "We must reach out to the most vulnerable people around the world," he said.
He also had some practical advice for parents just receiving their child's diagnosis of autism: "Don't be overwhelmed; just take it one step at a time." He encouraged family members to reach out to support groups and organizations. "There is a lot of help out there," he added.
In her remarks, Geraldine Dawson, director of the Duke Center for Autism and Brain Development, echoed Lake's message, describing the event as, "a celebration" of neurodiversity, the broader autism community, and the valuable contributions of people with autism to society.
Dawson, an international expert in early diagnosis and treatment of autism, has known Mike and Jaden Lake for years, and praised Lake's work as a global autism advocate.
"He and Jaden are amazing ambassadors for people with autism, not just in North America, but around the world," she said. "His inspiring message reminds us all that we need to do more to make sure that people with autism are fully included in our communities and workplaces."
Lake began the evening by asking his son to greet the audience. It wasn't conventional, but Jaden's greeting couldn't have been more welcoming.
Lake then told the audience more about Jaden and their life together, using video clips and stories. They documented Jaden's progress, as well has how the public perception of autism has shifted from something that needs "a cure" toward Lake's vision of acceptance and encouragement: "If there is anything he can do, I say let him do it. Give him a chance!"
Asked earlier what he does to relax from his and Jaden's hectic travel schedule, Lake responded, "I like doing this with him, and he likes it. It's therapeutic for him." He did admit it was a "challenge to let myself slow down—there are always more people who need help."