Chapel to Display Student's Paintings of Religious Scenes from India
Senior Lizbeth Leapo, a biomedical engineering major, as this year's C. Eric Lincoln Theology and Arts Fellow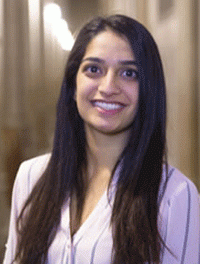 Duke senior Lizbeth Leapo will display her paintings of religious scenes from India in Duke Chapel from April 23 through May 6.
The chapel selected Leapo, a biomedical engineering major, as this year's C. Eric Lincoln Theology and Arts Fellow. Through the fellowship, she will create original paintings based on photographs she collected both online and in person, and then exhibit the paintings in the chapel for two weeks.
"Religion in India influences so many things that are distinctive to Indian culture: The vibrant  colors and style of Indian clothing, the preparation of different Indian foods, the intricate storytelling style of classical Indian dance," said Leapo, who is from East Brunswick, New Jersey, and has extended family in the Kerala region of India.
Leapo is Christian but is interested in exploring artistically other faiths that are practiced in India.
"The extent of religious devotion that I have seen in India fascinates me," she said. "There is a rich diversity of Indian traditions and beliefs."
A group convened by the Rev. Joshua Lazard, the chapel's C. Eric Lincoln Minister for Student Engagement, selected Leapo for the fellowship.
"The decision to select her was made clear by her attention to a global religious community," Lazard said. "She also came highly recommended by art department faculty."
Leapo has been drawing since she was a child and has been painting since high school. Although Leapo is an engineering major, she has taken two art classes at Duke -- a drawing class with William Fick, a lecturing fellow in the Department of Art, Art History & Visual Studies, and a painting class with William Paul Thomas, an instructor in the department.
"I've always been interested in art," Leapo said. "I really love bringing that into engineering when I can, in terms of designing things that are not only functional and effective but also aesthetically interesting."
The chapel's arts and theology fellowship, named in honor of the late Duke religion professor C. Eric Lincoln, provides funding to an undergraduate student for a sacred art project that employs theological concepts, illuminates one's personal faith, and engages the topics of gender, race and religion.