From Junkyard to Cutting Edge
Salvaged metal gets second life in Duke's Innovation Co-Lab
Chip Bobbert eyes a sheet of shiny aluminum that is several feet long and crimped on one end. He guesses this was once the backsplash of a restaurant kitchen.
Nearby, he spots another piece of metal with a square opening at the center. When he mentions it likely once framed the entry to a roof or ventilation shaft, the shape of the piece makes sense.
He then picks up a softball-sized chunk of dense stainless steel. With an intricate series of holes shooting through the thickest part, it looks like a central piece of some complex engine.
"Some of this stuff is crazy," Bobbert said, pointing out the holes. "If you look at the precision machining, somebody paid thousands of dollars for that."
But on this day, the piece and a galaxy of other bits of metal are scattered around the salvage yard of J & D Recyclers in Northeast Durham. And Bobbert, digital media and engineering technologies engineer for Duke's Office of Information Technology, is here to see what he can take back to Duke's Innovation Co-Lab to help fuel the creativity and ingenuity of the Duke community.
"If there's anything we use that we can give a second life, we want to do it," Bobbert said.
Opened in 2015, the Innovation Co-Lab is where Duke students, faculty and staff can use the latest technology tools to forge possibilities for the future. Dozens of 3-D printers turn designs into plastic reality while sophisticated cutting devices can shape wood, ceramic and metal into parts for any kind of machine. Simply put, if you can design it on a computer, you can make it in the Co-Lab.
The recent addition of a CNC – or computer numeric control – machine and a water-jet cutter have given users of the Co-Lab the ability to shape thick pieces of metal. As a result, the Co-Lab now needs a steady supply of metal on which users can learn. Bobbert said the Co-Lab went through about 500 pounds of metal this fall.
While those that use the Co-Lab for research buy their own materials, Bobbert and his colleagues at the Co-Lab have made monthly trips to J & D Recycling to pick up metal for the Co-Lab users to work into class projects and practice sessions.
Wilmer Garcia, a first-year mechanical engineering student, was a regular in the Co-Lab last semester. He used the water-jet cutter to create a series of puzzle-like, interlocking metal pieces that went into feeders for the aye-ayes at the Duke Lemur Center.
He said having the salvaged metal around was extremely useful as he learned how to create and manufacture his designs.
"It's great, you'll be working on a project and you realize you need a certain piece metal," Garcia said. "And then you look down and there's a metal sheet. It's a huge help to have that salvaged metal there."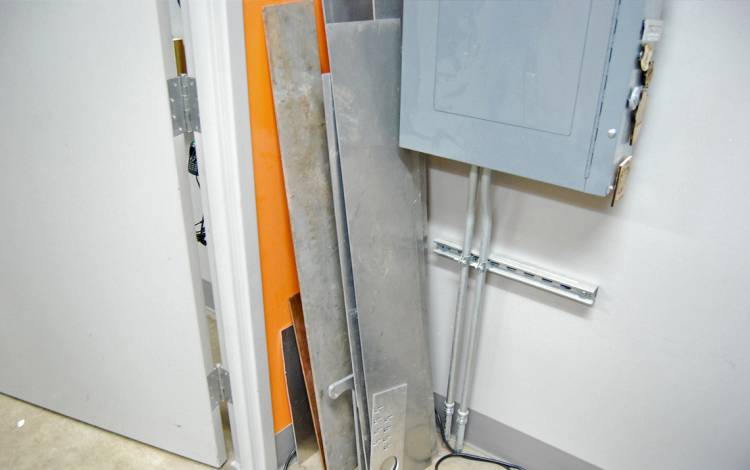 Finding that metal takes some skill.
While Bobbert usually comes back from his trips to the salvage yard with pieces of brass and copper, it's the aluminum, stainless steel and mild steel that are the most useful in the lab.
"Being a junkyard, it isn't the kind of place where you can just order what you want," Bobbert said. "You have to kind of know what you're looking for. A lot of times people make requests, so I'll try to find something in the pile that's useful."
On this trip, Bobbert is looking for sheets of steel to use in the water-jet cutter.
After walking past a thicket of chrome exhaust pipes, he begins sifting through steel plates, measuring the thickness of each with digital calipers.
"I kind of like to keep a small inventory of stuff in the lab," he said.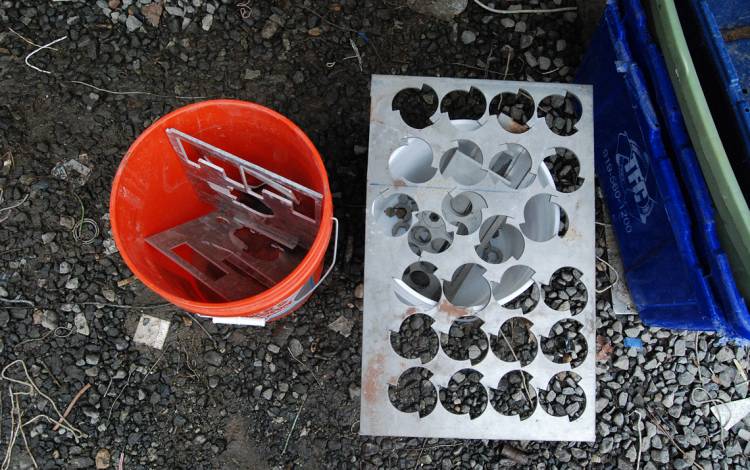 A little while later, Bobbert stacks up and pays for a few sheets of steel bound for the Co-Lab. He then pulls a bucket out of his truck filled with what's left of the last load of metal he got from the salvage yard.
These sheets of steel and aluminum have patterns cut out of them, signs that they've already had their second lives in the Co-Lab. Now they're back in the salvage yard, ready for however they'll be used next.
Have a story idea or news to share? Share your news with Working@Duke.