Finding a Creative Outlet
Employees use art to help move them down a path to wellness
A few years ago, Jessi Cruger had a camera and a desire for an innovative way to use it.
While looking for photography groups to join, she saw the work of Raleigh-based artist Johnny Dickerson, who turns long exposures and creative use of light into otherworldly images.
Right then, Cruger, a research analyst in Duke's Department of Biomedical Engineering, was hooked.
"I thought 'This is a way to show what I'm feeling," Cruger said.
Two years later, Cruger practices a technique known as "light painting," crediting it with helping her gain control of her mental health.
Across Duke, there are several stories like Cruger's. Whether it's a lifelong passion or a recent hobby, creating art can relieve stress and nourish your soul.
"The creative process allows you to get outside of your head a little bit and focus on something outside of what you typically do," said Jennifer Collins-Mancour, the visual arts program coordinator for Arts & Health at Duke, which provides creative outlets for patients and employees. "It's a very restorative thing."
Check out a few of your Duke colleagues whose artistic pursuits have helped them achieve balance and take steps toward wellness.
An Artistic Challenge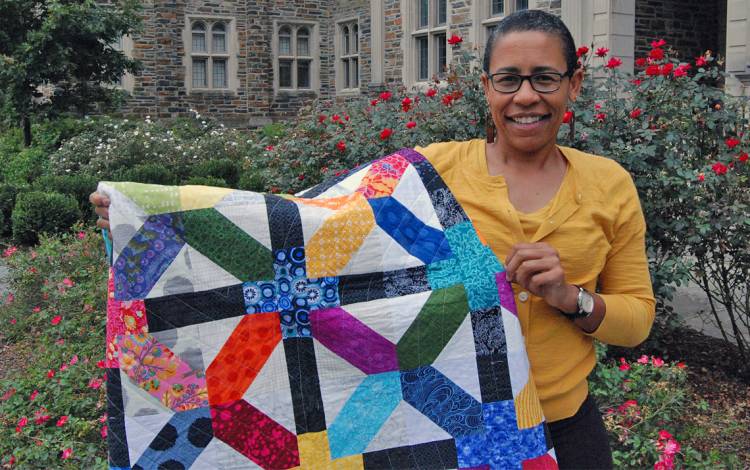 Beky Branagan, a departmental web administrator with the Duke University School of Medicine, has a routine. Each day after work, she tries to set aside at least 20 minutes to sit down at her sewing machines and quilt.
It could be working toward completing a large project or simply experimenting with fabrics, angles and techniques, but it's got to happen.
"If I can come home and sew for 20 minutes or half an hour, it feels good, it makes me happy," Branagan said.
Her quilting hobby began in the early 2000s, when she took possession of her grandmother's 1958 Singer Featherweight sewing machine to make some curtains. After learning the machine is prized among quilters for its portability and consistently straight stitch, Branagan gave quilting a shot.
And when she found the adventurous designs of modern quilting – which features bold colors and prints, minimalist designs and expansive use of negative space - she found her style.
"In modern quilting, you learn the rules enough to break them in very interesting and challenging ways," Branagan said.
Ever since, she's experimented with fabrics and geometry to create nearly 40 quilts. One of them won second place in the "Modern Quilting" category at the North Carolina State Fair.
But for her, the best reward is the peace and satisfaction she finds when she's turning the patterns in her head into soft, fabric realities.
A Lifelong Passion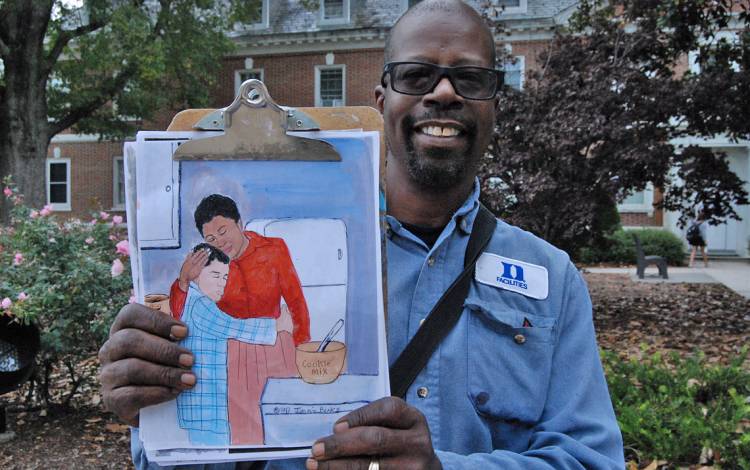 Catch Jimmie Banks on campus, and odds are the senior electrician with Duke Facilities Management will have a blue Duke backpack nearby.
That backpack contains pencils, acrylic paint, brushes and pens. And affixed to a clipboard, there's a stack of paper, each sheet containing a drawing on its way to completion.
Some are austere charcoal portraits with long graceful lines cutting across empty white space. Others are scenes popping with lively color. All have the touches of Banks' deft hand.
"This is something I've been doing my whole life," Banks said. "When everybody was outside playing, I'd be in the house drawing."
Banks, who often combines pencil, paint and collages of photos to create captivating portraits and pop culture-influenced scenes, has earned a following for his work, which has been displayed at the Mary Lou Williams Center for Black Culture, Duke University Hospital and, most recently, at The Ritz, a Raleigh event space.
While he loves to spend his free time working on his pieces, he said he'll also sprinkle in time to tinker with them during the work day. He said lunch breaks make for perfect opportunities to touch up a spot of paint or sketch something new.
"It gives me relaxation, it gives me peace," Banks said. "And a lot of joy."
Finding Her Medium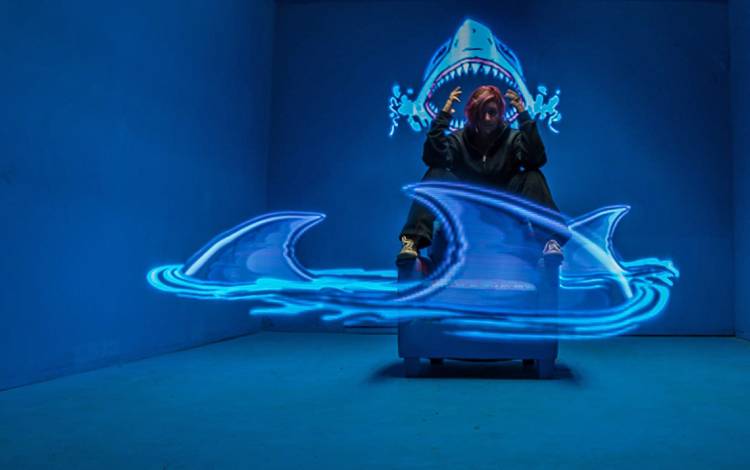 Jessi Cruger began her photography journey when, after noticing the eye-catching photos she took with her phone, a friend gave her an old camera. She dabbled in long-exposure photos of lightning and experimented with nature photography. But when she discovered light painting, she found what stirred her soul.
"I had no interest in pursuing what a lot of other people do," Cruger said. "I wanted to use photography to create something else."
Cruger began by assisting Johnny Dickerson. But soon, she started pursuing her own ideas.
Light painting tests the artist's creativity in both envisioning the image and figuring out a way to pull it off.
It usually requires a still camera and a darkened setting. During the long exposures, artists introduce light into the frame via methods such as small LEDs, projections or, safety permitting, fire.
The result is an image that blends photography with chaos and color.
Of all of her photos, Cruger said the most meaningful is a self-portrait shot in a dark room. With Dickerson's help, she was able to capture an image of herself, sitting with her head bowed, while projections of sharks seemed to float in the air around her.
"I was dealing with a lot of stuff and I didn't know where I was going," Cruger said. "But this helped get it out of my system. It was done."
Have a story idea or news to share? Share it with Working@Duke.