Duke in Support of Veterans: Events for the Week of Veterans Day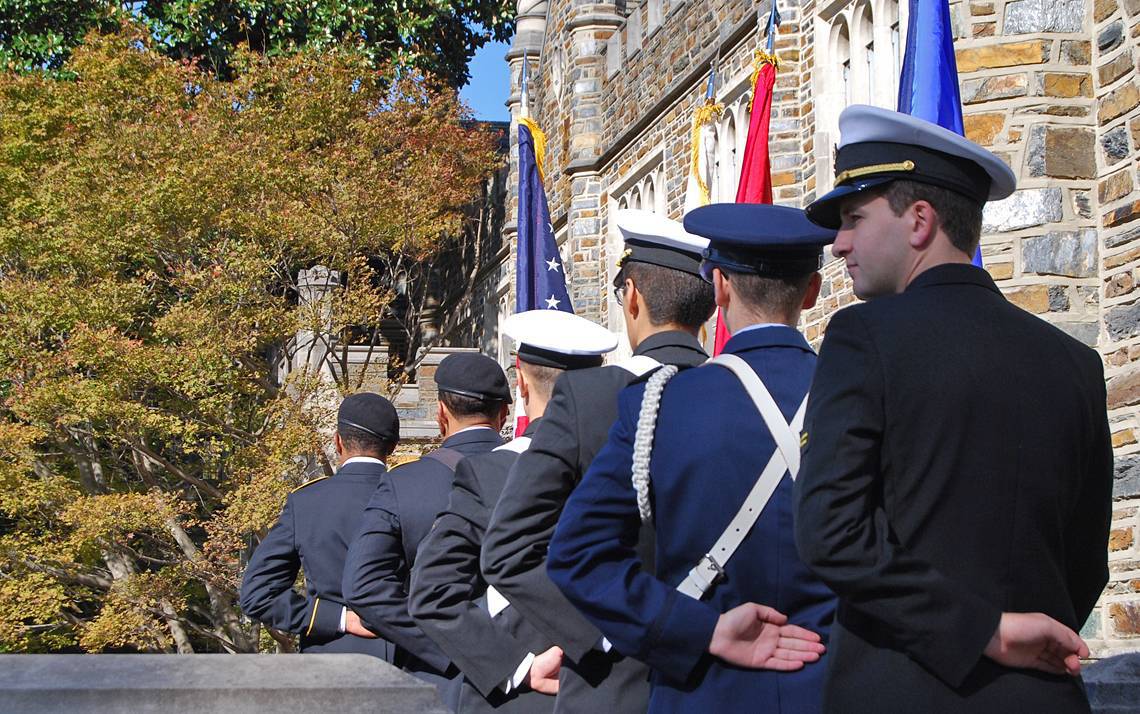 The following events have been scheduled on campus to honor US veterans during the week of Veterans Day.
Sunday, Nov. 11
1:30 PM East Campus. To engage the Duke Community and the greater Triangle community in honoring and connections with veterans through raising funds for veteran entrepreneurial endeavors in the Triangle region. Presented by the Duke Student Veterans Association and the Duke MBA Armed Forces Association. Registration required.
Monday, Nov. 12
Annual Duke University Veterans Day Commemoration
11 a.m. Outside Duke Chapel. The public ceremony will begin at 11 a.m. with the Joint Color Guard and introductions. Dan Bruno, chief operating officer of Duke Health Technology Solutions, will deliver keynote remarks. Immediately after the program concludes, the Duke Alumni Association will lead a wreath-laying ceremony at the Memorial Wall beside Duke Chapel, next to Duke Divinity School.
Wednesday, Nov. 14
Honoring Those Who Honorably Served
2 p.m. DCRI North Pavilion. A panel discussion featuring U.S. military veterans alongside individuals who lead veteran support organizations. They will share their military experience and discuss why it is imperative that we all support these men and women. Panelists include: Cynthia Woods, U.S. Army Ret. with pup, Riley; Nicholas Saunders, U.S. Marine Corps and U.S. Army National Guard Veteran, with pup Wilson; Terry Morris, executive director and founder of Vets To Vets United Inc.; and Paul A. Dillon, Vietnam veteran and adjunct instructor, Sanford School of Public Policy, and president and CEO of Dillon Consulting Services. Sponsored by the Duke Clinical Research Institute. Webcast can be seen here.
Thursday, Nov. 15
My Journey as a Female Veteran: How I Leverage My Experiences to Help Others
2 p.m. DCRI North Pavilion. U.S. Army veteran Iretha Alston, whose life choices following military service could have destroyed her, but ultimately inspired her to better herself and commit her life to assisting other veterans in need, will discuss veteran peer support. Sponsored by the Duke Clinical Research Institute. Webcast can be seen here.