Blue Devil of the Week: Helping New Mothers
William Meyer pairs women with community resources after pregnancy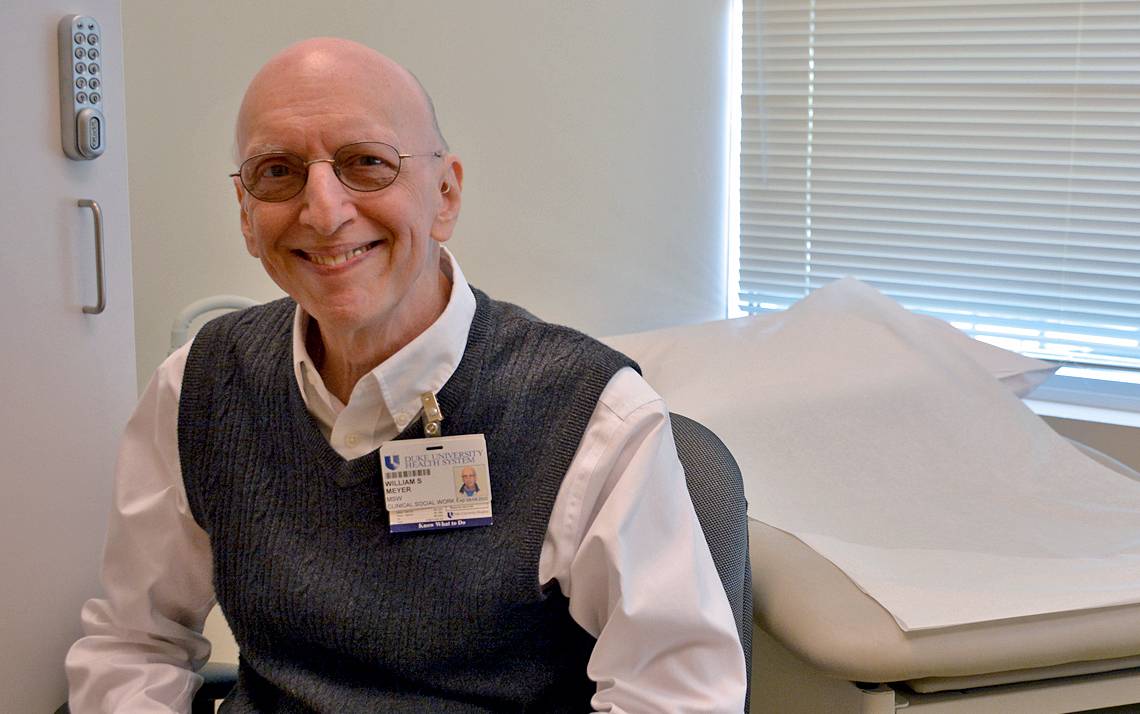 Name: William Meyer
Title: Clinical Social Worker and Associate Professor in the Departments of Case Management, Psychiatry and Obstetrics & Gynecology
Years at Duke: 35
What he does: Meyer spends most of his time at the Duke Perinatal Clinic of Durham, which provides care each week for 150-economically disadvantaged women with high-risk pregnancies. He counsels patients through various issues, including pregnancy and postpartum anxiety, depression and late-term pregnancy loss.
Meyer connects patients to postpartum support groups, parenting classes and nurses who make house calls. He also uses the "Parents at Duke" email list to solicit donations of strollers, car seats, bottles and other items for expectant and new mothers.
"Many of my patients were neglected or traumatized in their own childhood," Meyer said. "I want them to feel supported while they're pregnant and during the postpartum period. That's going to help a woman be the best possible mom."
In addition to counseling, Meyer has lectured widely and published articles and columns education people about the harm done to people in the LGBTQIA community. Meyer argues against conversion therapy, which is the practice of trying to change someone's sexual orientation. His writing has appeared in the Smith College Studies in Social Work, the Detroit Free Press and Tulsa World.
"Once my oldest daughter came out to me a decade ago, I started doing my own critical thinking and reading," he said. "This research has become a very important cause."
What he loves about Duke: Meyer appreciates the caliber of Duke physicians and medical students. Every year, he teaches two seminars on psychoanalytic psychotherapy to psychiatry residents. He also directs the social work internship program while overseeing three social work interns each semester in the high-risk obstetrics clinic.
"Students always have a fantastic energy," he said. "They're always welcoming, smiling and ready to learn."
Special object in his workplace: Meyer covered one of his office walls with framed photos of his social work interns, which each group makes. The pictures range from standard photos of everyone smiling in the office to a photoshopped image of Meyer and his interns at the beach.
"Many of my former students are now working at Duke," Meyer said with a smile. "It's pretty common for someone to come up to me and say, 'I ran into a former student of yours.' Well, everyone is pretty much a former student of mine after 35 years."
Best advice received: Meyer said to find a mentor. He credits his career success to his many wonderful colleagues and mentors like Muki Fairchild, former director of Duke's Department of Social Work, and Rebecca Maher, clinical social worker in Case Management at the Duke University Medical Center. In addition, he cherishes how much he learned from psychiatrists David Werman and Christel Machemar
"There is nothing so important as having really good people to guide you," Meyer said
First-ever job: As a custodian, Meyer cleaned a veterinary hospital while growing up in Chicago.
"The smell surprisingly didn't make me love animals any less," he said.
Something most people don't know about him: Meyer played keyboard, guitar and saxophone for a 1960's cover band called The 60s Souvenirs.
The band performed together for about a decade at birthday parties around the Triangle. Meyer said they most played The Beatles and other rock 'n roll bands.
"I started off as a music major in college," Meyer said. "It was nice to indulge in that hobby ever so often."
Is there a colleague at Duke who has an intriguing job or goes above and beyond to make a difference? Nominate that person for Blue Devil of the Week.