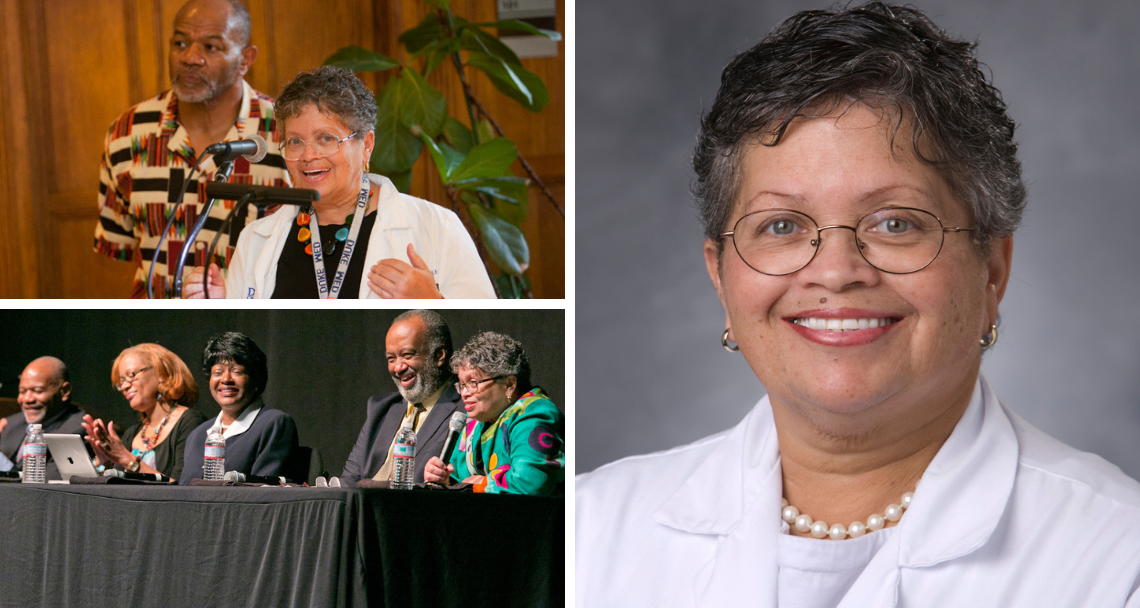 Whether coaching Durham Striders student athletes on the track field, caring for her patients, or recruiting and mentoring Duke University medical students, Dr. Brenda Armstrong was passionate about people, especially young people, and she committed her life to helping ensure every person was valued, treated with respect, and offered opportunities to learn and prosper.
Armstrong, who served Duke University School of Medicine for more than 20 years as associate dean for admissions and most recently as senior associate dean for student diversity, recruitment, and retention, died October 7, 2018, at age 69.
During Armstrong's tenure, she worked with school leaders and at the national level to recruit and attract the very best classes of medical students in the nation to Duke University and is credited for recruiting the most diverse classes in the school's history. She mentored hundreds of students and trainees and considered that her most important job. In 2017, she was inducted into the Student National Medical Association Hall of Fame.
"Under her leadership, Duke's Admissions Committee created an admissions process that values academic talent, leadership, altruism, and the diversity that enriches our school and our community," said Dr. Mary E. Klotman, dean of the School of Medicine. "Duke is recognized today as a leader in embracing diversity, due in no small measure to Dr. Armstrong's efforts."
A professor in the Department of Pediatrics, Armstrong was the second black woman in the United States to become a board-certified pediatric cardiologist. Her passion was bringing high qualitymedical care to underserved populations in Durham and beyond.
"Brenda was a brilliant physician, educator and researcher, whose many significant contributions improved the lives of countless people," said Dr. A. Eugene Washington, Duke University's chancellor for health affairs and the president and chief executive officer of the Duke University Health System. "Her boldness, and courage, in leading successful civil rights and equality efforts at Duke, as well as throughout the community, are legendary. She was a remarkable model for generations of medical students and was a respected and highly valued colleague and leader.  She will be greatly missed, but her endearing legacy will endure for decades to come through the many lives she touched."
In high school, Armstrong turned down an opportunity to go to an exclusive New England private school in favor of staying at Booker T. Washington Senior High School in segregated Rocky Mount, NC, where she learned important life lessons.
"My passion about equality and what happens when there is none, about the power of education--all forms of education, about service, about investment in children, about 'doing' instead of 'whining,' about achieving in spite of obstacles, about history and how it informs destiny---all of these I learned because I chose to stay in that space in the South instead of running away to a more protected place where it might have been easier, but wouldn't have prepared me for the reality that I would face as an adult black woman," she said.
Armstrong was among the first African-American students to attend Duke University as an undergraduate. As a student in 1969, she helped organize the Allen Building Takeover. While at St. Louis University School of Medicine, she was the only black woman student for three of her four years of training. In 1967, she and her peers established the Afro-American Society, and Armstrong served as its president. 
"Brenda Armstrong leaves an enduring legacy of leadership, service and exceptional academic and professional productivity," said Ann Reed, MD, Samuel L. Katz Professor of Pediatrics, chair of the Department of Pediatrics and physician-in-chief of Duke Children's. "She exemplifies the power of education, dedication to children and passion for equality. She will leave a part of herself in all of us who have had the privilege to work and learn with her."
Below: Armstrong with several of the medical students who benefited from her mentorship.