Picturing Duke History: The Allen Building Takeover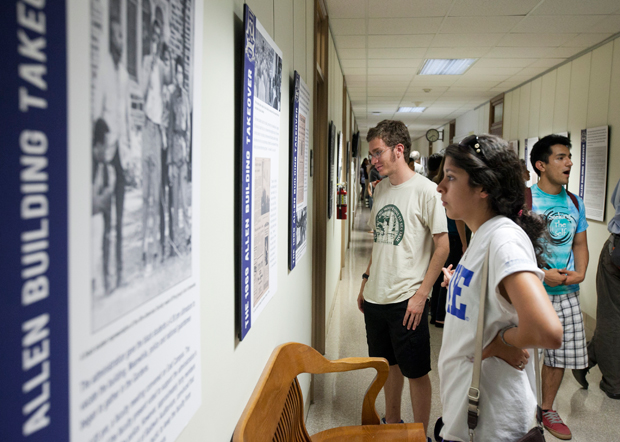 More than 100 people attended a reception Thursday afternoon for an exhibit on the 1969 Allen Building Takeover, which is on display in the same first-floor hallway the students walked through during the takeover. It is comprised of panels of photos and first-hand accounts of the day when about 60 black students barricaded themselves inside the University's Central Records Office on the first floor of the building to protest the racial climate on campus. The exhibit, which also chronicles the events leading up to the occupation, includes re-printed historical photographs from the Duke University Archives and local newspapers, interviews and a multimedia component. Caitlin Johnson, '12, a 3rd-generation Duke alumna, curated the exhibit with help from her mentor Maurice Wallace, university archivist Valerie Gillespie, librarian Danette Clark and others.  
At the reception, (pictured below) the Rev. William Turner and Dr. Brenda Armstrong, who each participated in the takeover as students, reflected on the innocence behind their courage to take a stand against the Duke administration. President Richard Brodhead also provided remarks underscoring the significance of the takeover in the history of Duke. 
For a story on Bill Griffith's memories of the day, click here.
Photos by Megan Morr/Duke University Photography