How to Enjoy the Nasher Museum of Art for Free
With free admission to galleries and family fun, there are many reasons to visit this campus artistic oasis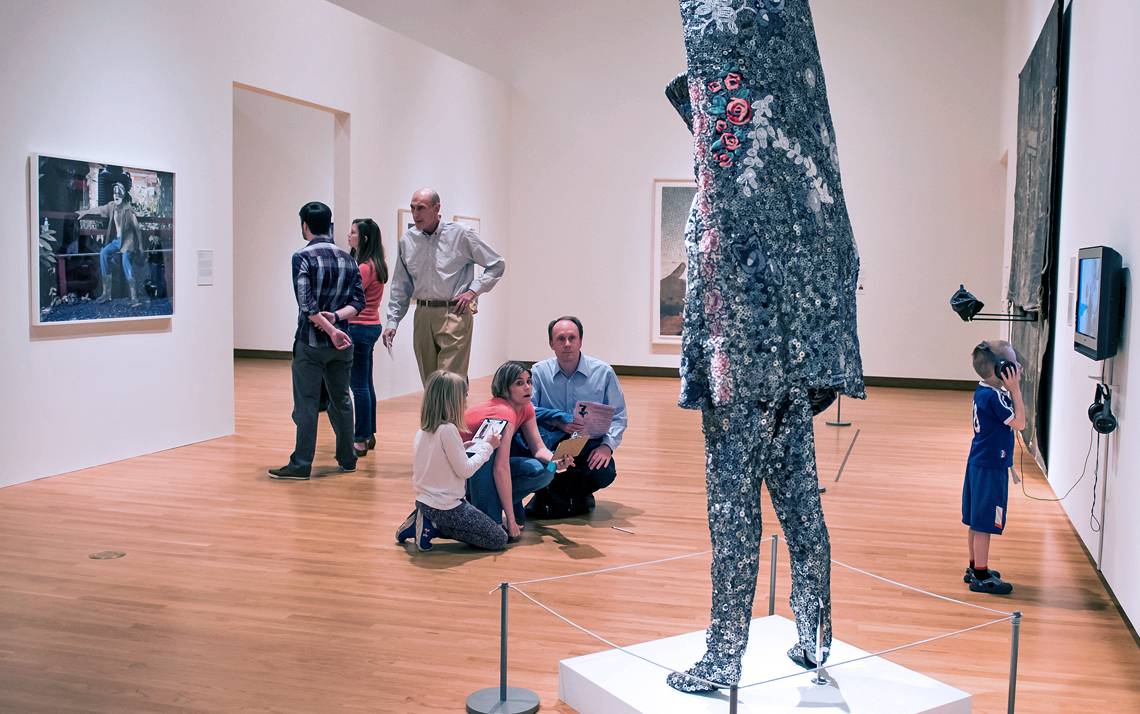 Ozgun Erdogan, a postdoctoral associate in pharmacology and cancer biology, hadn't been at Duke long before she found her way to Duke's Nasher Museum of Art.
Once the art buff found out that Duke students, staff and faculty get into the museum for free, it became a regular part of her life at Duke.
"I try to get there at least every month or two to see what exhibitions they have," said Erdogan, who arrived at Duke in early 2017.
Erdogan has enjoyed exploring the museum's permanent collection and recent rotating exhibitions. She saw "Solidary & Solitary," which highlighted the contributions of artists of African descent to abstract art, and "Disorderly Conduct," which followed the development of American painting and sculpture during the boundary-pushing decades that followed World War II.
"It's a great space for learning," Erdogan said. "I enjoy it a lot."
Home to a world class art collection, one of Duke's most relaxing eateries and events that delight guests of all ages, the Nasher Museum of Art is one of Duke's most valuable cultural resources.
Here's what to know, so you can fully experience what the museum has to offer.
Get in free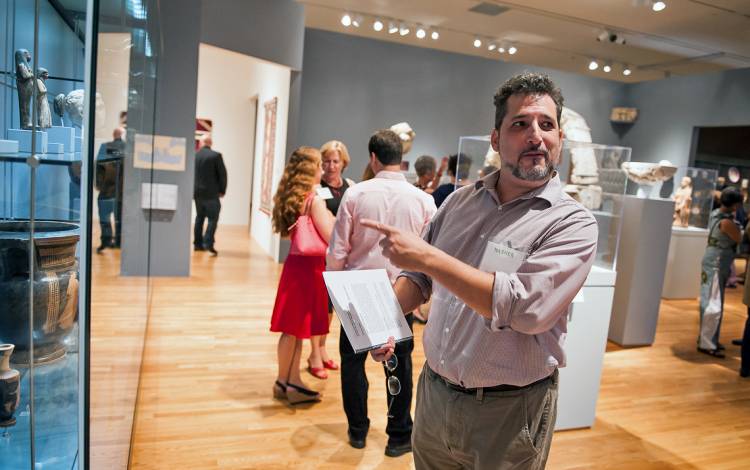 For Duke employees – just like with students and faculty – the usual $7 admission charge for adults is waived.
"The Nasher is Duke University's art museum, so it is their museum as much as anyone else's," said Sarah Schroth, Nasher Museum director.
The free admission covers events such as gallery tours, films, live music, artists' talks and the Sketching in the Galleries program. There are occasional ticketed exhibitions – such as 2017's showing of works by 17th-century painter Carlo Dolci – that are not covered. Employees can purchase discounted tickets for such exhibitions.
For members of the Nasher Museum, children under 17, Duke alumni and active duty military members or veterans and up to five of their family members, admission is also free every day. And every Thursday, admission is free for everyone.
"It's great that they have Thursdays free, so you can bring other people as well," said Erdogan, the postdoctoral associate in pharmacology and cancer biology.
There's art for everyone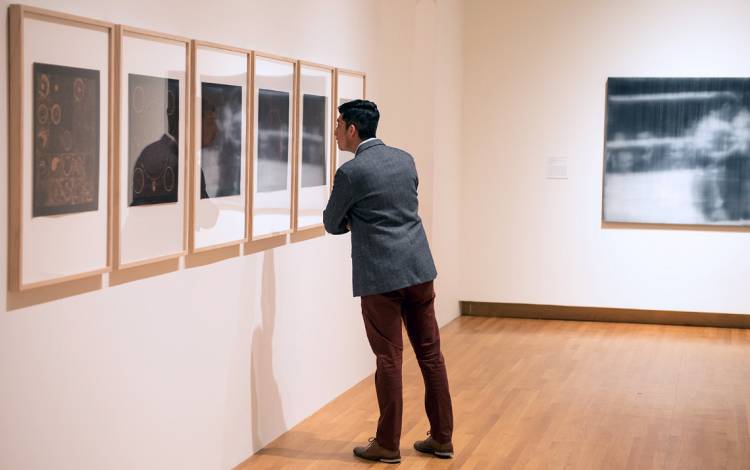 No matter who you are, there's likely art that will resonate with you.
The Nasher Museum's collection is constantly growing. And while it does feature European and American paintings, as well as European medieval art, it also features a vast collection of outsider art, contemporary art and works from artists of African descent.
"It's been a collecting and exhibiting strategy since we opened to exhibit and collect artists that are under-represented or overlooked," Schroth said. "Our mission is to reflect diversity in our day and age on the Duke campus and in Durham. But it's also a way to break the status quo. That's why we're an exciting place and an original place."
There's always something new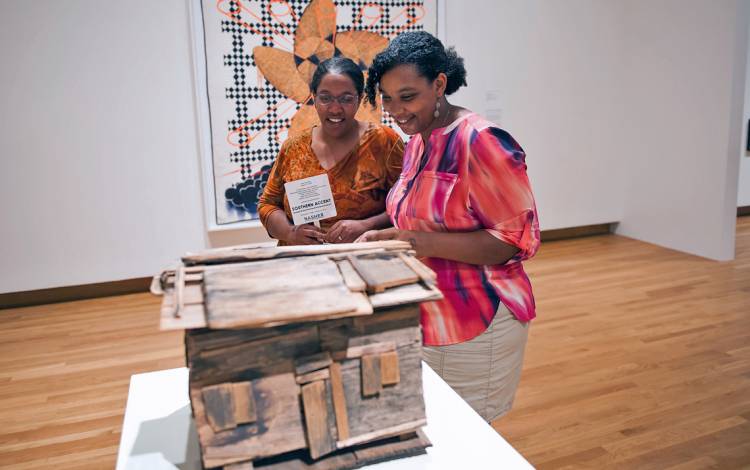 Whether it's in "The Collection Galleries," which feature the Nasher Museum's own historical and contemporary works, or one of the rotating exhibition spaces that showcase the Nasher's own collection or exhibitions from elsewhere, the art on view is ever-changing.
Exhibitions refresh every few months.
Coming in September, the Nasher hosts an exhibition entitled "People Get Ready," which uses works collected mainly over the past 12 years from diverse artists addressing issues of identity, social justice and environmentalism. Also opening in September is an exhibition co-curated by Duke faculty and students that tells the story of medieval migration in Europe.
Families are welcome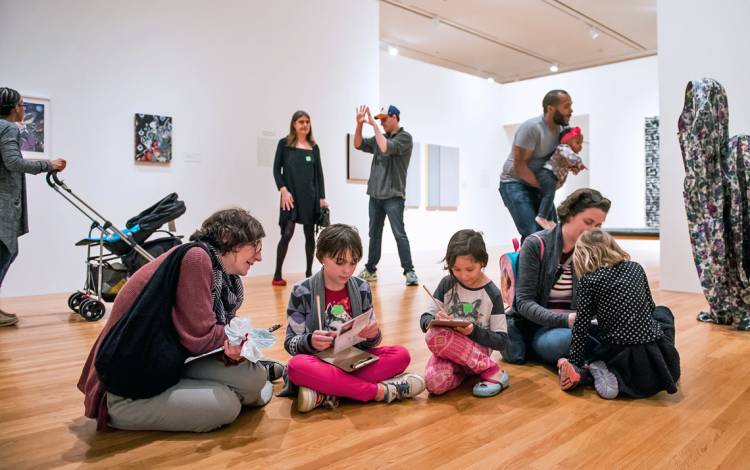 On five Sundays during the 2018-19 academic year, the Nasher Museum hosts Free Family Days. The events, during which families and others can enjoy free admission to the museum's galleries, live entertainment, hands-on art projects and gallery hunt activities.
"I have friends who have children and if they don't know what to do, I'll tell them that the family day is a great day to visit the Nasher," Erdogan said. "Now, I have friends who go specifically for the family days."
Children of all ages are welcome at Free Family Days, which run from noon to 4 p.m. and serve as an entertaining way to introduce children to art in a relaxed environment.
"We're trying to open it up to families and make it very, very comfortable," Schroth said. "We want to make them feel like it's their museum. It's a way to introduce to families some of the ideas that we're working with in the exhibitions and in our collecting."
Take a break there
Tucked just off the museum's peaceful airy atrium, the Nasher Museum Café is one of Duke's most acclaimed dining spots.
Open for lunch Tuesday-Friday, dinner on Thursday and brunch on the weekends, the café features a rotating menu that showcases local and seasonal ingredients. It earned a 2017 Diner's Choice Award and grabbed a spot on the list of OpenTable's "Top 100 Brunch Spots in America."
"It's very nice lunch experience because you really can come, get a nice lunch, and get back to the office in an hour," Schroth said. "It's an elegant dining experience. To be able to offer that on campus, not too far away, it's a wonderful thing."
Become a member
The Nasher Museum offers Duke staff and faculty a 20 percent discount for memberships ranging from the individual to benefactor levels.
In addition to providing funds for the museum's exhibitions and educational programs, advantages of membership include invitations to members-only events, discounts at the museum store and cafe and free passes to ticketed exhibitions.
Got a story idea or news to share? Share your news with Working@Duke.