Bracing for the Worst
Although Durham escaped the brunt of Hurricane Florence, Duke was ready for flooding, downed trees and more
When Melodie Lassiter, a pharmacy technician at Duke University Hospital, was approached with the possibility of working extra shifts during Hurricane Florence's potential brush with Durham, she didn't hesitate to volunteer.
"I don't mind helping out," Lassiter said.
As the outer reaches of the devastating storm dumped rain on Duke, she worked the night shift Thursday and followed it up with a marathon Friday. In between, she slept on an air mattress in the Searle Center and ate meals provided by the hospital. And if asked to do it again, she'd jump at the chance.
"The response Duke gave was so encouraging," Lassiter said.
Preparation for Hurricane Florence began at least five days before the storm made landfall with Duke severe weather and emergency management teams monitoring forecasts and hosting conference calls to plan the response, which included everything from ordering plenty of food to setting up air mattresses for health system caregivers.
"The constantly changing projections and potentially devastating impacts of this storm, required hundreds of our Duke teams to literally work around the clock," said Kyle Cavanaugh, Duke's emergency coordinator and vice president of Administration. "We continue to be so very fortunate in having so many individuals, committed to the safety of our students, patients, faculty, staff, and visitors." 
Early on, forecasts showed Florence's path passing directly over the Triangle with rain predictions of up to 15 inches. But its track moved farther south before the hurricane made landfall as a Category 1 storm Friday near Wrightsville Beach, beginning a slow march across the southern half of the state that continued with storms and tornado warnings Monday.
While Duke didn't get the worst of Florence, the storm brought out the best in Duke's staff and faculty. Across the university and health system, employees responded by showing selflessness and professionalism.
Here's a look at some of the work across Duke, from the main campus to the Marine Lab in Beaufort.
Prepping Food Supplies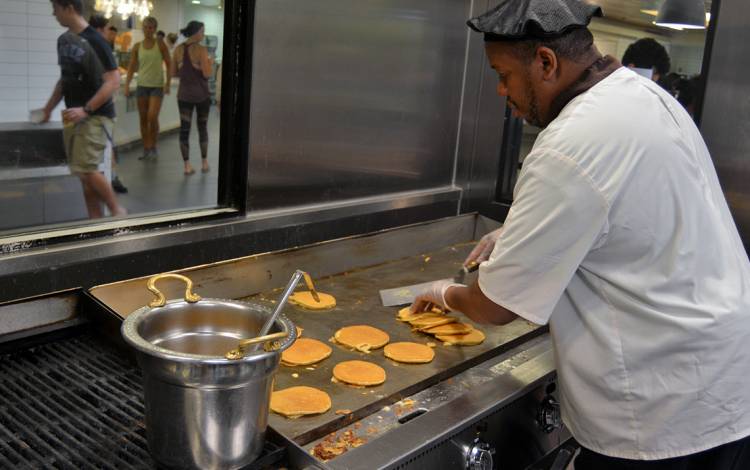 The Marketplace on East Campus buzzed Friday morning with the clinking of coffee cups and hum of students feasting on pancakes.
"It almost feels like a long weekend at this point," said Alexandra Allen, a first-year student. "It's really convenient that the Marketplace is open and serving as if it's just a normal day."
While winds swirled outside, it seemed business as usual for Duke Dining, which had ordered two additional days of food supplies. Dining was ready with 400 pounds of rice, 460 pounds of broccoli, 1,000 pounds of potatoes, and 1,200 pounds of chicken. Two refrigeration trucks – one for East Campus, the other for West Campus – were brought in to store additional food and served as back-up freezers in case of power loss. Dining plans to donate supplies not used to a food bank. 
"We'd rather be over-prepared," said Robert Coffey, executive director of Duke Dining.
Downstairs in Marketplace as the storm made landfall on the coast Friday morning, Darelle Bey minced parsley and garlic to make a marinade for chicken thighs to serve at lunch. Bey, a production worker, is usually at the Freeman Center for Jewish Life but was helping with food prep at the Marketplace. About 7,000 meals were served at Marketplace from Friday to Sunday. 
"There's a bit more energy in here," he said.
Continuing the Patient Care
Early last week, a pair of conference rooms on the first floor of Duke North was transformed into a control center where Duke Health System officials aimed to ensure patients and caregivers had what they needed regardless of what Florence brought.
"We were really bracing for the worst," said Amy Puglia, emergency preparedness coordinator with Duke University Hospital. "We were looking for any potential challenge and trying to do something ahead of time."
A major piece of the effort centered on staff and faculty who keep Duke University Hospital running. Emergency Services staff members kept an eye on the storm and stayed in close contact with city and state officials to keep hospital staff informed.
"Everyone was really responsive," Puglia said. "We worked a lot with leadership and they were on point. They were also trying think of things to do ahead of time and talking to their staff and making them aware of the options available to them."
Among the options available to staff members was to stay at the hospital between shifts. For hospital employees who deemed it too risky to go home, there were 120 air mattresses set up in the Trent Semans Center's Great Hall and the Searle Center. Around 40 employees took advantage of the air mattresses for some much-needed rest.
The work of Duke Health System employees also helped many outside of Durham.
Emergency Services staff members helped state officials with the task of moving roughly 130 vulnerable patients from health care facilities near the coast to safer facilities inland. As part of that effort, Duke Health System facilities welcomed 38 patients from the areas affected by the storm.
Before the storm made landfall on Friday, a group of 17 Duke physicians, nurses, administrators and emergency medical personnel, part of the statewide network of caregivers known as the State Medical Assistance Team, traveled to Goldsboro to help staff a special shelter on the grounds of Cherry Hospital for evacuees with special medical needs. On Monday, the initial 17 came back to Durham as 20 Duke staff members relieved them.
"This was the A-plus Duke teamwork that we're so accustomed to," said  Duke University Hospital Chief Medical Director Lisa Pickett.
Feeling the Storm's Fury
As Florence barreled toward the North Carolina coast, staff at the Marine Lab in Beaufort secured boats, ensured emergency generators were working and checked everyone's contacts and locations before evacuating the lab and students on Tuesday.
"We've been through major storms before," said Andrew Read, director of the Duke Marine Lab and the Stephen A. Toth Professor of Marine Biology. "We have a hurricane emergency preparation checklist that we go through to ready ourselves as best we can." 
Morehead City, which borders the Duke Marine Lab in Carteret County, received 24 inches of rain by Saturday, according to the National Weather Service. 
Assessing the Duke Marine Lab's damage began Sunday when Read, Maintenance Foreman Mike Cox and Beaufort Mayor Rett Newton returned to campus for the first time since the storm. The Repass Center, one of the lab's main teaching facilities, received damage when its roof peeled back. Several buildings also received water damage. 
Newton, also a PH.D. student at the Duke Marine Robotics and Remote Sensing Lab, used drones to capture footage of the lab and spoke to numerous national media outlets like The Weather Channel, CNN and NPR. He also coordinated the arrival of a 16-person water rescue team from Nevada. 
"Rett was and still is embedded in with the emergency responders in Beaufort," said Rebecca Smith, associate director of the Duke Marine Lab. "Rett has brought national attention and necessary resources to our area." 
The Marine Lab will remain closed through Friday. Read is confident the facility will be stronger than ever. 
"One of the things I love about this place is the resiliency," he said. "We're going to rebuild and be better. We're going to continue to be the best marine lab we can be." 
Keeping an Eye on Campus
Like many others at Duke, Director of Landscape Services for Duke Facilities Management Bryan Hooks was preparing for the worst early last week.
Well before Florence reached the coast, Hooks had lined up two tree services contractors and a local charity to supply staffing for clean-up, and had his crews cut down four threatening trees.
As the storm approached, the Facilities team made sure vehicles were fueled up and chainsaws were sharpened. On Friday and Saturday, all 39 members of the Landscape Services team were on the job, tending to campus.
Florence dropped about nine inches of rain between Friday and Monday in the Durham area. By contrast, rainfall totals for Wilmington, which are still being finalized, range from 23 to 50 inches for the duration of the storm. Though, at points, power was interrupted to 13 off-campus Duke Health System clinics, Duke's main campus never lost electricity.
In all, four trees required attention as a result of Florence. A cedar near Duke Children's Hospital had to be taken down after part of it broke off. A hanging limb was removed from a large tree on East Campus. A red oak fell across campus Drive on Friday night, requiring the road to be closed until Saturday morning. A tree fell across Flowers Drive on Monday morning, but was cleaned up before 10 a.m.
The most significant task for the Landscape Services crews tended was monitoring the flow of storm water across campus. With help from their colleagues in Parking & Transportation Services, which ran a severe weather bus service schedule, they made sure storm drains on campus were unobstructed and parking lots and roadways collecting water were cleared.
"We're very fortunate," Hooks said. "We're counting our blessing on this one. It could have been worse."
How to help: Duke Relief Efforts
Got a story idea or news to share? Share it with Working@Duke.