Where to Catch Free Music at Duke
Listen to Duke faculty perform, hear jazz and more this fall around Duke
In 24 years of attending concerts at Duke, Ingeborg Walther still manages to find surprises at performances. 
While attending a concert by pianist Shai Wosner in Nelson Music Room, Walther discovered the musician had arranged the space with the audience encircling him.  
"It was a very powerful performance in a very intimate space," said Walther, Duke professor of the practice of Germanic languages and literature. "Music is one of my passions. It means everything that it is so easy to find great music at Duke."
The Nelson Music Room in the East Duke Building on East Campus is one of the venues around Duke where staff and faculty can catch free music or a discounted concert. 
Here's a look at some settings to hear music across Duke: 
Baldwin Auditorium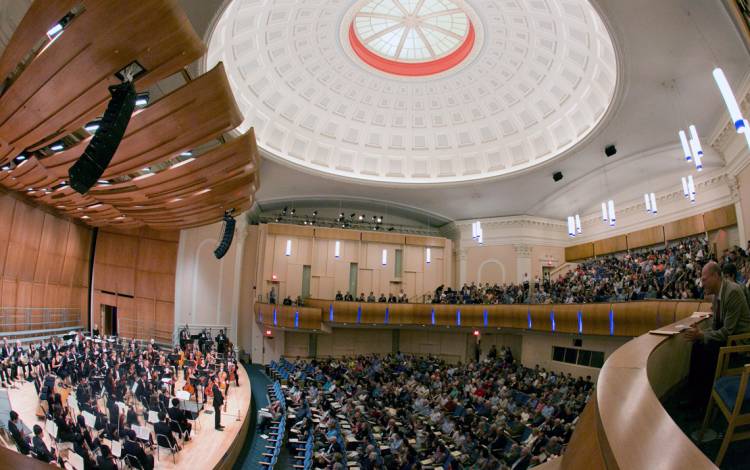 What: Baldwin Auditorium first opened to the public in 1927 and underwent a $15 million renovation in 2013. The auditorium seats 685 people and features a wraparound balcony and a dome visible from across East Campus. Baldwin hosts Duke Music Department concerts regularly during the fall and spring semesters. 
Upcoming Free Performances: Duke University Wind Symphony on Sept. 27, Duke Symphony Orchestra with pianist Cicilia Yudha on Oct. 3 and Duke Djembe and Afro-Cuban Ensembles on Nov. 9. 
Find more music: https://music.duke.edu/events/all
Duke University Chapel

What: Duke University Chapel hosts a variety of performances throughout the year from the Choral Vespers to the Duke Chorale Christmas Concert on Dec. 4. You can also hear an organist play one of the Chapel's four organs on most weekdays during the academic year. 
Upcoming Free Performances: Choral Vespers on Aug. 30, Sept. 13 and Oct. 11. The 2018-19 Chapel music schedule will be released in early September.  
Learn more: https://chapel.duke.edu/events
Jazz @ the Mary Lou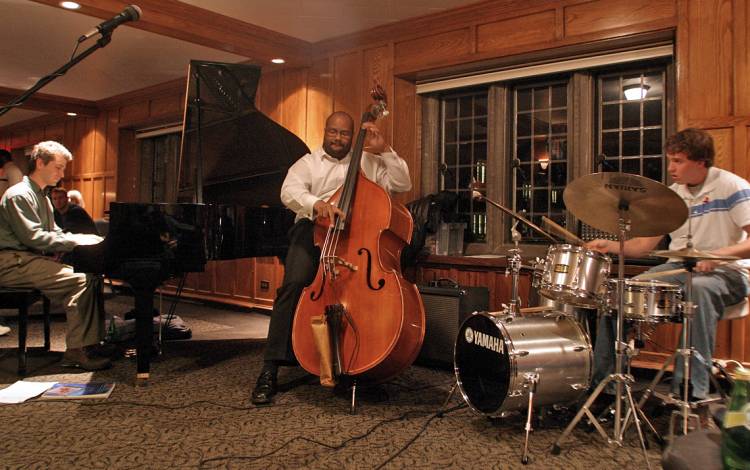 What: The Mary Lou Williams Center for Black Culture is named after pianist and composer Mary Lou Williams, who collaborated with likes of Duke Ellington and Dizzy Gillespie and served as an artist-in-residence at Duke from 1977-1981. The center turns into a jazz club on most Wednesday nights during the academic year. John Brown, director of the Duke Jazz Program, performs along with Duke students, staff, faculty and other special guests. 
Upcoming Free Performances: 9:30 p.m. to 12:30 a.m. on Sept. 12, 19, 26; Oct. 3, 17, 24, 31; Nov. 7 and 14.   
Learn more: https://studentaffairs.duke.edu/mlw/programs-services/jazz
Nelson Music Room

What: Nelson Music Room is located on the second floor of the East Duke Building. The room was originally used as meeting space for a literary society but started being used as a recital room in the 1930s because of its acoustics. The room holds 300 people and is a regular spot for Duke Music Department performances. 
Upcoming Free Performances: Pianist Catherine Hamner and mezzo-soprano Sandra Cotton on Sept. 9, violinist Hsiao-mei Ku and pianist Larry Todd on Sept. 30 and Duke University String School on Nov. 10.  
Full Schedule: https://music.duke.edu/events/all
Rubenstein Arts Center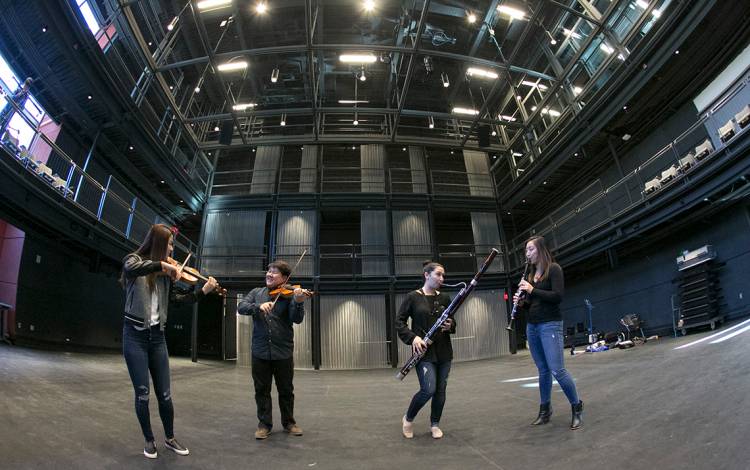 What: The Rubenstein Arts Center, which opened in January, is the newest addition to Duke's roster of performance spaces. Within the center is the Ruby Lounge, a hangout space and performance venue, and the 150-seat von der Heyden Studio Theater. 
Upcoming Free Performances: The Mackey Sessions: Keynote Reading and Music, a poetry festival centered around the music in the work of Nathaniel Mackey, the Reynolds Price Professor of Creative Writing at Duke, on Sept. 21, and Ciompi Quartet: "Remembered, Imagined, Re-imagined" with soprano Eliza Bagg on Nov. 17 and 18. 
Full schedule: artscenter.duke.edu/events
Other spots:

Page Auditorium and Reynolds Industries Theater, both on West Campus, regularly host student and professional shows. Check their schedules on the Duke University Box Office website. 
Explore arts venues across Duke's campus via this interactive map by Duke Arts.
Got a story idea or news to share? Share your news with Working@Duke.