President's Message on Duke Chapel Space
In the year since the tragic events in Charlottesville and the subsequent vandalism and removal of the Robert E. Lee statue at Duke Chapel, we have had the time and space to reflect as a community on how the reality and symbols of our past continue to shape our present. We have also begun the process of respectfully and openly engaging with one another toward building a more inclusive future for our university, nation and the world.  As we look ahead to the coming academic year, I want to provide an update on those conversations and to announce a course of action informed by them.
Following the removal of the Lee statue, I convened the Commission on Memory and History to advise me on the principles we should consider when addressing issues of memorialization on campus, the process we should use to review future concerns, and to recommend a suitable use of the now-vacant space at the Duke Chapel.  After receiving input from students, faculty, staff, alumni, scholars across the country and members of the Durham community, the Commission recommended, and I concurred, that we "leave the space vacant for a period of time, perhaps a year, and engage in a process of education and community engagement."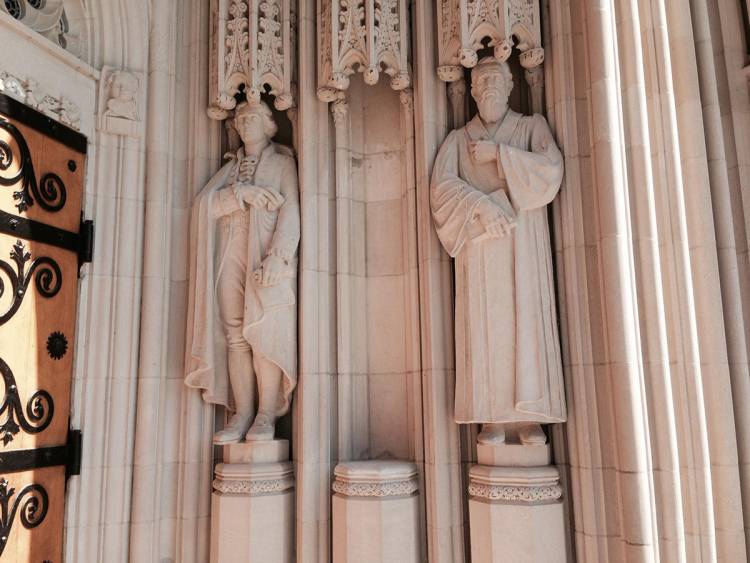 Thanks to the leadership of Provost Sally Kornbluth, members of the faculty and students, we have as a university explored many different facets of the issue of memory and history on campus:
On March 30 and 31, the Provost's office sponsored a two-day symposium "American Universities, Monuments, and the Legacies of Slavery," organized by Professor of History and African and African American Studies Thavolia Glymph.  The symposium drew overflow crowds to hear panels with leading scholars of law, history, sociology and economics from across the country.  
A year-long Bass Connections team project, "Constructing Memory at Duke," led by Robin Kirk, co-chair of the Duke Human Rights Center, and involving undergraduate and graduate students, resulted in a stimulating report on campus memorials, "Activating History for Justice at Duke," in April 2018.
In this coming year, a separate Bass Connections team will bring together faculty, students and staff in Art, Art History and Visual Studies, and the Duke Libraries to lead "Building Duke: The Architectural History of Duke Campus from 1924 to the Present," a project to explore the conception, design, and construction of the campus that will offer an historical narrative of our physical environment and to explore the desires and visions that have materialized in its making.
In addition, a number of departments, units, and student groups around campus have hosted speakers and panels exploring various aspects of the university's history and relationship with Durham, and the role and treatment of marginalized communities in that history.  We have all benefited from the knowledge and insights that emerged from these discussions.
Over the course of the last year, I have also heard from a diverse array of individuals and groups about what the university should do with respect to the now-vacant niche at the entrance to Duke Chapel.  There have been many nominations for individuals who should be memorialized by a statue in that space.   At the same time, I have heard from a large number of our fellow Duke community members who support extending the Commission's interim recommendation for a longer, even permanent term:  that is, to leave the space vacant.  As Dean of Duke Chapel and Reverend Luke Powery suggested almost a year ago, the empty space might represent "a hole that is in the heart of the United States of America, and perhaps in our own human hearts—that hole that is from the sin of racism and hatred of any kind."  
I have concluded that Dean Powery's suggestion is the right one, particularly when combined with the placement of a plaque in the foyer of Duke Chapel that explains why the space is empty.  It will provide a powerful statement about the past, the present and our values.  I informed the Board of Trustees of my decision this summer, and I received their enthusiastic endorsement of this approach.
Now I would like to look to the future.  In its report, the Commission urged us to consider ways  to memorialize other individuals or groups who made possible Duke University's mission and goals, particularly those whose contributions and talents have been marginalized, or even ignored.  I have reviewed a number of ideas that have been put forward and discussed with colleagues throughout the university, and would like to report three specific steps we will be taking.
First, I will be asking the President's Art Advisory Committee to identify a location and an appropriate form to give recognition to those individuals whose labor was the foundation of the wealth that created Duke University and whose hands built our campus.
Second, as recommended by "Constructing Memory at Duke," I will be asking the Art Advisory Committee to identify a location and appropriate form to honor the first African-American students to attend Duke University, whose courage and initiative marked a turning point in Duke's history, helping the university to grow into the diverse community that it is today.
And third, I have asked Executive Vice President Tallman Trask to identify a location on campus where we can mount rotating exhibits dedicated to the history of Duke.  As the Commission last fall stated in the principles it set forward to guide us as we think about history and memory at Duke, "The educational mission is central.  Therefore, the goal should be to engage with history and never to erase it." The establishment of a living museum will help us fulfill that aspiration on an ongoing basis.   
As we begin this new semester, I hope these actions will help us build on the work of faculty, students, staff, and administrators who responded to the challenge of last August by learning, debating, and advocating for Duke to more fully live up to its values. We all share in this vitally important ongoing work, and I look forward to participating in the years ahead.
Best wishes,
Vincent E.  Price 
President