Employees by Day, Rock Stars by Night
Some Duke staff fulfill a passion in the Triangle music scene
On a warm summer evening in June drum beats echoed around Durham Central Park as about 15 members of Batalá Durham, a samba reggae drum band, rehearsed for an upcoming performance.
Kate Thieda, a counselor for Duke's Personal Assistance Service, was among band members in the group, pounding a drum and shifting her weight from left to right along with the beat. Thieda has performed with Batalá Durham since last November after seeing the band on the local news.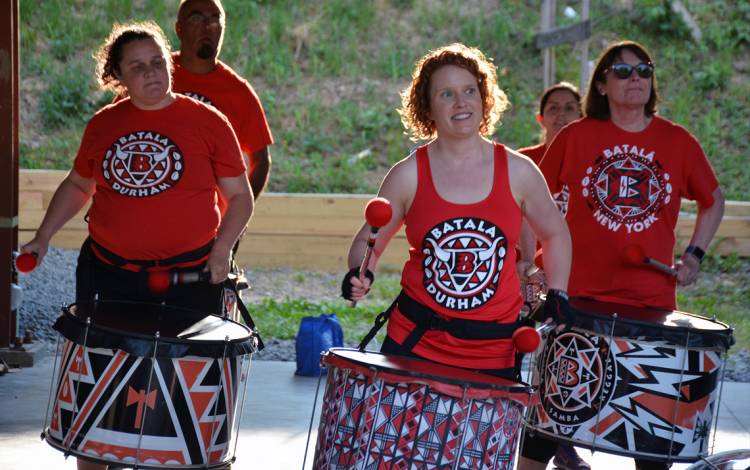 "I've always wanted to play the drums and thought the band sounded fun," Thieda said. "Playing forces really kinetic movements. It forces me to use my body and brain in ways I normally wouldn't at work."
For Duke employees like Thieda, performing in a band is a creative outlet – a passion that enhances mental and emotional well-being, a core theme for Healthy Duke, a campus wellness initiative.
"Hobbies offer an additional space in life to find purpose and meaning," said Danielle Oakley, director of Duke's Counseling and Psychological Services and emotional health advocate for Healthy Duke. "They help people unwind from more routine activities. Group hobbies also offer a chance to find social connections."
Check out some Triangle bands featuring Duke employees.
All-Nite Public Radio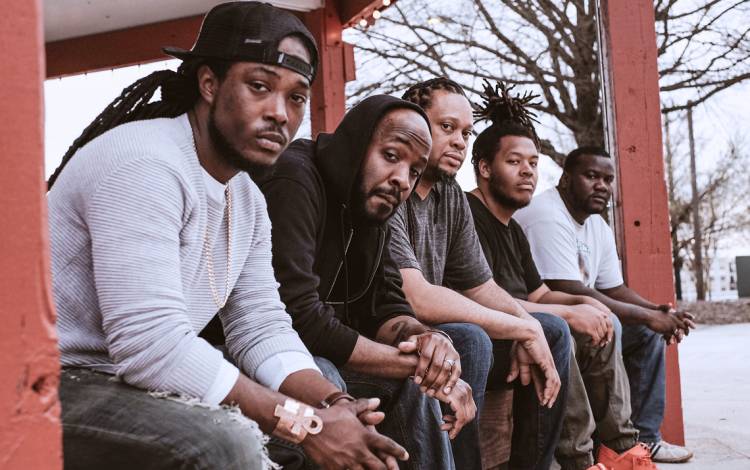 Victor Moore named his band All-Nite Public Radio because, "like late-night public radio, you never know what you're going to hear," he said.
All-Nite Public Radio is a five-piece jazz fusion band that plays a mix of jazz, R&B, hip-hop, gospel, rock and funk. Moore, coordinator of building support services for Duke Clinical Research Institute, plays the keyboard.
"We merged all of these different styles together to create our own sound," Moore said. "We perform Black-American music."
Moore met his bandmates in the late 1990s while they were all studying in the Department of Music at North Carolina Central University.
While All-Nite Public Radio officially formed in 2016, the band members have performed together in some capacity over the years in each other's garages, on stages in Durham and in church on Sundays.
The band plays at venues around the Triangle like Durham's Beyu Caffe and Sertoma Amphitheater in Cary. The band is currently recording their first album, which is scheduled to release this fall. Some of All-Nite Public Radio's previous hits are "Invite Me," "Smooth and Rocky" and "The Five Step."
"When you get a group together, the first thing you worry about is the chemistry," Moore said. "From our very first performance I knew playing with these guys was going to be special. There's a natural connection between all of us."
Find a show: Listen to All-Nite Public Radio's music and see its schedule here.
Breakin' the Law and Neon Knights NC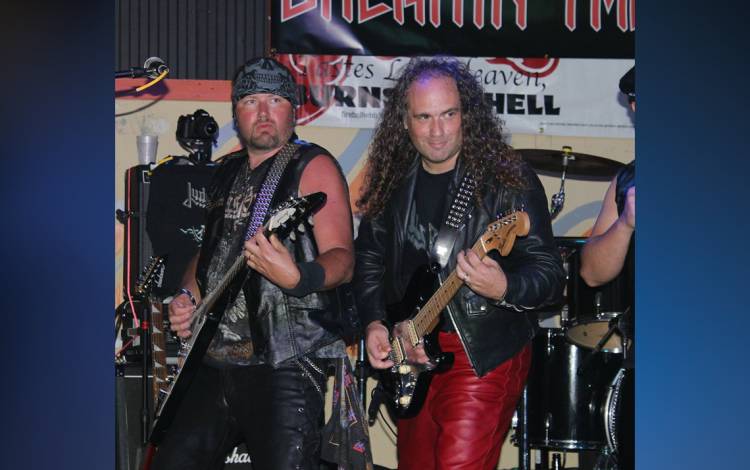 A love of heavy metal brought Stephen Toback and Tom Wilson together to form a Judas Priest tribute band called Breakin' the Law.
In 2010, the two longtime friends were seeing a show at Raleigh's Lincoln Theater and started discussing the lack of Judas Priest tribute bands in the area. So they decided to put one together to pay homage to the English heavy metal band.
"There's a huge tribute band scene in the Triangle," said Wilson, video production supervisor for Duke Media Services and technical advisor for Duke Student Broadcasting and Small Town Records. "It's an amazing experience because everyone comes together for this shared appreciation of an artist."
A tribute band differs from a cover band in that the members focus on one particular artist's catalog and may even dress up similarly to the group. Judas Priest is known for its dual guitar riffs as much as wearing black leather and studded boots. One tradition Breakin' the Law didn't keep is having the lead singer start a show by riding onto the stage on a motorcycle.
"Judas Priest is fantastic group to play tribute to because they have a long career with different styles of music," said Toback, senior manager and media architect with the Office of Information Technology. "It's also really fun to get on your boots and red leather pants."
Toback has played with Breakin' the Law's current line up but mainly performs with a Black Sabbath acoustic duo tribute band for called Neon Knights NC. His new group opened for Wilson and Breakin' the Law in early August at Pittsboro Roadhouse & General Store.
"Being on stage is all about being a vehicle for music you love," Toback said. "You forget everything else that's going on in the world. You're just living in the moment as your favorite musician."
Find a show: Listen to Breakin' the Law's music and see its show schedule here. Learn more about Neon Knights here.
Steve Hartsoe & The Beacon Souls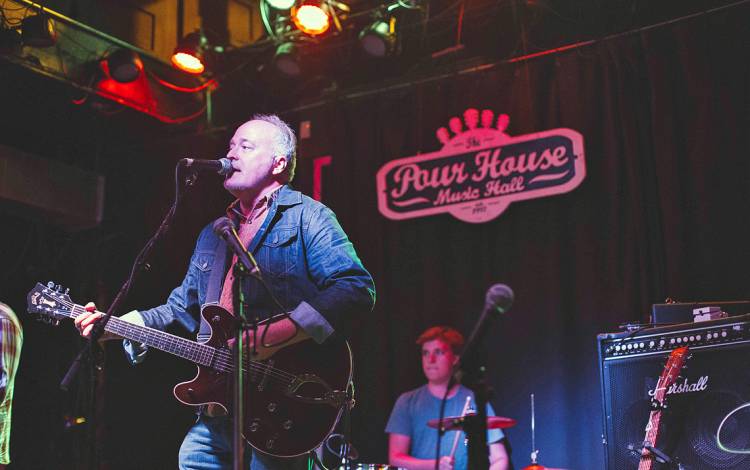 For Steve Hartsoe, family and music have always mixed.
Hartsoe fell in love with guitar while listening to his mom's Beatles and Johnny Cash records. In college, he started a band with his brother, called "London Down," in the San Francisco area. The band covered 1980s British pop-rock groups before writing their own songs.
"I remember my brother and I spending hours playing guitar and drums in our garage when we were growing up ," said Hartsoe, a senior editor at Duke's Office of News & Communications. "It was cool to transition from that to playing at house parties and clubs as we got older."
Hartsoe went solo in the mid-1990s and played at bars and cafes around the Triangle since 2003 when he moved to the area. He now performs with his band "The Beacon Souls," which includes his 17-year-old son Eli, who plays drums.
"I'm really proud of how good Eli is," Hartsoe said. "He's getting some great musical experience at a young age."
In August the father and son will travel to Nashville to record a London Down album with Steve's former bandmates.
Find a show: Steve Hartsoe's next performance is 9 p.m. Sept. 1 at Deep South Bar (430 S Dawson St., Raleigh). Listen to some of his music here.
Got a #HealthyDuke passion, please share it with us.